Top 10 Poolside "Must-Have" Items
Summer is in full swing. Everyone is making plans full of weekend Sun & fun - and you're in a mad scramble to get your backyard ready to impress… With all the options out there, we've got your list of the top trending must-have items to make Summer 2019 one to remember. We've covered every isle from top trending floats to awesome recreational equipment. We even grabbed all the brand new electronics that will take your party to the next level - so let's get started:
10. Floating Golf Game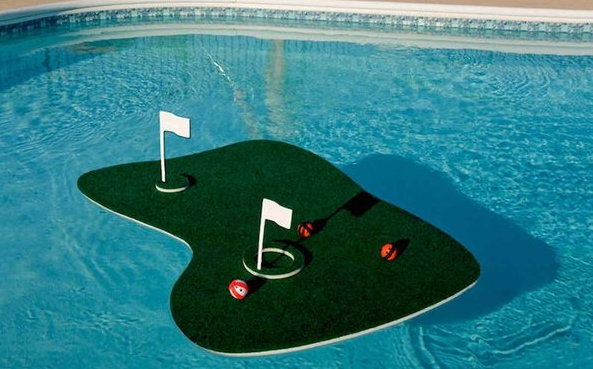 This is the perfect set for any golf fan in your group, and you can play in the backyard or poolside! It's easy to transport and set up, too. This floating game set includes a floating green with 2 cups and flags, chipping mat with rubber tee, and 12 floating golf balls.
9. Marvel 3-D Swim Vests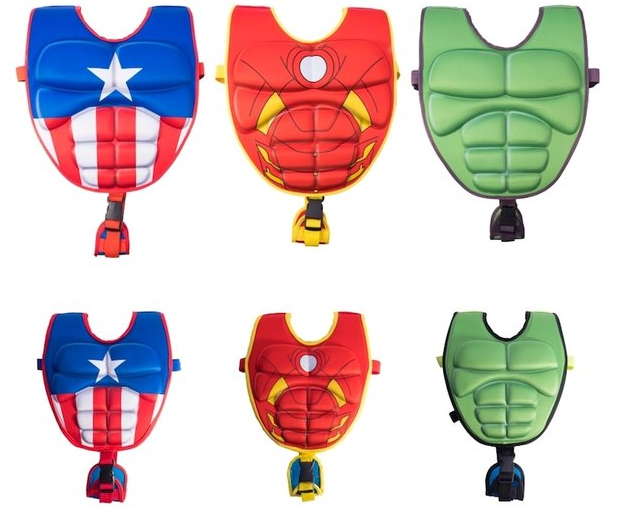 When you can integrate Marvel superhero theme's into pool safety, you've got a WIN for everyone! The balanced flotation in these 3-D Swim Vests supports kids as they learn how to float upright and lean forward to paddle. This device can help build their confidence as the youngsters take their first strokes while learning how to swim.
8. Waterproof Poolside Speaker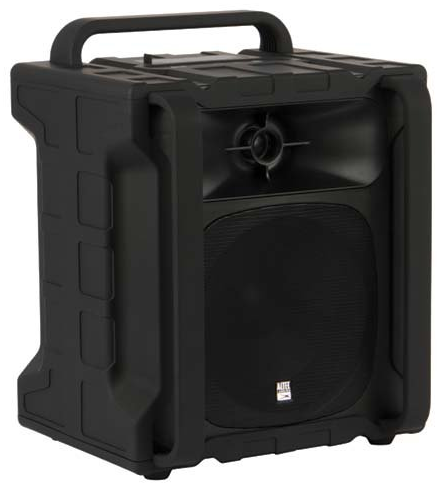 You won't be afraid to turn the volume ALL THE WAY UP at your next backyard pool party with the Sonic Boom 2. This "dance party in a box" is a poolside must have! Not only is it waterproof, its shock proof and it floats! And don't be fooled by it's size (it's a mighty 16x12in.) it packs an audio punch! With the Sonic Boom 2's ability to pair to 50 house party speakers at once, it'll make you feel like you're at a live concert. This speaker also comes with 3 built-in smartphone chargers, so no one's batteries are draining while they blast the jams. You'll also get over 20 hours of battery life - so the party can go all night!
7. Floating Foam Loungers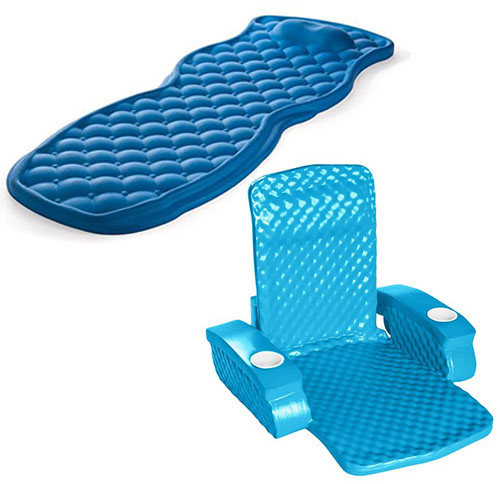 Not everyone who hangs out by the pool this Summer wants to do endless cannonballs and back flips. So we've gathered - not one, but two luxurious poolside must-have options depending on how you like to unwind in the pool. Relaxing in the Sun with a cool drink is the goal for many folks, and this Super Soft Baja foam floating chair (bottom right) is perfect for just that! It even folds up for easy storage and has 2 cup holders for convenience. When you want to nap, but stay afloat - the Softi Foam Float (top left) is the perfect option! 1.5 inch thick foam means it's durable and the cushioned pillow means maximum comfort!
6. 26 qt. nICE™ Cooler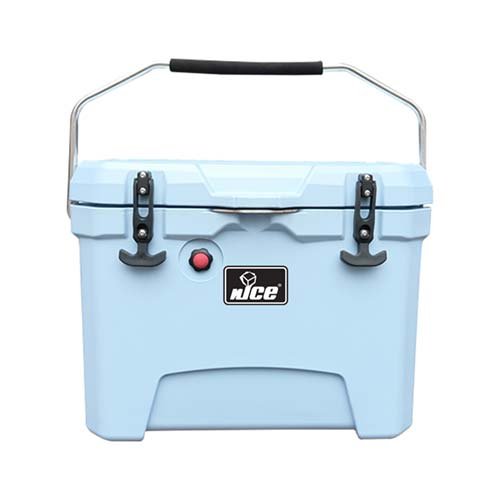 A cooler full of ice cold drinks is the definition of "Poolside Must-Have". We know how daunting it is to run in and out of the kitchen for cold beverages, while all the fun is happening in the backyard. The "Pool Party Host" title is no joke, and we get it! That's why we've included this 26 quart nICE™ Cooler on our list, and this little guy delivers on all fronts. Forget needing cold drinks for a single afternoon, this cooler will keep ice frozen FOR DAYS! The quick drain release valve means clean-up in a cinch. The built-in bottle opener, recessed cup holders and air-tight lid seal means it will last you many more Summers to come.
Pool Party Host level = Expert!
5. Epic Ride-On Pool Floats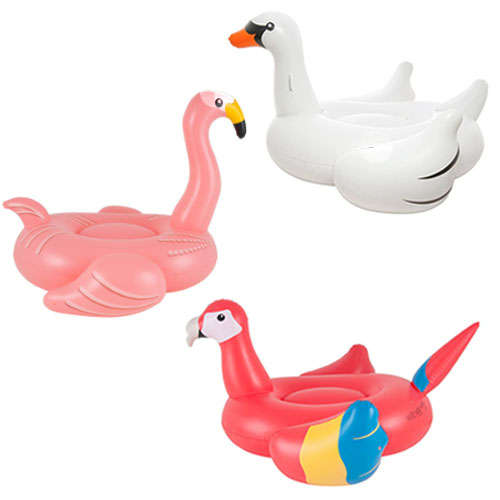 If you're looking for a fun way to make it clear your pool party game is on point, these ride-on floats will do it! Swans, Parrots and Flamingos will bring a colorful pop to your pool, and provide hours of fun for anyone swimming. Not only do these floats seat 2 people comfortably, some of them come with cup holders so there's no hopping on and off to refresh your drinks!
4. Poolside Block Game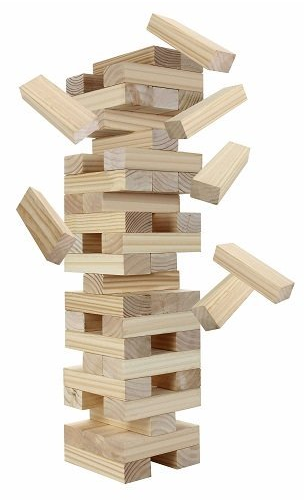 Not all backyard fun happens in the pool, this Splash Block Out game is a great example! This solid pine set comes with 54 total blocks and stands 2 1/2 feet tall. This block game can be stored outside in a rip-resistant nylon bag, so friends and family of all ages can compete!
3. Portable Keg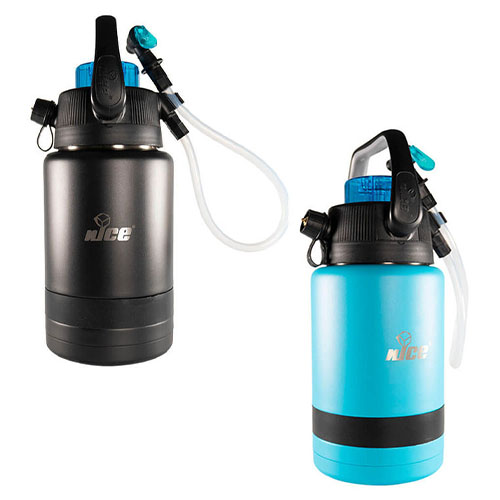 Forget about the days where you were forced to repeatedly leave the pool and play bartender to all the folks at your party. This formidable portable keg has your back! It holds a gallon of your favorite drinks. This cute keg is double-walled and vacuum sealed, so no you'll have worries over flat carbonated beverages. That sturdy handle means you can take the nICE™ Pump2POur anywhere the party goes!
2. Underwater MP3 Stereo with Light Show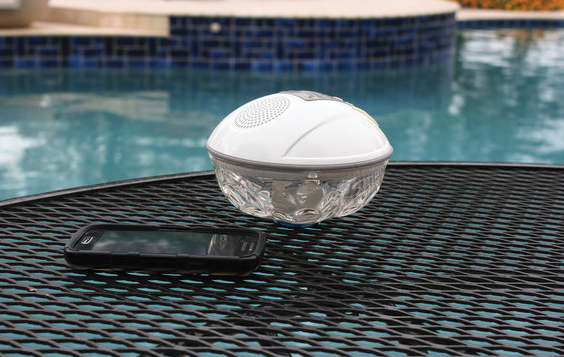 Whether you're in the pool swimming laps for exercise, or having an epic family splash party - every occasion needs a soundtrack. This Bluetooth enabled, underwater stereo means you will hear your favorite jams above and below water level and the light show gives every occasion a party theme!
1.3-in-1 Basketball and Volleyball Set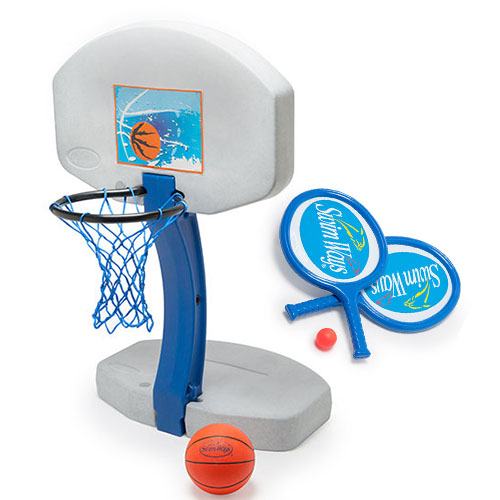 Why settle for one pool game, when you can have a game set with 3 different game possibilities! This SwimWays™ 3-in-1 Game set gives your friends and family a basketball hoop, stand and ball. With a simple flip of the base, the basketball stand transforms into a volleyball net. Or grab the paddles for a fun round of paddle ball. All with a few simple switches so the fun never stops!
For a look at our FULL line-up of fun pool accessories, head here!
Leslie's makes every effort to provide accurate recommendations based upon current ANSI/APSP/ICC-5 2011 (R2022) standards, but codes and regulations change, and Leslie's assumes no liability for any omissions or errors in this article or the outcome of any project. You must always exercise reasonable caution, carefully read the label on all products, follow all product directions, follow any current codes and regulations that may apply, and consult with a licensed professional if in doubt about any procedures. Leslie's assumes no legal responsibility for your reliance or interpretation of the data contained herein, and makes no representations or warranties of any kind concerning the quality, safety, or suitability of the information, whether express or implied, including, without limitation, any implied warranties of merchantability or fitness for a particular purpose.