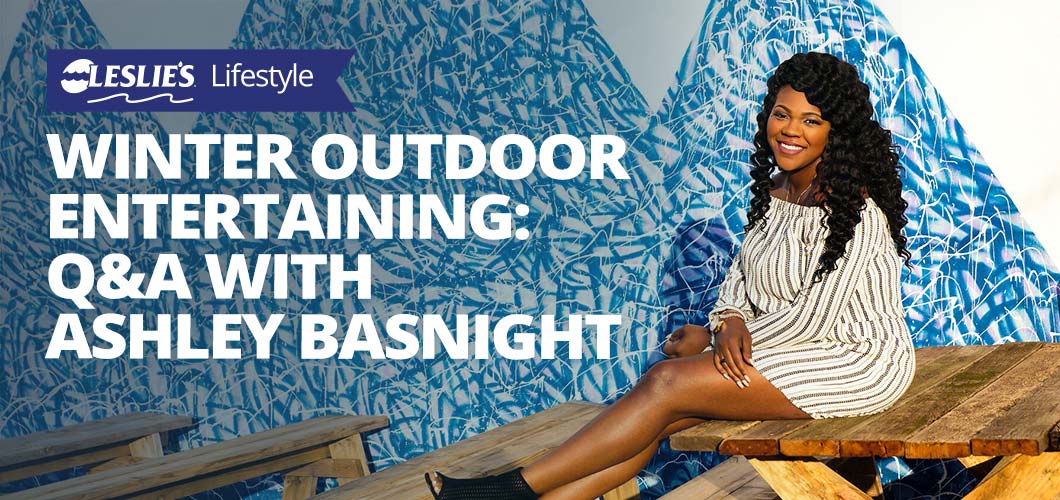 Winter Outdoor Entertaining: Q&A with Ashley Basnight
From Florida to Washington, and from Maine to California, the winter months bring cooler weather across the United States. Depending on which part of the country you reside, these winter temperatures might be low enough to drive you inside some days, or they may offer an open invitation to enjoy the pleasantly cooler atmosphere. No matter the scenario, it's always possible to entertain guests outdoors year-round — yes, even in winter! Leslie's teamed up with DIYer and designer Ashley Basnight of Handmade Haven to answer a few questions and provide some tips and tricks on how to enjoy your outdoor area through the cooler months.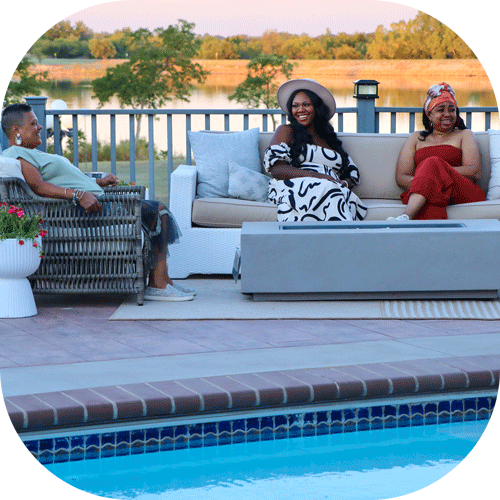 Q: What are your top three tips for entertaining outdoors during winter?
A: When it comes to winter entertaining, I want to always make sure that my guests are nice and cozy with a fire pit. There's nothing better than snuggling up next to a fire with s'mores! Leslie's has a lot of great options to bring some extra coziness, whether a patio heater or fire pit, to make sure you're keeping your guests warm. You also need plenty of comfy seating. I have a bunch of friends, so I make sure to have enough patio furniture to seat them comfortably. Last but not least … some good tunes! There's no real party without some good music, and Leslie's has you covered with their Bluetooth party speakers.
Q: As the queen of all things DIY, what are some easy DIY tips or projects that have made a huge difference in your backyard transformation?
A: As a DIYer, I love to create fun games for entertaining. One fun and easy game to build is a cornhole game. The boards are really simple to create, and it's a game everyone loves to play. Jenga and Connect Four are other fun games that you can DIY to bring some fun to the patio.
BONUS TIP: Not too sure about starting your own DIY outdoor game project? Not to worry. You can find these and other fun outdoor games online or at your local Leslie's.
Q: How do you transition from summer to winter outdoor entertaining? Are there certain steps you take to ensure your backyard stays hosting-ready?
A: To transition into winter, I always make sure my propane tanks are nice and full for the fire pits, which helps make sure we stay cozy. I'll also get the cozy blankets ready for late s'more nights.
Q: Part of outdoor entertaining requires a healthy, beautiful-looking pool. How do you maintain your pool once it's closed for the winter?
A: The pool is a huge part of our backyard, so we have to make sure it's clean — even in the winter. Leslie's offers Winter Watch Services in certain areas. The experts at Leslie's help make sure my pool stays healthy until it's time to open up the pool again.
Ashley Basnight's Top Picks for Outdoor Entertaining
To organize a successful backyard or poolside gathering this winter, try getting started with a few of Ashley's favorite patio accessories from Leslie's:
Start Planning Your Winter Gatherings
Most people automatically think of summer when mentioning outdoor entertainment. But just because the temperatures drop doesn't mean the fun as to stop! Whether you're planning to celebrate a winter holiday, or you're just connecting with friends and family for a fun evening of hot cocoa and smores around the fire, you'll find everything you need to prep your backyard and patio for a cozy winter gathering with Leslie's. Call or stop by your local Leslie's today, or browse our entire selection of products online.
Leslie's makes every effort to provide accurate recommendations based upon current ANSI/APSP/ICC-5 2011 (R2022) standards, but codes and regulations change, and Leslie's assumes no liability for any omissions or errors in this article or the outcome of any project. You must always exercise reasonable caution, carefully read the label on all products, follow all product directions, follow any current codes and regulations that may apply, and consult with a licensed professional if in doubt about any procedures. Leslie's assumes no legal responsibility for your reliance or interpretation of the data contained herein, and makes no representations or warranties of any kind concerning the quality, safety, or suitability of the information, whether express or implied, including, without limitation, any implied warranties of merchantability or fitness for a particular purpose.