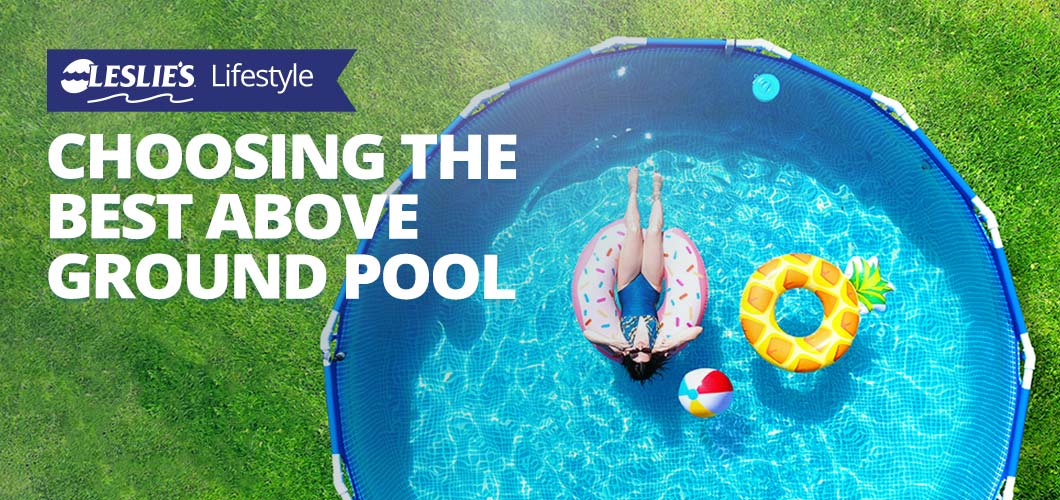 Choosing the Best Above Ground Pool
If you're reading this article, we're guessing you're considering investing in an above ground pool for your family. But before you can choose the perfect backyard swimming pool kit, there are a few things to consider. Things like size, shape, height, materials, liner patterns, equipment, and accessories should all play a role in your final decision.
Placement of Your Above Ground Pool
Where will the new swimming pool go? Before you can begin the search for a new above ground pool, consider the pool's location. First and foremost, make sure the pool will be in clear view of your home. It will be easier to keep an eye on things if there are no obstructions in between. Even if you have safety measures like a locking gate or safety ladder in place, a hidden pool can also conceal unsupervised swimmers.
Will it be in direct sunlight all day, or would you prefer to keep it somewhere well shaded? Shade may be nice during the hottest days of the year. However, overhanging tree limbs can drop a lot of excess debris into the pool, which will increase cleaning time each week. During late spring and early fall, shady areas will also cause the water to feel cooler, which may cut into your swimming time and comfort.
Also consider whether the pool will be resting on flat, level ground. Sloped yards may need extra grading and excavation to provide a level surface for the pool. If you're wanting to dig down and submerge part of the pool — either on one side or all the way around — it's imperative to select a pool kit that can support inground installation. These pools have higher structural integrity and greater protection against rust and corrosion than a standard steel frame above ground pool kit.
Another factor that will determine ideal placement is the proximity to electricity and water lines. You'll want close and easy access to power your pool equipment and replenish water levels. Also consider zoning regulations, which dictate minimum distances from property lines and your home. Some municipalities may require a permit for your new pool. Do your research ahead of time!
It's often helpful to use landscape markers to visualize where the new pool will be. The size you have in mind might take up a lot more room than you originally planned for, or you may see that your new pool will fit perfectly in your chosen space.
Sanitizer Type
If you plan to use a saltwater sanitization system, you'll need to select a pool that can handle the extra challenges of salt. If you buy a regular above ground pool and convert it to a saltwater pool, you'll be liable for the resulting corrosion damages because it's not covered under the manufacturer's warranty. Be sure to read the fine print, and ensure the pool you buy is capable of handling a salt system. Salt-friendly pools have higher corrosion resistance and include resin top rails (instead of steel). Please note that salt systems are sold separately — they're not included in above ground pool kits.
Pool Materials
Modern above ground pool frames and walls are made from steel, resin, or some combination of the two. Which above ground pool frame is best — steel or resin? Resin frames paired with steel walls are becoming increasingly popular because of their increased resistance to corrosion. For that same reason, they're often more expensive. Aside from the lower cost, zinc-coated steel pool frames have an advantage in their strength and resistance to cracks or damage in extreme temperatures. The choice boils down to personal preference and budget.
Size and Shape of Your Above Ground Pool
Now we're getting into the fun part! How big will your pool be? Are you wanting something round, oval, or rectangular? This goes back to our first section, where we discussed the pool's location. Figure out what your chosen pool space can accommodate, while still leaving room for other backyard activities. Most round pools are available in sizes ranging from 12' to 30' in diameter, and most oval or rectangular pools range from dimensions of 12'x18' to 18'x34', but can be as large as 21'x43'.
Remember that the larger the pool, the higher the upfront cost. Also, the more water in the pool, the higher your monthly chemical and electricity costs to maintain it. The size of pool you choose should be in line with your predetermined pool budget.
Above Ground Pool Height
The height of the pool is often one of the final factors to consider when making your final pool kit decision. Most above ground pool kits come in three heights: 48", 52", and 54". This measurement reflects the height from the floor to the top of the wall. It's not necessarily the height of the water inside the pool. Subtract about 4–6" to determine the water height.
When choosing the height of the pool, consider who will be using it. Something with a 54" wall height (water 48" or 4' deep) may not be suitable for a household with young children. Otherwise, they won't be able to stand flat-footed in the pool until they're much older. Consider a water level that is chest or shoulder high (or lower) for those in your household. Pool height plays an important role in comfort and safety while swimming.
Warranty Coverage
Warranties on above ground pools vary widely, from 20 years, 40 years, or even a lifetime warranty. Most pools only offer 1 or 2 years of full coverage, plus the additional limited warranty that can span a decade or more. Higher-priced pools usually offer a more robust warranty.
What Else is in Your Above Ground Pool Kit?
When buying a new above ground pool kit, make sure you know what you're getting with your package. Are you just buying the pool? Or are you getting the extra essentials required to use the pool? Things like safety ladders, pumps, and filters are just as important as the pool itself. By purchasing everything together as a complete kit, you know you're getting products designed for the specific pool you choose. A complete pool kit makes it easy, so you won't have to go searching for particular items.
Pump and Filter System
The pump and filter system should be large enough to filter or "turn over" all the water in your pool at least once every 8–10 hours. The complete above ground pool kits offered by Leslie's come with the right size of equipment to keep your pool clean and clear.
If you're looking to upgrade to a larger filter or more efficient pump, and you'll be buying each component individually, pay extra close attention to their flow rate capacity. Not only should they be properly sized for the pool, but you need to make sure the pump isn't going to overpower your filter. Combined above ground pump and filter systems are paired together for optimum performance. The most popular types of above ground pool filters are sand or cartridge filters.
Vinyl Liner
The liner is a crucial component of any above ground pool. It's what keeps the water contained within the walls and prevents it from leaking out. Different above ground pool kits are set up to accept different types of above ground pool liners — overlap, beaded, and unibead or J-hook. By choosing an above ground pool kit with an included liner, you'll know you're getting the size and type of liner that's right for your pool. In some cases, you'll be able to choose between a simple blue pool liner or a more decorative one with patterns or a printed "tile line".
BONUS TIP: Vinyl liners deteriorate over time, and will need to be replaced at some point in the future. Maintaining proper water balance and keeping a regular pool cleaning schedule will help prolong the life of your liner. When you're ready to replace your old one, our Pool Liner Buyer's Guide has everything you need to know about picking out a new vinyl liner for your above ground pool.
Coving
Most premium above ground pools include a pool cove kit, which goes around the inside perimeter of your pool underneath the liner. Pool coving is essentially an angled piece of foam that creates a smooth transition between the wall and the floor. This helps keep the liner from ballooning underneath the pool wall.
Liner Pad
Premium-level kits also include a floor pad or liner pad, which serves a couple purposes. As the name implies, this pad goes on the floor of the pool, and serves as an extra layer of cushioning between the ground surface and the vinyl liner. This helps protect the liner against damage from small stones and other debris that might try to poke through. It also makes the floor feel more comfortable against the bottoms of your feet.
Entry System
Without a ladder or step, you can't use your above ground pool! As you might expect, pool ladders and entry systems are made to match the wall height of your pool. If you get a ladder that's too tall, it's an awkward experience to get into and out of the water. If you get a ladder that's too short, you risk damaging the pool or causing personal injury with an unsafe installation. Likewise, the steps should be close to the pool wall to prevent entrapment. Purchasing a kit that includes the correct size of ladder eliminates the guesswork.
It's important to also consider the safety of your above ground pool ladder. Does it have a lockable safety mechanism to prevent unauthorized entry? The A-frame ladders included with Leslie's above ground pool kits do! Other factors like the age and weight of the user will also play a role in choosing a safe pool entry system, should you choose to upgrade.
Wall Skimmer and Return Fitting(s)
Every pool needs a way to move water from the pool, through the pump and filter, and back into the pool. A through-wall skimmer is included with most above ground pool kits to provide suction into the pump. With soft-sided pools, an over-the-wall skimmer or suction line may be used instead, but this isn't common for most steel pool walls. Return fittings connect the hose carrying the filtered water back into the pool.
EXPERT TIP: Add Wall Foam to Your Above Ground Pool Package
Most above ground pool kits don't include wall foam. However, just like the coving and liner pad listed above, wall foam helps protect your pool liner. It's an extra layer of protection between your liner and the metal components of the pool, which can help avoid punctures from hardware or sharp edges. When you're installing a new above ground swimming pool, this optional accessory can add years of life to your vinyl liner. You'll also need a can of spray adhesive to stick the foam to your pool walls. This adhesive comes with some wall foam kits.
Need a Pool? We Can Help!
If you're looking for an above ground pool kit to add some extra SPLASH to your backyard, Leslie's has exactly what you're looking for. We offer many sizes, shapes, and styles to enhance your at-home oasis, and payment plans are available for those who qualify. Once you set the pool up, our free in-store water testing and treatment plan can help take the guesswork out of pool care and water maintenance. From pool opening day through the off-season months, the friendly experts at your local Leslie's are here to help you keep your pool clean, safe, and beautiful, so you can spend more time doing what you enjoy the most — soaking up the sunshine and swimming in your pool.
Leslie's makes every effort to provide accurate recommendations based upon current ANSI/APSP/ICC-5 2011 (R2022) standards, but codes and regulations change, and Leslie's assumes no liability for any omissions or errors in this article or the outcome of any project. You must always exercise reasonable caution, carefully read the label on all products, follow all product directions, follow any current codes and regulations that may apply, and consult with a licensed professional if in doubt about any procedures. Leslie's assumes no legal responsibility for your reliance or interpretation of the data contained herein, and makes no representations or warranties of any kind concerning the quality, safety, or suitability of the information, whether express or implied, including, without limitation, any implied warranties of merchantability or fitness for a particular purpose.