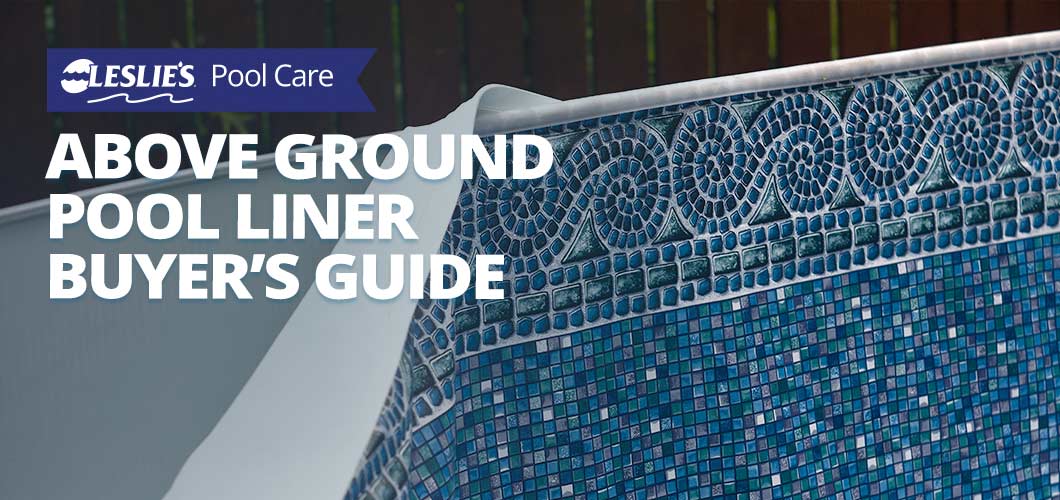 Above Ground Pool Liner Buyer's Guide
Choosing a pool liner is an important decision for above ground pool owners. But with so many choices, it can be difficult to know which liner you need for your pool. How do you know that you're getting the right size? And what about the different types of liner? Keep reading to learn how to choose the best vinyl liner for your above ground pool.
Pool Shape & Size
Above ground pool liners come in round or oval shapes to fit more than 30 standard sizes, from 12' round to 18'x40' oval. The great majority of above ground pool owners can easily find a vinyl liner readily available to match the size and shape of their pool. To make sure you're ordering the right size, measure your pool diameter (round pools) or length and width (oval pools) from wall to wall, just below water level.
Beyond the diameter or area measurement of the pool, above ground liners come in three different depths: 48", 52", or 54". The overall depth measurement goes from the flat floor to the top of the wall. Or, in the case of beaded liners, from the flat floor to the track. Avoid taking the measurement from the raised cove around the pool floor perimeter.
BONUS TIP: The depth measurement is an important part of purchasing a liner. Overlap liners can be pulled further over the wall for a more perfect fit. However, the depth (or height) of a beaded liner or unibead liner cannot be adjusted. Your measured depth can be up to 1" greater than the liner you purchase. But the measured depth cannot be less than the liner size, or wrinkles may result.
Types of Pool Liners
Replacement pool liners are available in three types. They are identified by the different ways they attach to the top of the pool wall. The three types of above ground pool liners are: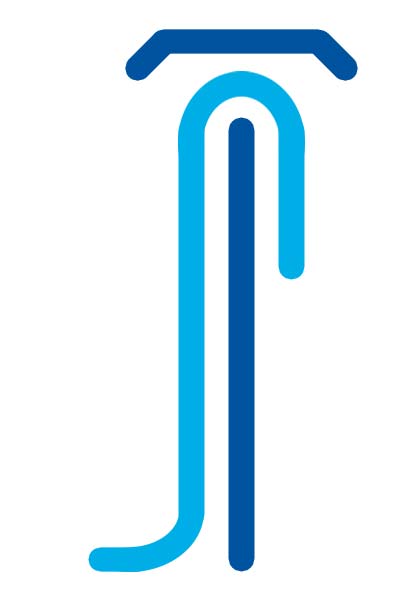 Overlap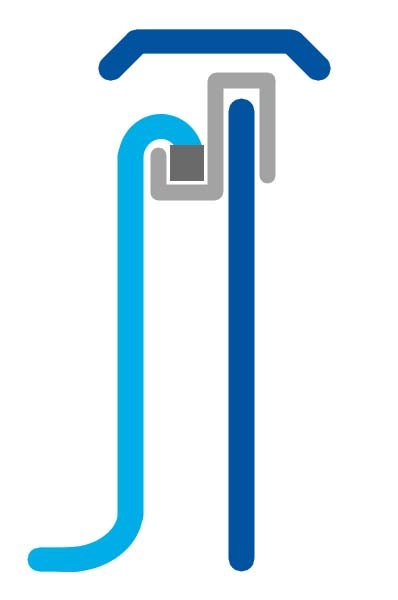 Beaded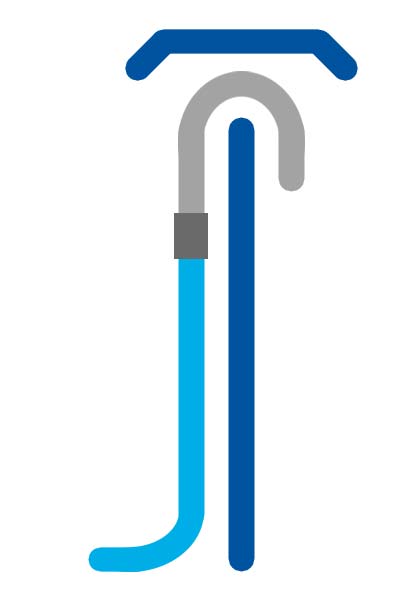 Unibead/J-Hook
Overlap Pool Liner
Overlap pool liners fold over the pool wall and are held in place with plastic u-channel pieces called Coping Strips. The excess material on the outside of the wall can be cut off with a razor knife or scissors after the pool is filled with water. Overlap liners are the most affordable type of pool liner.
Beaded Pool Liner
A beaded pool liner has a thick top edge, or bead. This bead locks into a track or groove at the top of the pool wall. Beaded liners often have a printed tile border at the waterline to mimic the look of an inground pool. One can easily convert an overlap liner pool to a beaded liner pool. All you have to do is add a bead receiver for above ground pools.
Unibead Pool Liner
Unibead pool liners (also called J-Hook), have a thick, curved edge that hangs on the top of a pool wall. This type of liner can replace both overlap and beaded pool liner types. They are the easiest type of liner to install. Because a unibead liner hangs evenly all the way around and can't slip like an overlap liner, they're available with printed tile borders. You can also use unibead liners on beaded pools – simply tear off the upside-down J-hook, and you have a standard liner bead edge.
Additional Information on Liner Types
All of the previously mentioned liner types are only used on flat-bottomed above ground pools. There is a fourth type of pool liner called an expandable liner, which is mainly used on Doughboy pools. These are overlap style liners, but are designed to stretch into place in order to fit a pool with a dished out bottom or deeper area of the pool.
If you have a rectangular above ground pool by Kayak or Fanta Sea, you will need to purchase a specific beaded liner for your pool. And, for older pools made by Esther Williams or Johnny Weismuller, a proprietary replacement liner with a larger top edge bead is normally used.
BONUS TIP: If you're unsure what pool liner type you have, look under the top rail. This will help you determine if you need an overlap, beaded, or unibead liner.
Pool Liner Colors and Patterns
After narrowing down your choices by shape, size, depth, and attachment method, you come to the fun part – choosing your pool liner color and pattern.
In the early days, above ground pool liners were only available in a solid light blue color. Pool liners now are available in darker colors and with decorative patterns. Dark pool liners have a slight solar benefit in that they'll absorb more heat. However, sun and chemical fading may be more noticeable with darker liners than with lighter colors.
Pool liners with patterns offer the advantage of hiding seams, wrinkles, and dirt better than a solid light blue liner, and they also impart a richer hue of color to the water. Printed tile border patterns add another design element, and extend the range of choices for the pool owner.
BONUS TIP: To preserve your liner color and reduce fading, always maintain proper water balance, especially pH and alkalinity levels. A chlorine level of less than 2.5 ppm is best. You can also shock your pool with Fresh 'N Clear chlorine-free shock, which will never bleach or stain a vinyl pool liner.
Pool Liner Thickness
The standard thickness for an above ground pool liner is 20 mil, which equals 20 thousandths of an inch, or 0.508 mm. Don't get confused by those that use gauge as a measurement of liner thickness. Gauge is not an industry standard measurement for vinyl. However, it's still used by some marketers to make their pool liners seem thicker.
In addition to 20 mil liners, Leslie's also offers 25 mil liners in many styles. With 25% more material, a thicker pool liner is more resistant to punctures and abrasion, and contains more plasticizers to maintain flexibility over the long term.
BONUS TIP: When choosing your new pool liner, be sure to look for the phrase 100% virgin vinyl. This means that the liner is made without recycled vinyl scraps. Virgin vinyl stretches into place more easily, and will yield a much longer life. It also offers much greater resistance to cold, chemicals, or fading.
Warranty
The warranty on a vinyl above ground pool liner is typically a one-year full replacement, with a 15-year prorated warranty period. In reality, the only thing usually covered is a seam separation, which is rare with the modern laser lap welding used on the seams. A limited pool liner warranty won't cover fading, punctures, wrinkles, or puckering. Like most other warranties, they are limited to defects in materials and workmanship only. We would recommend considering all other aspects of the liner before choosing one based on warranty alone.
Price
When you buy a pool liner from Leslie's, the nation's largest pool supply company, you can be confident that you'll find a competitive price for the highest quality products.
If you find a cheaper pool liner of the same size and color, keep in mind that it may be made with lower quality vinyl. It may also have lower quality seams and beading, or be misrepresenting the true thickness. Compare pool liner prices among market leaders, and be wary of deals that seem too good to be true.
---
If you're looking to replace your above ground pool liner this year, check out our full selection of vinyl liners. If you can't find the size or pattern you're looking for, check back soon, or give us a call at 1-800-LESLIES to check availability. Particularly during the spring and summer months when demand is the highest, our available inventory of pool liners changes rapidly.
In upcoming blog posts we'll go over how to install a new pool liner. We'll also cover how to care for a vinyl liner, and if needed, how to make repairs. For more information on pool liners, or for help with choosing the correct liner for your above ground pool, call or stop by your local Leslie's store.
Leslie's makes every effort to provide accurate recommendations based upon current ANSI/APSP/ICC-5 2011 (R2022) standards, but codes and regulations change, and Leslie's assumes no liability for any omissions or errors in this article or the outcome of any project. You must always exercise reasonable caution, carefully read the label on all products, follow all product directions, follow any current codes and regulations that may apply, and consult with a licensed professional if in doubt about any procedures. Leslie's assumes no legal responsibility for your reliance or interpretation of the data contained herein, and makes no representations or warranties of any kind concerning the quality, safety, or suitability of the information, whether express or implied, including, without limitation, any implied warranties of merchantability or fitness for a particular purpose.