Leslie's AccuBlue Water Test

A clean, safe, and beautiful pool comes down to proper maintenance. Unbalanced water can lead to inefficient and excess use of chemicals, scaling and corrosion, cloudy water, and equipment problems. Our always free in-store AccuBlue water test helps ensure proper pH, total alkalinity, calcium hardness, and more for a complete diagnostic. It's an experience you'll only find at your local Leslie's.
The AccuBlue Experience

FREE 10-point analysis of water sample
Precise results in 60 seconds
Customized treatment plan

Product recommendations and solutions
Step-by-step instructions
Consultation with a Leslie's pool care expert
Industry-leading technology
Leslie's AccuBlue brings you the latest innovative technology and proprietary software, utilizing a database of more than 45 million water tests to ensure the highest level of accuracy under any conditions. The result is the most precise and comprehensive water analysis and treatment plan available.
Find a Store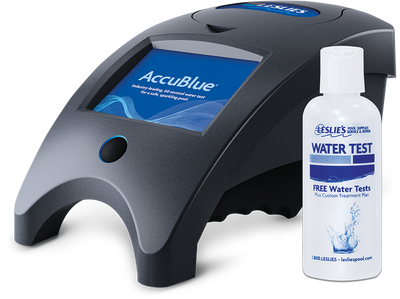 Customized treatment plan
With each AccuBlue water test, you'll receive a treatment plan that's tailored to your specific pool. We take the guesswork out of balancing your water with easy-to-follow instructions.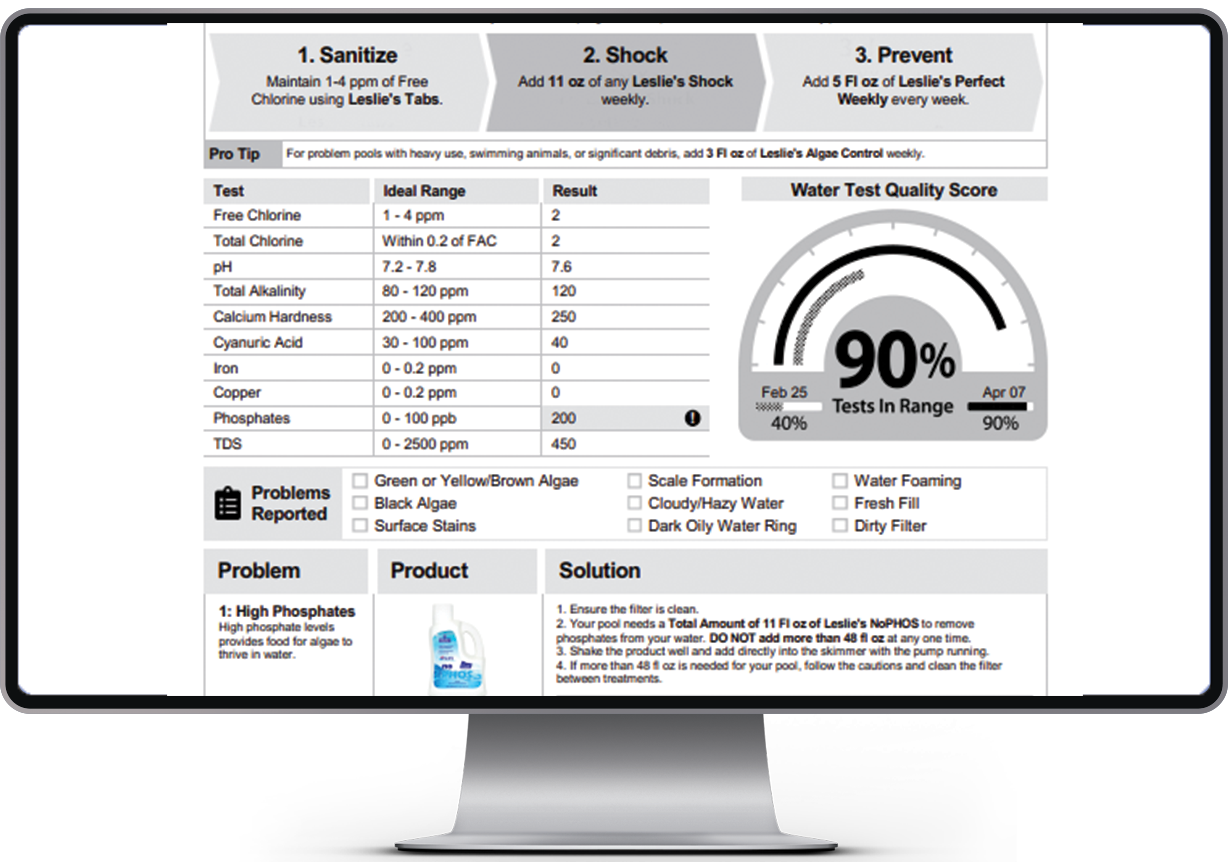 Complete chemistry analysis
Most other water tests only check for a few aspects of water chemistry. Leslie's AccuBlue analyzes 10, while also providing the highest level of precision in the industry. It doesn't matter if you use chlorine, bromine, or biguanide as your primary sanitizer — AccuBlue provides accurate readings for sanitizers of all types.
| Aspects of Water Chemistry Analyzed | Most Water Tests | AccuBlue |
| --- | --- | --- |
| Sanitizer Levels | ✔ | ✔ |
| pH | ✔ | ✔ |
| Total Alkalinity | ✔ | ✔ |
| Calcium Hardness | ✔ | ✔ |
| Cyanuric Acid | ✔ | ✔ |
| Copper | | ✔ |
| Iron | | ✔ |
| Phosphates | | ✔ |
| Total Dissolved Solids (for non-salt pools) | | ✔ |
| Salt Levels (for pools with salt systems) | | ✔ |
Perfectly balanced pool water
A clean, safe, and beautiful pool is one that's properly balanced. Each part of the AccuBlue 10-point water analysis plays an important role in sanitization, swimmer comfort, and protecting pool surfaces and equipment.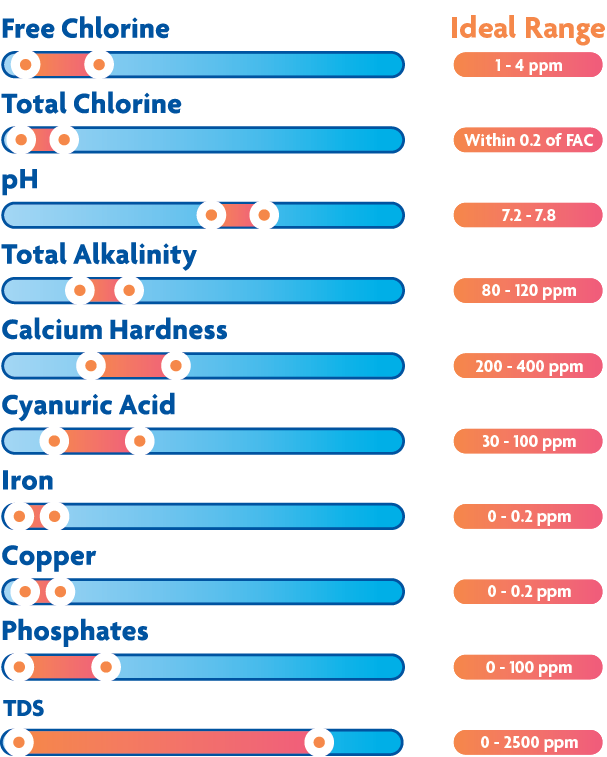 Learn more about pool water chemistry
Pool care experts
Leslie's pool experts have performed more than 45 million water tests. When faced with tough water balance questions, you know you can count on us to get your pool back on track. Just bring us a water sample for an always free in-store AccuBlue water test, and we'll help you with the rest.
Find a Store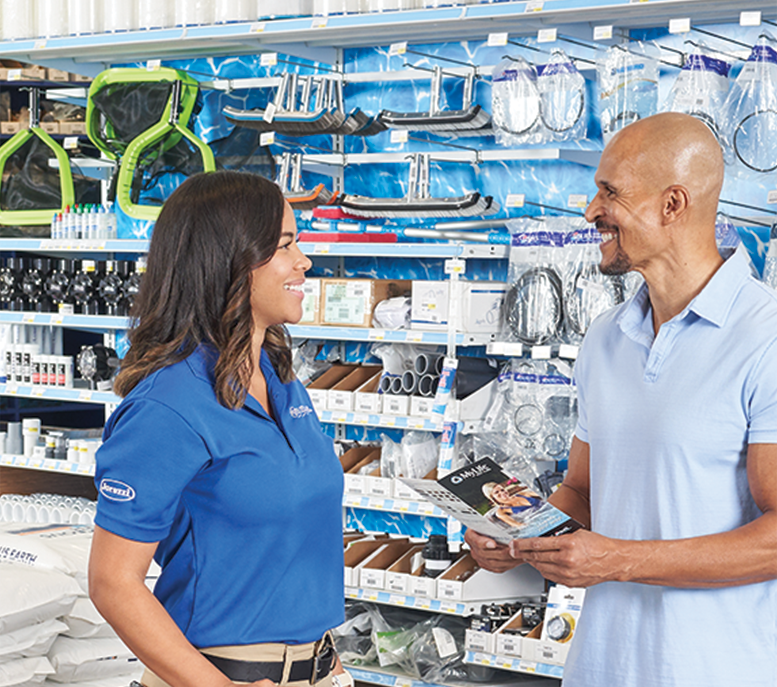 The Leslie's app
Easily track water test history, discover pool maintenance tips, and access your Pool Perks rewards in the Leslie's app. Set up your pool profile to receive customized water treatment plans for weekly at-home or in-store water tests.
Download Now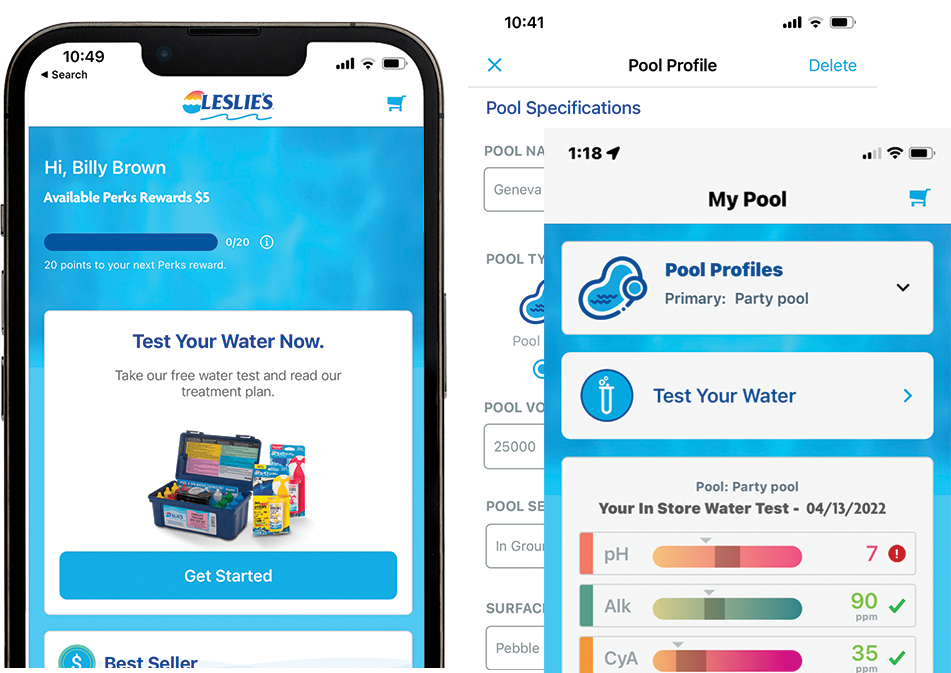 Visit our blog for additional pool care tips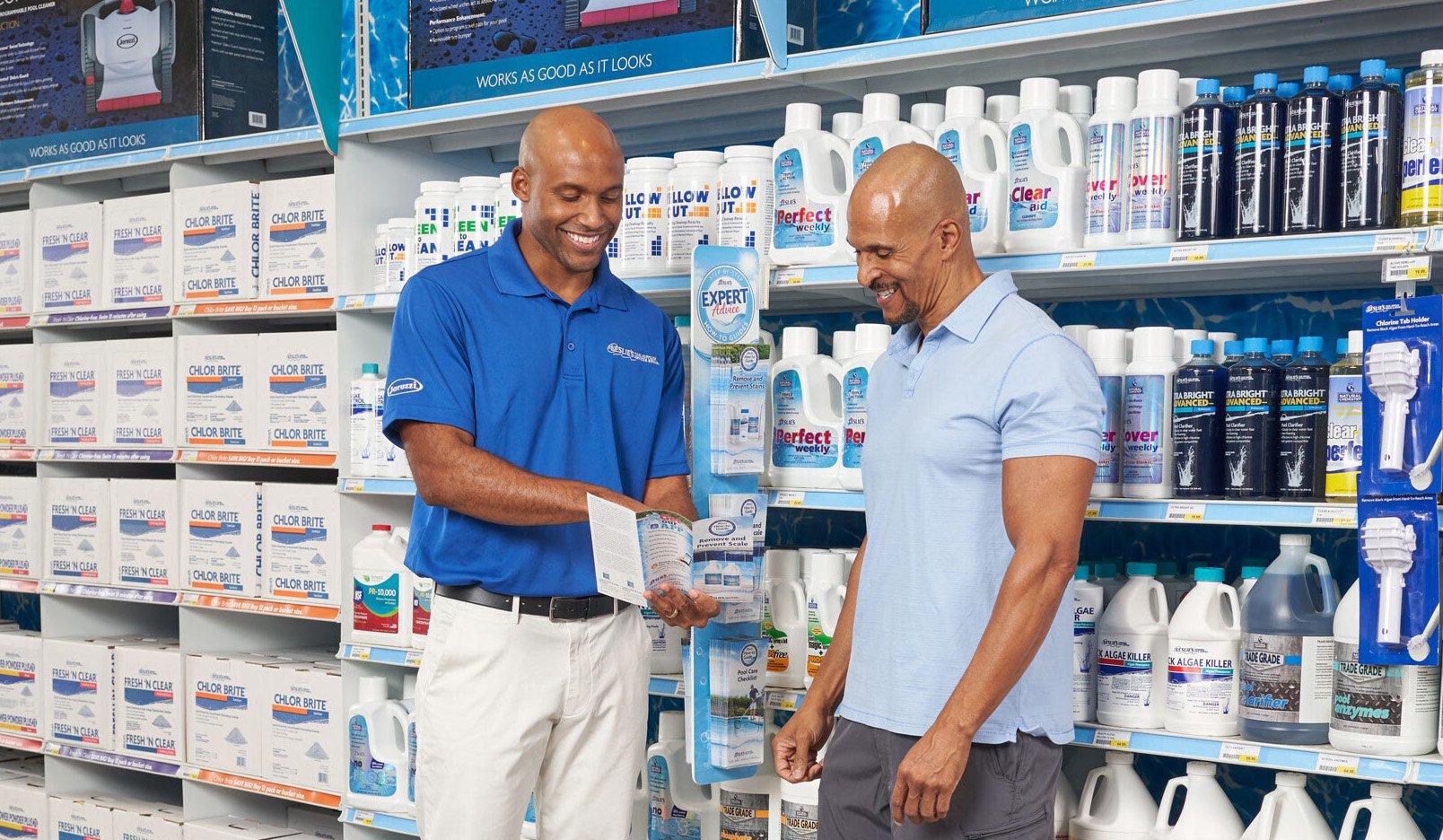 Pool Chemistry 101
What's in a water test? And why is water balance so important?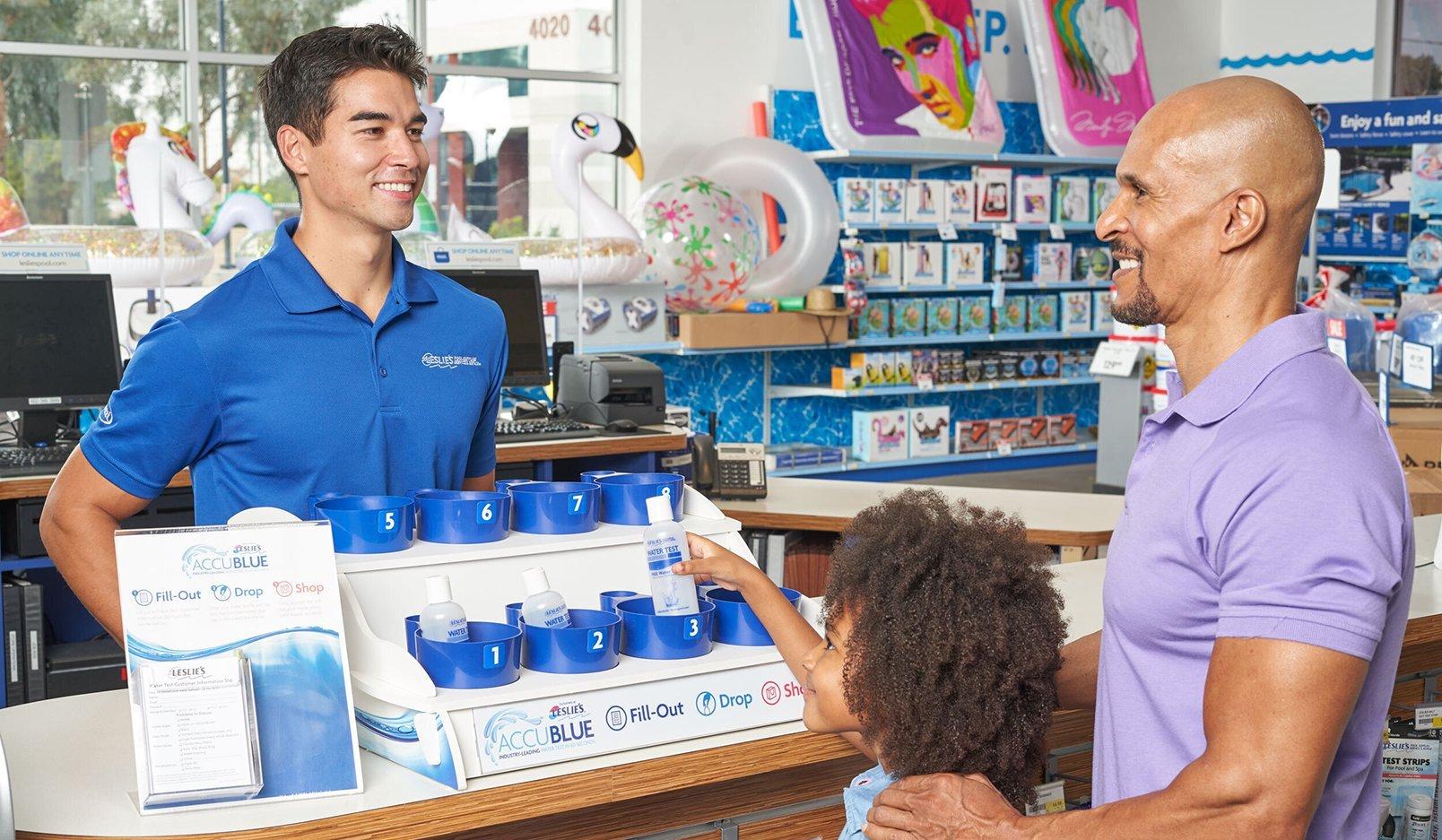 Pool Water Testing FAQs
Our pool experts answer your most common pool testing questions.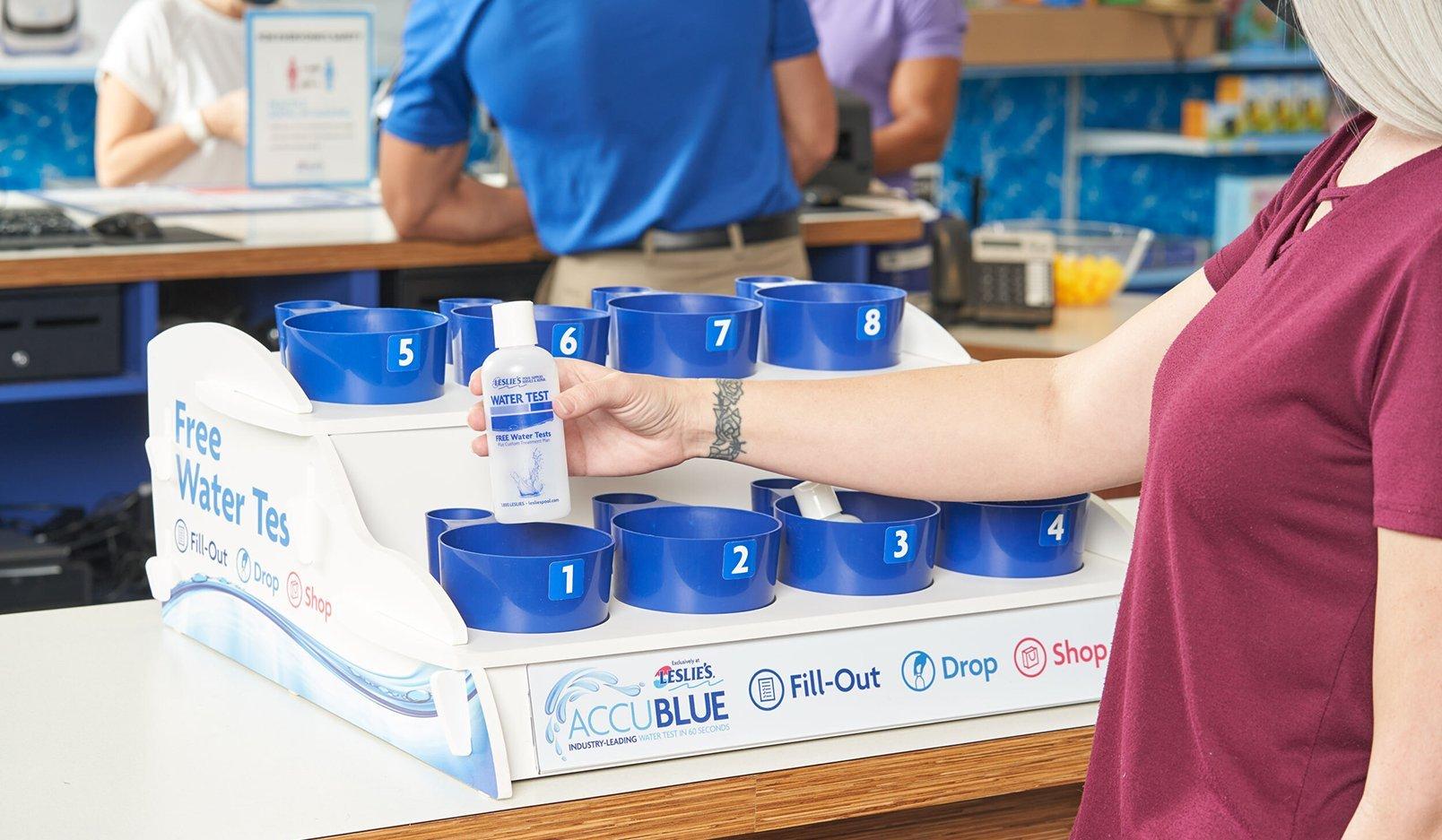 Top 10 Reasons to Get an In-Store Water Test
Free industry-leading water testing at Leslie's is just the beginning.