Top 10 Reasons to Get an In-Store Water Test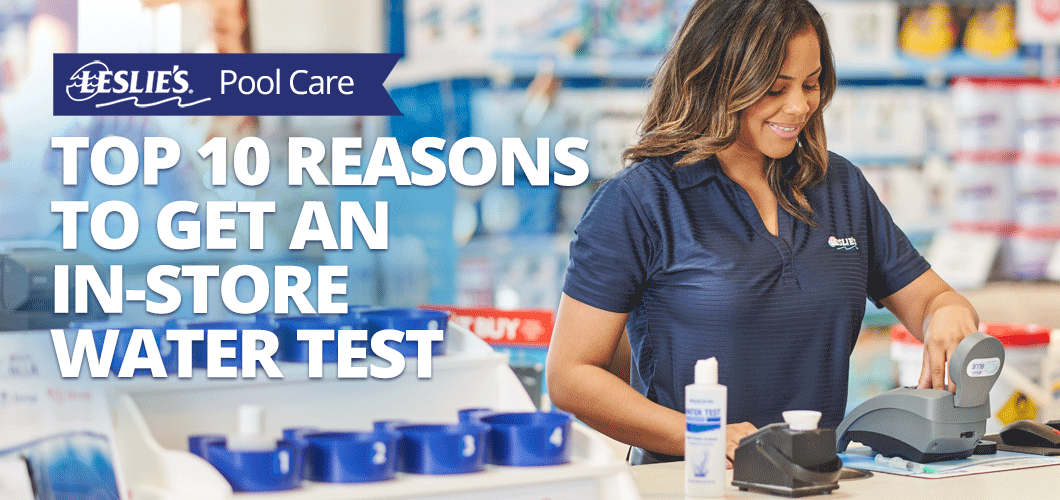 Testing your pool water is one of the most important things you can do to keep your pool healthy, clean, and clear. When it comes to testing pool water, many owners wonder if it's something they can do themselves. And if so, can they just bring a sample into their local Leslie's store? The answer to both of those questions is: absolutely!
Here are 10 reasons why bringing your water into Leslie's might be the perfect solution for you:
1. Leslie's is a name you can trust
Simply said, you won't find this level of top-notch customer service and high-quality products anywhere else. We're your one-stop pool-shop, and our pool care experts have been helping owners for more than 50 years!
2. We test more
Sometimes, more really is better. Most at-home water tests only test for 3 or 4 key indicators (pH, Free Available Chlorine, Total Alkalinity, and Cyanuric Acid). We test for 10 key indicators. The more indicators, the better.
3. Our water tests are accurate
Let's face it, water test accuracy is imperative to knowing exactly what actions you should take regarding your pool's chemistry. Although our stores aren't laboratories, we perform our water tests in a controlled environment. This means you will get a consistent and accurate result every time.
4. We're experts at testing pool water
We feel very comfortable saying nobody has done more water tests than Leslie's. Combine that with our expert on-site advice, and it's a recipe for success. After all, Leslie's Pool Supplies Service & Repair pioneered free water testing in our stores.
5. Our system keeps your pool algae-free
By simply using a quality sanitizer, shocking your pool, adding Perfect Weekly, and getting your water tested in-store every 30-days will keep your pool healthy and clear.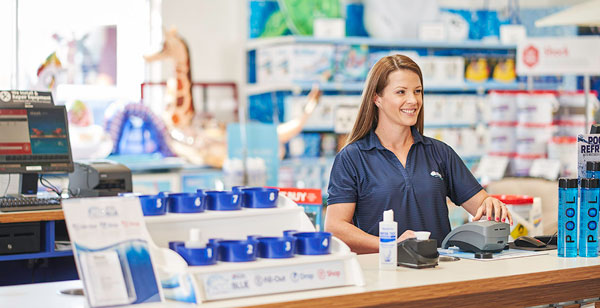 6. We're all over!
With more than 930 stores across the country, it's likely that we've got a store near you. Find a store near you and head on in to see the many ways we can help.
7. In-store tests are linked to our mobile app
Water test results and a customized treatment plan are automatically linked to the Leslie's mobile app. If you already have test results, simply plug them into our state-of-the-art app (compatible with most iOS and Android devices) to get results and feedback.
8. Quality products on-site
After you have your test results, you don't have to look elsewhere to get the right solution for your pool. We've intentionally partnered with the best brands in the business, such as Jacuzzi, Hayward, Pentair, Polaris, Dolphin, Jandy, and many more, to ensure we'll have the best product for you. In addition, ask about exclusive Leslie's products that may be able to help save you time and money.
DIY TIP: If you have your water tests on your phone, simply show them to one of our helpful in-store experts and they'll be sure to get you whatever you need.
9. Earn Leslie's Rewards on your purchases
The more you buy, the more you can save later. With proper regular maintenance on your pool and/or spa, you'll rack up rewards points quickly. And we all know that means free stuff soon!
10. It's free!
When it comes to services for your pool — or anything, really — it doesn't get much better than free. No hidden fees, no strings attached. It's simple: bring your water in and we do the work for you.
With all these great reasons, why go anywhere else? Find your local Leslie's store today!