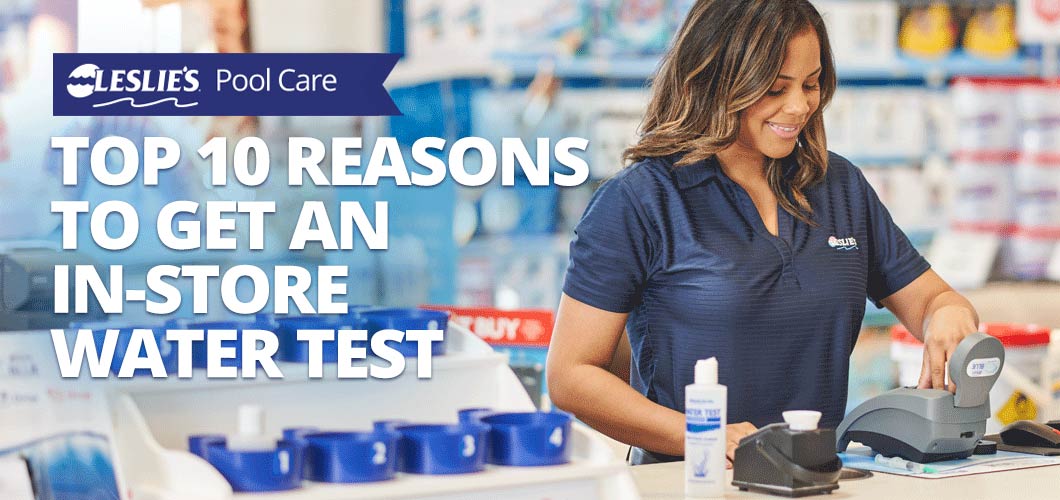 Top 10 Reasons to Get an In-Store Water Test
Testing your pool water is one of the most important things you can do to keep your pool clean, safe, and beautiful. When it comes to testing pool water, many owners wonder if it's something they can do themselves. Or can they just bring a sample into their local Leslie's? The answer to both of those questions is: absolutely!
Here are 10 reasons why bringing your water into Leslie's might be the perfect solution for you:
1. It's free!
When it comes to services for your pool — or anything, really — it doesn't get much better than FREE. No hidden fees, no strings attached. It's simple: bring a water sample to your local Leslie's, and we'll do the work for you.
2. Leslie's is a name you can trust.
Simply said, you won't find our level of top-notch customer service and high-quality products anywhere else. We're your one-stop pool shop, and our pool care experts have been helping owners for more than 50 years!
3. We test more.
Sometimes, more really is better. Most at-home water tests only analyze 3 or 4 key indicators (pH, Free Available Chlorine, Total Alkalinity, and Cyanuric Acid). Our industry-leading AccuBlue® water test precisely measures 10 aspects of pool water chemistry. The more you know about your pool water, the better.
4. Our water tests are accurate.
Let's face it, water test accuracy is imperative to know exactly what you should do to balance your pool's chemistry. We perform our water tests in a controlled environment with the most accurate testing system available — Leslie's AccuBlue. This means you'll get a consistent and accurate result every time.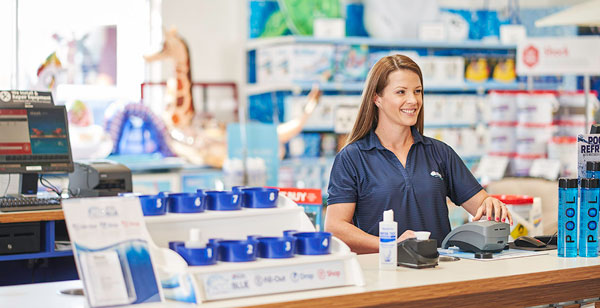 5. We're experts at testing pool water.
With more than 45 million in-store water tests under our belt, we feel very comfortable saying nobody has performed more water tests than Leslie's. Combine that with expert on-site advice and a customized water treatment plan, and you have a recipe for success in your pool. After all, Leslie's pioneered free in-store water testing.
6. Our system helps keep your pool algae-free.
Each AccuBlue water test comes with a customized water treatment plan to help you keep your pool clean, safe, and beautiful all season long. Not only does the plan include the levels of all 10 aspects of water chemistry, it also includes product recommendations and easy-to-follow step-by-step instructions for treating your water. To keep your pool in peak algae-fighting condition, get your water tested at your closest Leslie's location every 30 days.
7. We're all over!
With more than 950 stores across the country, it's likely that we've got a store near you. Find your nearest location and head on in to see the many ways Leslie's can help you care for your pool or spa.
8. In-store tests are linked to our mobile app.
Water test results and a customized treatment plan are automatically linked to your Pool Perks account the Leslie's mobile app. If you already have test results, simply plug them into our state-of-the-art pool care app (compatible with most iOS and Android devices) to get results and feedback.
DIY TIP: If you have at-home water tests saved on your phone, but forgot to bring a water sample for AccuBlue testing, simply show your results to one of our helpful in-store experts. They can provide recommendations for any pool care products you may need.
9. Quality products on-site.
After you have your test results, you don't have to look elsewhere to get the right solution for your pool. We've intentionally partnered with the best brands in the business, including Jacuzzi, Hayward, Pentair, Polaris, Dolphin, Jandy, and many more, to ensure we have the best products for you. In addition, ask about exclusive Leslie's products that may help save you time and money on pool care and maintenance.
10. Earn Leslie's Pool Perks on all your purchases.
The more you buy, the more you can save. With Leslie's Pool Perks, you'll earn 5% in Pool Perks rewards on every purchase. Earn 1 point for every $1 spent, and get $1 in rewards for every $20 you spend (20 points). You'll accumulate points quickly on routine pool and spa maintenance products, and you can redeem your Pool Perks rewards anytime you want within 12 months.
With all these great reasons, why go anywhere else? Find your local Leslie's, and stop in today!
Leslie's makes every effort to provide accurate recommendations based upon current ANSI/APSP/ICC-5 2011 (R2022) standards, but codes and regulations change, and Leslie's assumes no liability for any omissions or errors in this article or the outcome of any project. You must always exercise reasonable caution, carefully read the label on all products, follow all product directions, follow any current codes and regulations that may apply, and consult with a licensed professional if in doubt about any procedures. Leslie's assumes no legal responsibility for your reliance or interpretation of the data contained herein, and makes no representations or warranties of any kind concerning the quality, safety, or suitability of the information, whether express or implied, including, without limitation, any implied warranties of merchantability or fitness for a particular purpose.