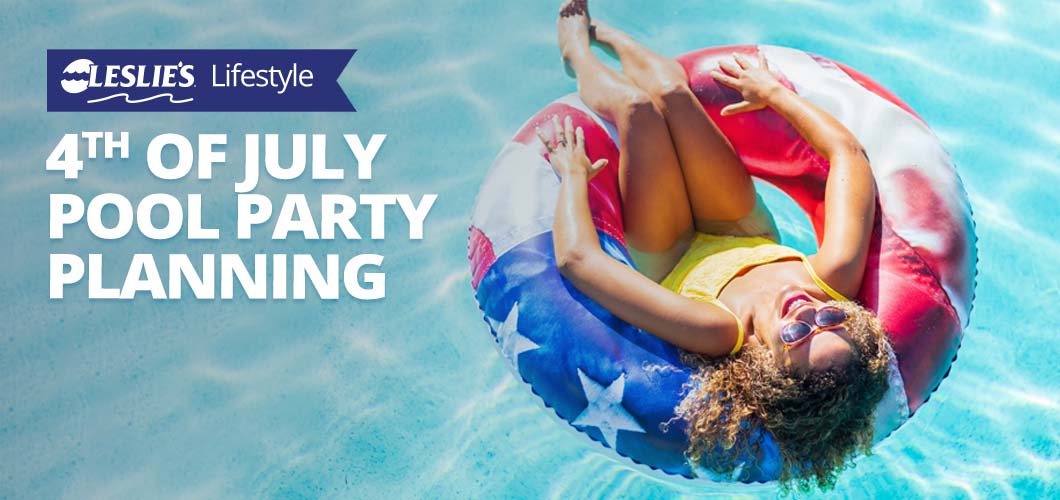 4th of July Pool Party Planning
Summertime is right around the corner, and you know what that means? Spending warm sunny days poolside with friends, and celebrating summer holidays. Don't let a dirty pool or flat floats ruin your Independence Day bash. We'll show you how to prepare your pool and backyard so you can host the best 4th of July pool party ever!
Pool Party Prep
The key to hosting a great pool party is preparation. Making sure your pool is clean, cool, and ready for guests will ensure a fantastic backyard bash. Before the celebrations begin, run through this pool prep checklist to get your pool into tip-top shape.
1. Clean the Pool
Skim the pool, thoroughly brush all pool surfaces, and vacuum away debris with cleaning attachments. You can either use a vacuum head or an automatic pool cleaner to remove dirt and debris that accumulates at the bottom of the pool. Don't forget to clean out the pump strainer and skimmer basket, as well!
2. Run Your Pool Pump & Filter
Nothing would ruin your pool party excitement like murky pool water. If you're worried about water troubles, set your pump and filter to run continuously for a couple days before your 4th of July pool party. Running your pump and filter will clear out any debris, disperse chemicals during balancing and shocking, and circulate the water in your pool.
3. Test & Balance Your Water
Don't be surprised by pool water chemistry problems the day of your backyard bash. Keep your pool water clean and sanitized by regularly testing it in the weeks leading up to the party. If you have questions about pool water chemistry, bring a water sample into your local Leslie's! We will conduct a detailed 10-point water chemistry analysis with our FREE in-store AccuBlue water test.
4. Shock in Advance
The more, the merrier! While we hope you have an excellent turnout for your 4th of July party, ensure your pool is prepared ahead of time for visitors. A high volume of swimmers brings a high volume of contaminants like sunscreen, lotion, deodorant, and laundry detergent. Give your pool water an extra sanitizing boost by shocking your pool at least 24 hours before your party.
Before swimmers enter the pool, check to make sure the Free Available Chlorine level is within the recommended range of 1.0–4.0 ppm. Always maintain at least 1.0 ppm of Free Available Chlorine (FAC) at all times. If the Cyanuric Acid level is over 50 ppm, a minimum of 2.0 ppm of FAC is recommended.
All About Ambiance
Now that your pool is clean, sanitized, and ready to go, it's time to get your backyard ready. Your pool is the centerpiece of your backyard, and will be the main source of fun during a 4th of July party. But don't let your patio and backyard feel left out! Top-notch decor and entertainment will take your party to the next level and create great memories for years to come.
Outdoor Furniture
Umbrellas, couches, and tables, oh my! Create a backyard oasis with our selection of stylish outdoor furniture, perfect for your 4th of July celebration.
Gather around this beautiful fire pit while waiting for fireworks, or if you're craving some s'mores. Not only is this fire pit elegant and entertaining, but it also doubles as a handy table. Simply place the cover on top of the fire pit, and it's ready to go!
Take a break from the warm sunshine under a vibrant, steel umbrella. Choose from an assortment of colors, like teal, maroon, or beige. Pair it with a beautifully detailed base to create a statuesque statement piece.
Don't forget about storage! Whether you need extra towels or a place to store pool toys, backyard storage is a must-have for parties. With 135 gallons of space, the Sumatra deck box is ready for any sort of festivity. It also doubles as a bench if you need extra seating.
If you're looking to get crafty and try your hand at DIY decorations, take a peek at our favorite red, white, and blue pools post to get some creative decoration ideas.
Entertainment & Music
Pump up the jams while you pump up your pool floats this 4th of July with a waterproof outdoor speaker! Bluetooth connectivity lets you keep your water-sensitive electronics out of harm's way, while still enjoying your favorite playlist out by the pool. This floating Sondpex Pool Speaker comes with a colorful party light that can glow steady or flash to the beat of the music.
Pool lights have come a long way from their humble beginnings. Nowadays, you can buy color-changing LED bulbs that can make your pool feel like a disco. If you're looking for a fun way to light up your pool without the hassle of changing your pool light, check out this floating underwater light show.
Safety First!
Keep your partygoers safe with a few quick tips on the day of the party:
Keep glassware away from the pool. If glass breaks and pieces or shards fall into the pool, the party's over and you'll have to drain the water to safely clean it out. Aluminum cans and plastic or paper cups and plates, only!
Appoint a designated water watcher. This should be a responsible adult (or a few adults) who will keep a close eye on swimmers in the water to prevent accidents and injuries.
Go over pool rules before swimming starts. Make sure everyone knows the rules of the pool. These might include no running on the deck, no diving off the edge, no dunking, etc.
Encourage swimming breaks. It's easy to forget about breaktime when you're having fun in the pool! Especially if you have children at the party, encourage breaks every 45 minutes. Use this as an opportunity to use the restroom indoors, reapply sunscreen, rehydrate with a cool beverage, and chow down over at the food table.
Stay cool in the heat. Be on the lookout for signs of heat exhaustion, heat stroke, and dehydration in your guests. For more tips, check out our blog post, How to Keep Your Cool in Extreme Heat.
Stars, Stripes, and Snacks
For larger parties, keep things simple by doing a build-a-burger bar! Grill up some patties, and lay all the fixings out on a table for easy access. This is a fun, efficient way to get everyone fed quickly and back to enjoying the party.
Don't forget about the beverages! Keep drinks cold and within arm's reach with the Stars & Stripes floating drink cooler, by Pool Candy. Add in hot dogs, and some red, white, and blue snacks, and you've got a perfect 4th of July feast.
If you're looking for a fun and refreshing snack to serve at your get together, whip up some watermelon star bites. Easy to make, and delicious to eat, these festive snacks are sure to be a hit.
Watermelon Star Bites
You will need 1 seedless watermelon, a star-shaped cookie cutter, whipped cream, and about half a cup of blueberries.
Cut the watermelon into 1/2" thick slices.
Using a star-shaped cookie cutter, cut the slices.
Lay the watermelon stars side by side on a baking tray.
Add a small swirl of whipped cream on the center of each piece.
Place 1–3 blueberries on top of the whipped cream.
Dig in!
BONUS TIP: Don't let guests cannonball into the pool too soon after eating! It's best to wait at least 30 minutes before getting back into the water after a big meal.
Let the Games Begin
Whether you're hosting an adult party or you have a backyard full of little swimmers, keep guests engaged with the perfect games. Get ready for an epic water balloon fight with self-sealing water balloons. Made from 100% recycled plastic, these red, white, and blue balloons are the perfect, eco-friendly 4th of July game.
Shoot some hoops or practice your serve with the Dunn-Rite basketball and volleyball set. This sturdy kit comes with everything you need, including the volleyball and basketball!
One summer game that will surely bring out everyone's competitive side is the watermelon race. This game is simple, but a ton of fun! Here's how to play:
Divide your guests into two teams, each team on one side of the pool.
Slather vaseline on a watermelon.
Place the watermelon in the middle of your pool.
On the count of three, both teams will swim to the slippery watermelon and try to bring it back to their side of the pool.
Whichever team gets the watermelon to their side first, wins!
Float Under the Fireworks
As the day winds down, relax on a pool float and watch the dazzling fireworks light up the night sky. You can lounge in style and stick to the red, white, and blue theme with an illuminated Pool Candy Stars & Stripes float. If you feel like breaking away from the Americana vibe, there are plenty of other entertaining options. Who says you can't enjoy the 4th of July from the back of a giant inflatable dragon or elephant?
If you're looking for a more relaxing vibe, we have a pool lounger for that! Whether you want a luxury recliner with all the bells and whistles, or just a comfortable, simple lounge, there are endless choices for relaxation.
---
With the right planning and prep, you will have the best 4th of July pool party ever! If you have any questions or need a helping hand with pool party prep work, stop by your local Leslie's.