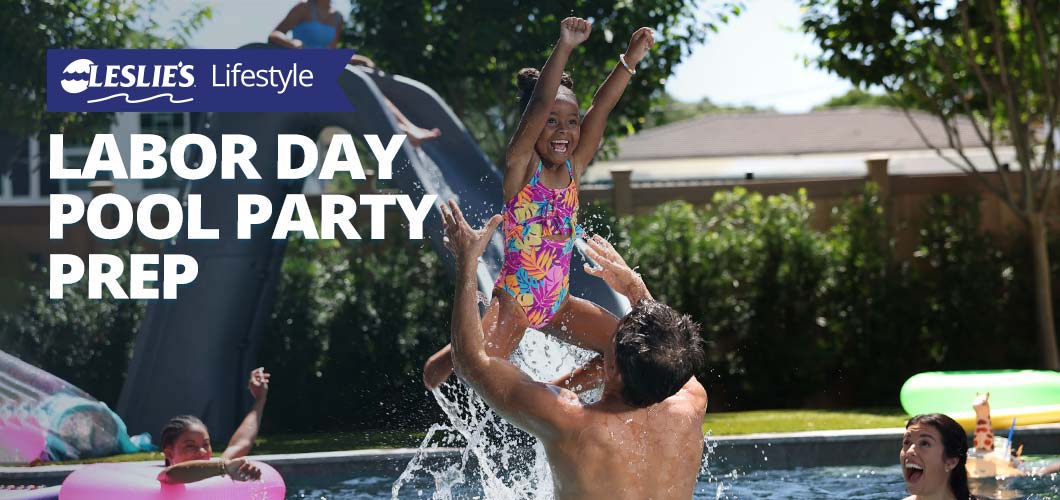 Labor Day Pool Party Prep
For many people, Labor Day marks the end of summer and is the last holiday where your pool can be the main source of entertainment. Hosting a Labor Day pool party gives you one more time to wear your favorite swimsuit and bust out your best pool floats. With a little help from Leslie's, you will be ready to host the most epic end-of-summer bash ever.
Pool Care Prep
Before the cannonballs can commence, take some time to inspect your pool's cleanliness and health. Nobody wants to swan dive into a murky pool fit for a swamp creature! Run through the following pool prep checklist before partygoers arrive to ensure they have a clean, safe, and beautiful pool to enjoy.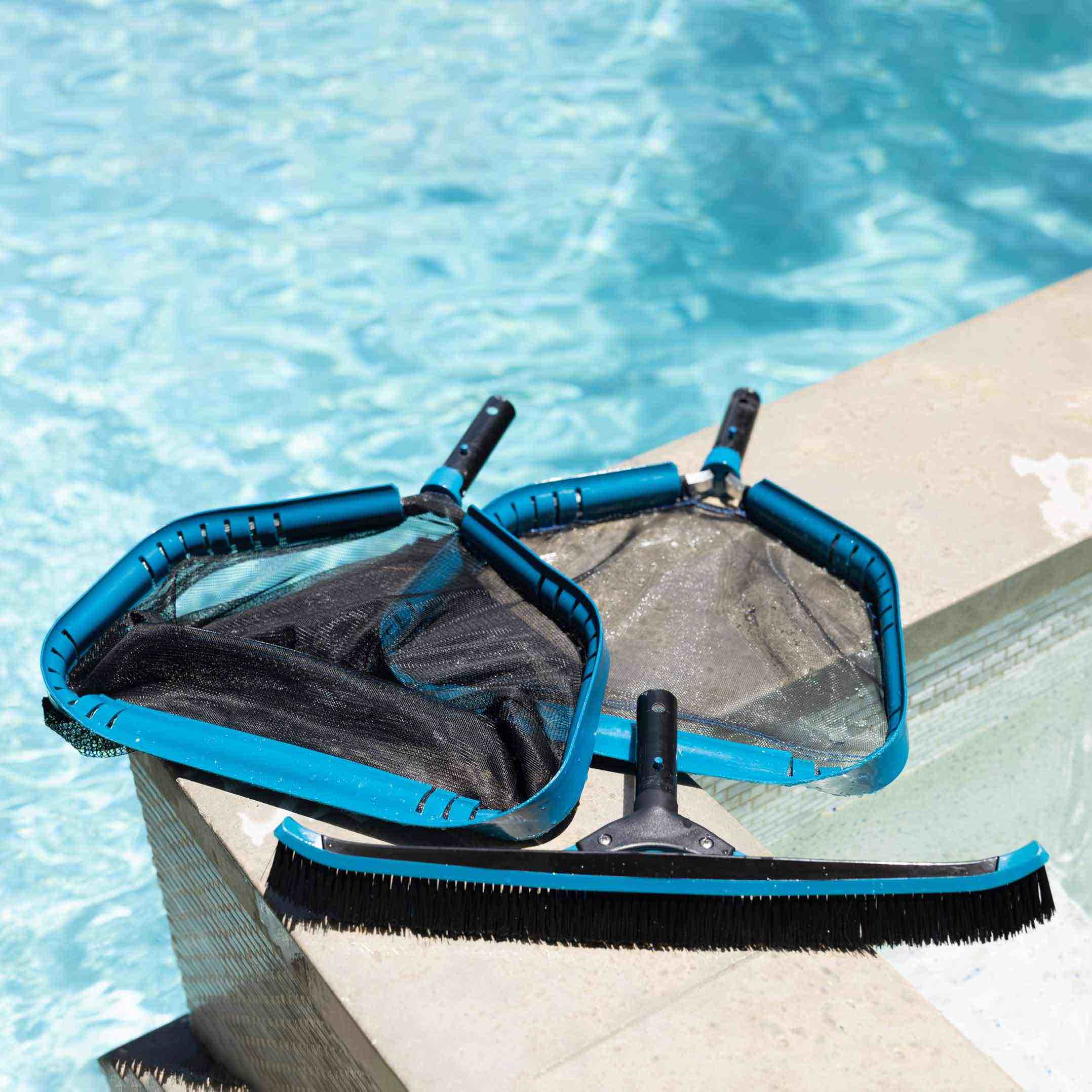 1. Skim and Brush Your Pool
Clear any large debris from your pool with a skimmer net, then thoroughly brush down the walls and steps to loosen dirt. Then run your automatic pool cleaner, or manually vacuum to remove the grimy material.
2. Test and Balance Water Chemistry
Since you test your pool water chemistry every week — right? — it should be in good shape for your party. Continue to test it regularly in the weeks leading up to your bash, and balance the chemistry as needed. If you're looking for the most precise pool water test available, just bring a water sample into your local Leslie's. We offer FREE in-store AccuBlue® water tests that give you a 10-point water chemistry analysis, as well as a customized water treatment plan.
3. Run the Pool Pump and Filter
Once your pool water chemistry is balanced, run your pump and filter continuously for a few days before your Labor Day pool party. Doing so will clear out any remaining debris and fully circulate the water and chemicals.
4. Shock Your Pool
Finally, give your pool an extra sanitizing boost by shocking it at least 24–48 hours before the party starts. Shocking your pool water protects it against contaminants brought in by swimmers, like sunscreen, lotion, and laundry detergent. After the shock has had time to work its magic in your pool water, test the chlorine level before letting people into your pool. The Free Available Chlorine content should be between 2.0–4.0 ppm (parts per million) at all times.
PRO TIP: A non-chlorine shock, such as Leslies Fresh 'N Clear, can help keep your Free Available Chlorine working efficiently during a pool party. Fresh 'N Clear targets and oxidizes non-living organic contaminants in the water, leaving your chlorine free to control living contaminants like bacteria. Swimmers can return to the pool as little as 15 minutes after an application of Fresh 'N Clear, which makes it ideal for maintaining healthy pool water between swimming breaks.
Decor and Entertainment
If you hosted a 4th of July party and still have some red, white, and blue decorations leftover, you're in luck! After all, Labor Day celebrates and honors the achievements of American workers, so Labor Day is the perfect time to use the last of your patriotic-inspired decor and trinkets. But if you want a break from the flags and fireworks, there is no limit to how you can set up your party. Savor the last bit of summer with a vibrant tropical vibe, or keep it classy with an elegant nautical tone.
Backyard Style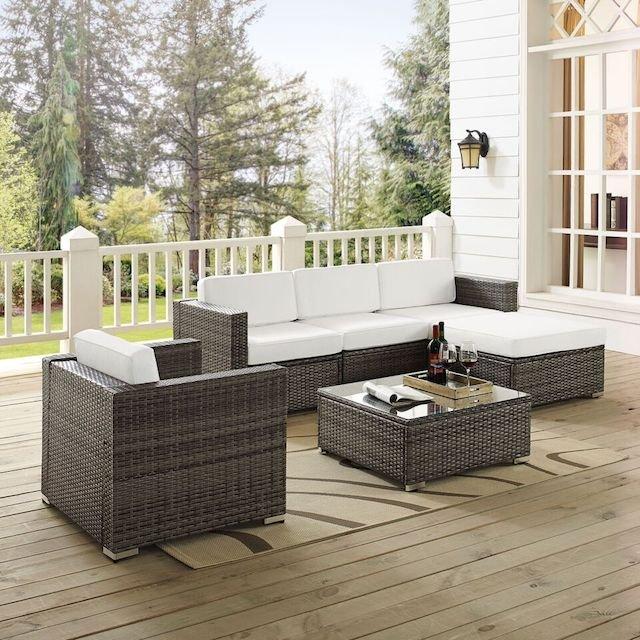 Even if your backyard is filled with cacti and gravel, you can transform it into something straight out of Martha's Vineyard with the sophisticated Crosley Sea Island gray wicker patio set. Made to last with UV-resistant outdoor resin wicker, this classy set seats multiple people in style and comfort.
Take a break from the pool games — Marco Polo is only fun for so long — and lounge on the deck under the cool shade of the Westbay umbrella. This 9-foot umbrella offers a superior reprieve from the sun and is a colorful, eye-catching statement piece to have in your backyard.
September can be a fairly chilly time of year for some parts of the country, especially when the sun goes down. Don't let a fun, warm day turn into an uncomfortably cold evening. Grab a tabletop gas fire pit, so you can extend your Labor Day celebrations well into the crisp evening. A portable, easy-to-set-up fire pit can be placed on any sturdy tabletop to add instant warmth to your party.
Music and Mood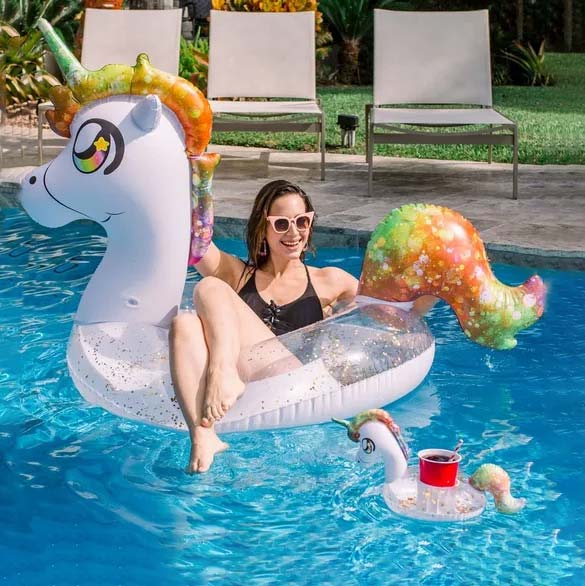 A great party starts with great music and an amazing ambiance. Don't let your Labor Day pool party fall flat by not being able to play your favorite playlist by the pool. Never worry about an expensive speaker getting wet again with this GAME floating waterproof speaker. Not only can this high-quality, Bluetooth-enabled speaker go directly into your pool, it also features LED disco lights that will take party vibes up a notch.
And of course, what is a pool party without cool pool floats? From dragons, to dinosaurs, to flamingos — oh my! — Leslie's has a wide range of impressive floats for any celebration. For example, the Pool Candy glittery unicorn comes with a miniature cup holder float, perfect for a refreshing drink.
Keep the elegant outdoor furniture on your patio, and set a few illuminated chairs out by your pool or lawn. Made of durable PVC vinyl, these comfy cushions can change to over 120 different colors, all at the touch of a remote. Perfect for adults, kids, or anyone who wants to take a break from the pool, but not the fun.
Fun and Games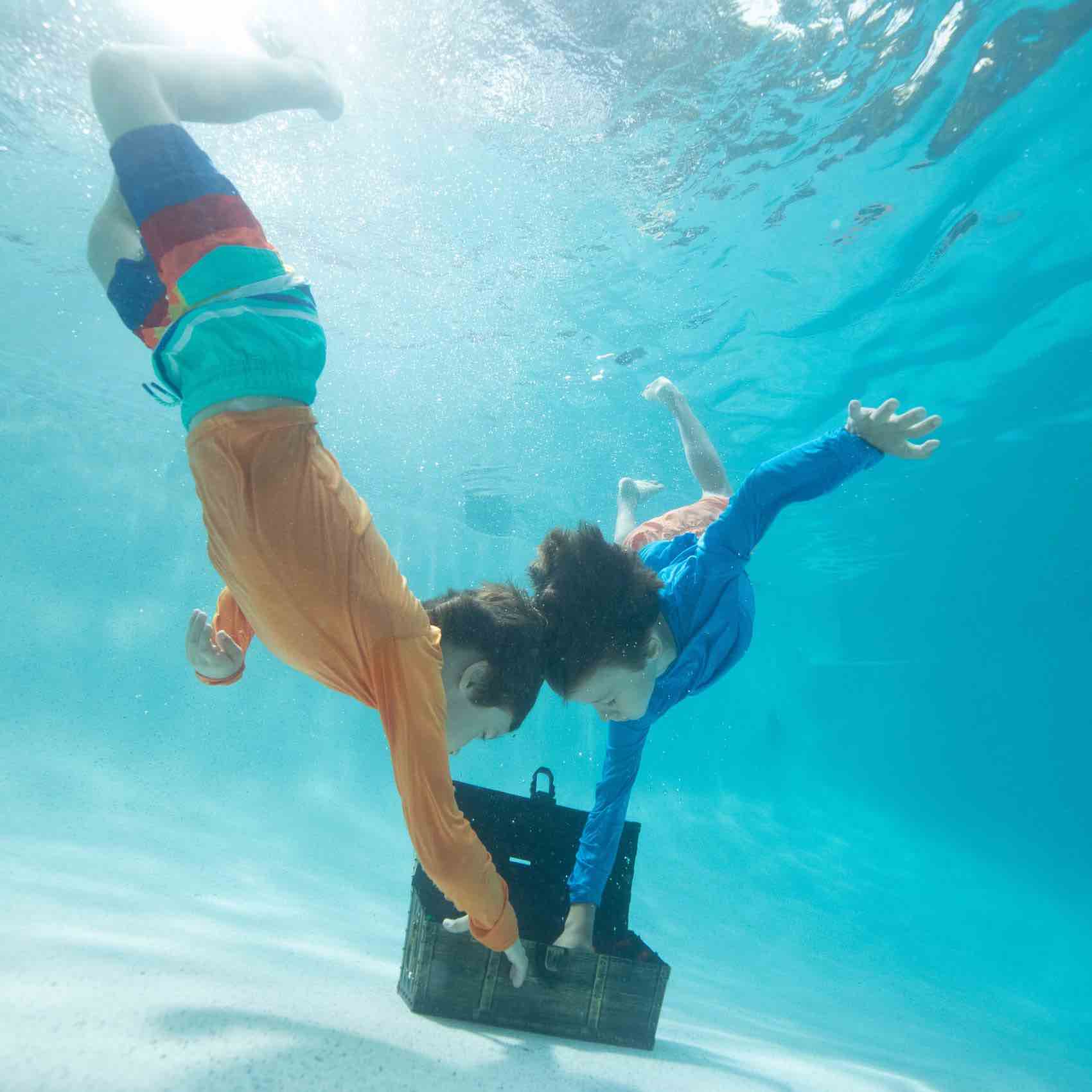 Whether your party guests are young, old, or somewhere in between, great pool games are a guaranteed way to keep people entertained all day long. Leslie's Shark's Cove Sunken Treasure Chest is a fun way for the kiddos to practice their underwater diving skills. This game can be played casually, or break the players into two groups for a more competitive treasure hunting adventure. And don't forget the water balloons! Let the youngsters work up an appetite by holding an epic water balloon war in your backyard.
Adults can reminisce about their college days with the help of a floating pong game. Set up in the traditional triangular shape, this inflatable game holds standard-sized plastic party cups. Fill the cups with your favorite ice-cold adult drink, or keep it kid friendly and play with plain old water. Just be sure to keep beverages in the cups — not in your swimming pool.
Sporty and competitive partygoers can set up a lively volleyball or basketball game with the 2-in-1 Dunn-Rite H2O Hoops set. This kit features a 16' volleyball net and ball, as well as a 36"–48" basketball hoop and ball. Or, for a more subdued but equally competitive game, set up an inflatable corn hole set in your pool or on your deck.
PRO TIP: A pool party should be all fun and games — as long as there is safety first. Before you get the party started, go over pool safety rules, such as no running or roughhousing, with your guests. Appoint a designated pool watcher whenever people are in the water, even if there are no children present. Encourage 15-minute breaks every 45 minutes to rehydrate, apply sunscreen, and use the restroom. Also keep an eye out for signs of dehydration or overheating.
Savory Servings
The end of the warm summer months also means the end of one of summer's best treats — fresh, delicious produce. As the days grow shorter and cooler, sweet berries and hearty vegetables become a thing of the past. Enjoy the last of the summer harvest with some produce-focused party delicacies. These meals are not only scrumptious, but are perfect, lightweight options for your Labor Day pool party. Make sure to avoid using any glassware outside and around the pool. Broken glass, especially in your pool, is a quick way to bring the party to an unfortunate end.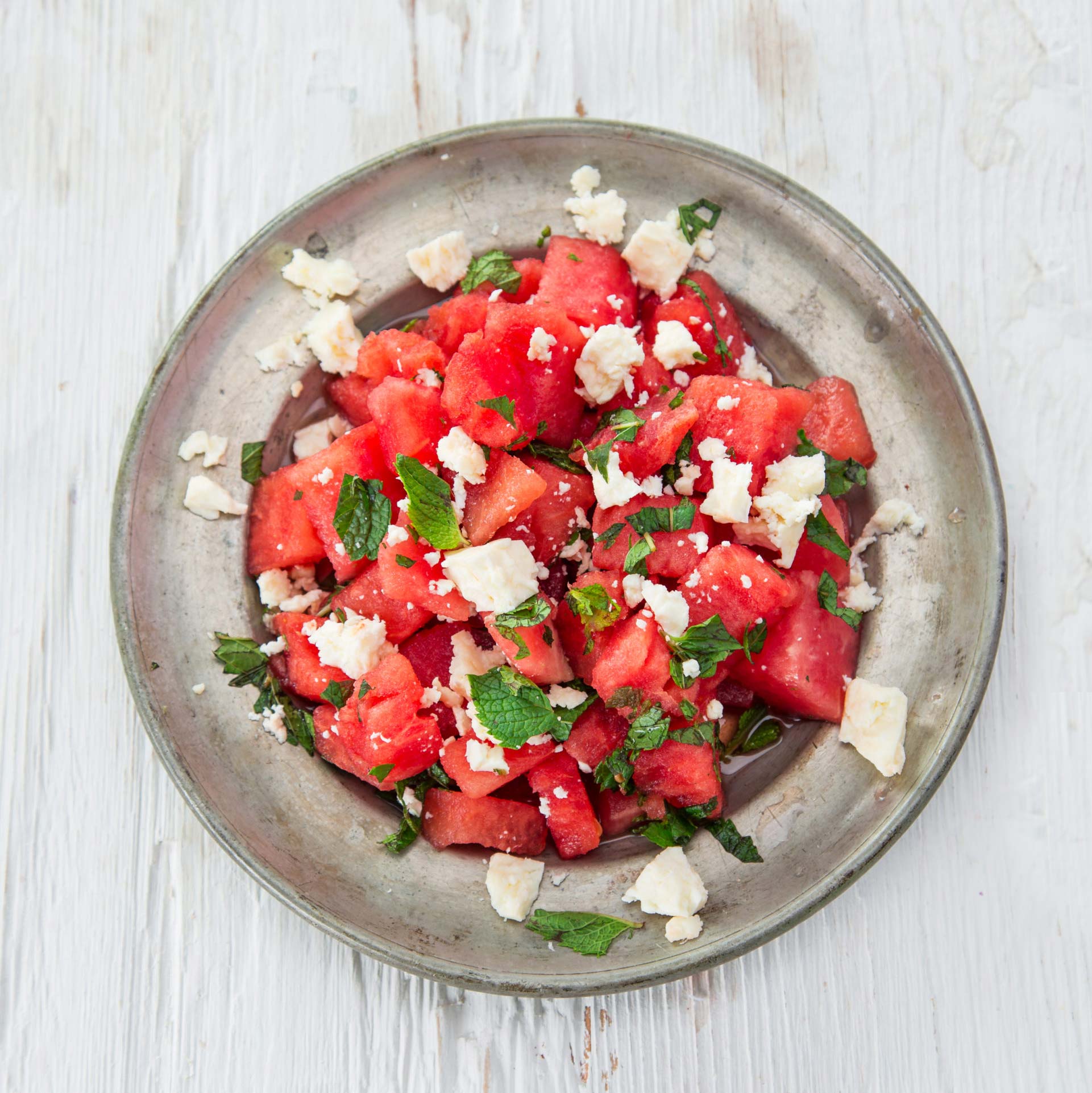 Watermelon and Feta Salad
If you've never tried this salad before, you are sorely missing out! The sweetness of the watermelon blends beautifully with the salty tang of the feta cheese. This salad's taste is only outdone by its simple assembly.
Cut half of a fresh watermelon into cubes and place into a large mixing bowl.
Gently break apart a block of feta into chunks and mix into the watermelon.
Finely chop some fresh basil and sprinkle on top.
Add a drizzle of balsamic reduction on top, mix it all together, and it's ready to enjoy.
Mediterranean Chicken Skewers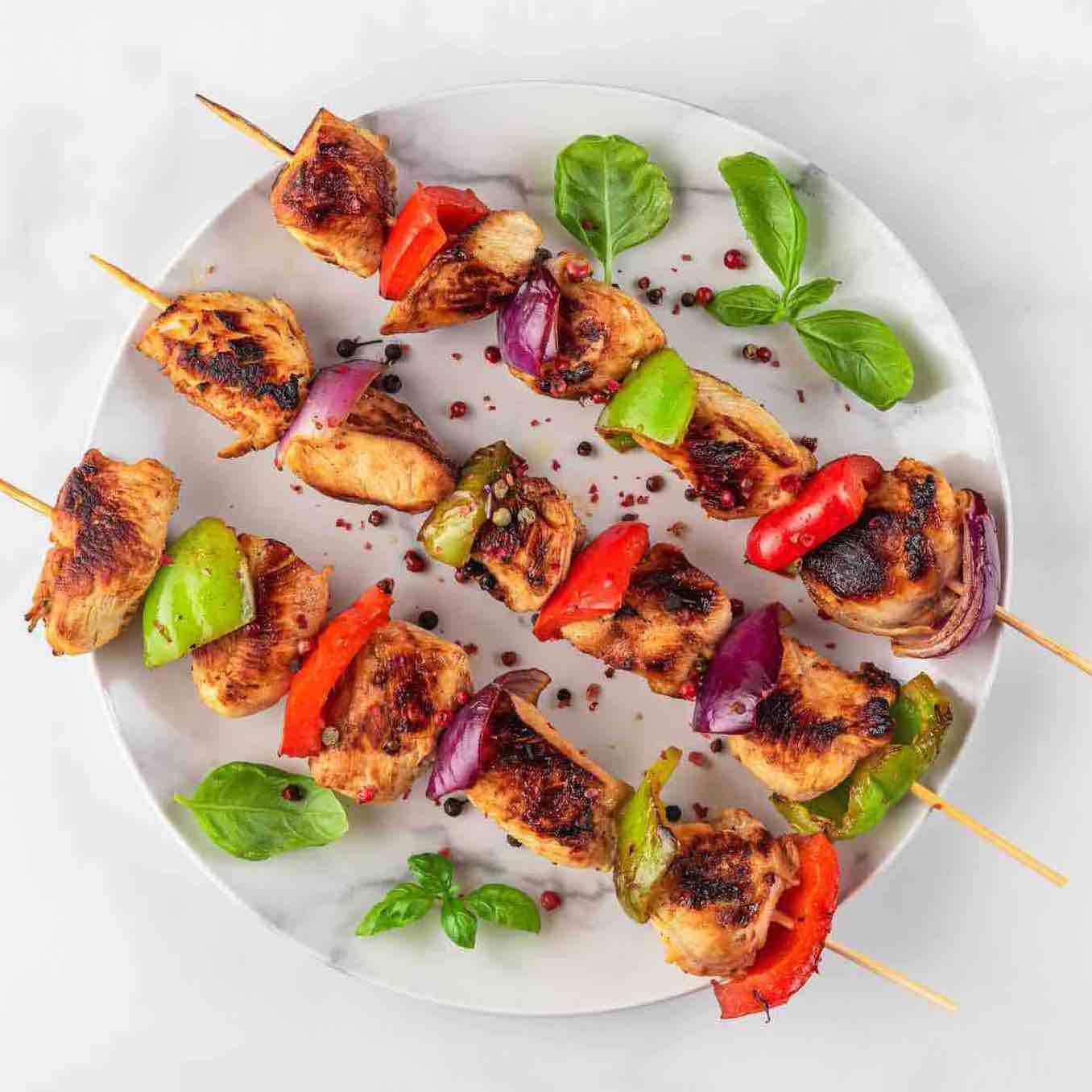 No summer pool party is complete without cooking something on the grill, and these chicken skewers are the perfect thing to fire up. While these tasty kebabs take a bit more prep work and cooking time than the watermelon salad, they are worth the wait.
We suggest doing this first step the night before the party, so the chicken has time to marinate. Depending on the size of your guest list, cut up 2–3 chicken breasts into cubes and place in a large ziplock bag. Pour homemade or store-bought marinade into the bag so the chicken is fully saturated. Let it sit for a few hours in the fridge.
Once the chicken is finished marinating, cut up fresh bell peppers, onions, and mushrooms into small cubes.
Grab your wooden skewers and alternate adding the chicken and vegetables onto the skewer.
Place the skewers on a grill-safe pan, and drizzle or brush the remaining marinade on top.
Toss the skewers on the grill over medium-high heat, and cook for about 5 minutes each side.
Be sure to let them cool before serving your hungry guests.
Berry Trifle Treat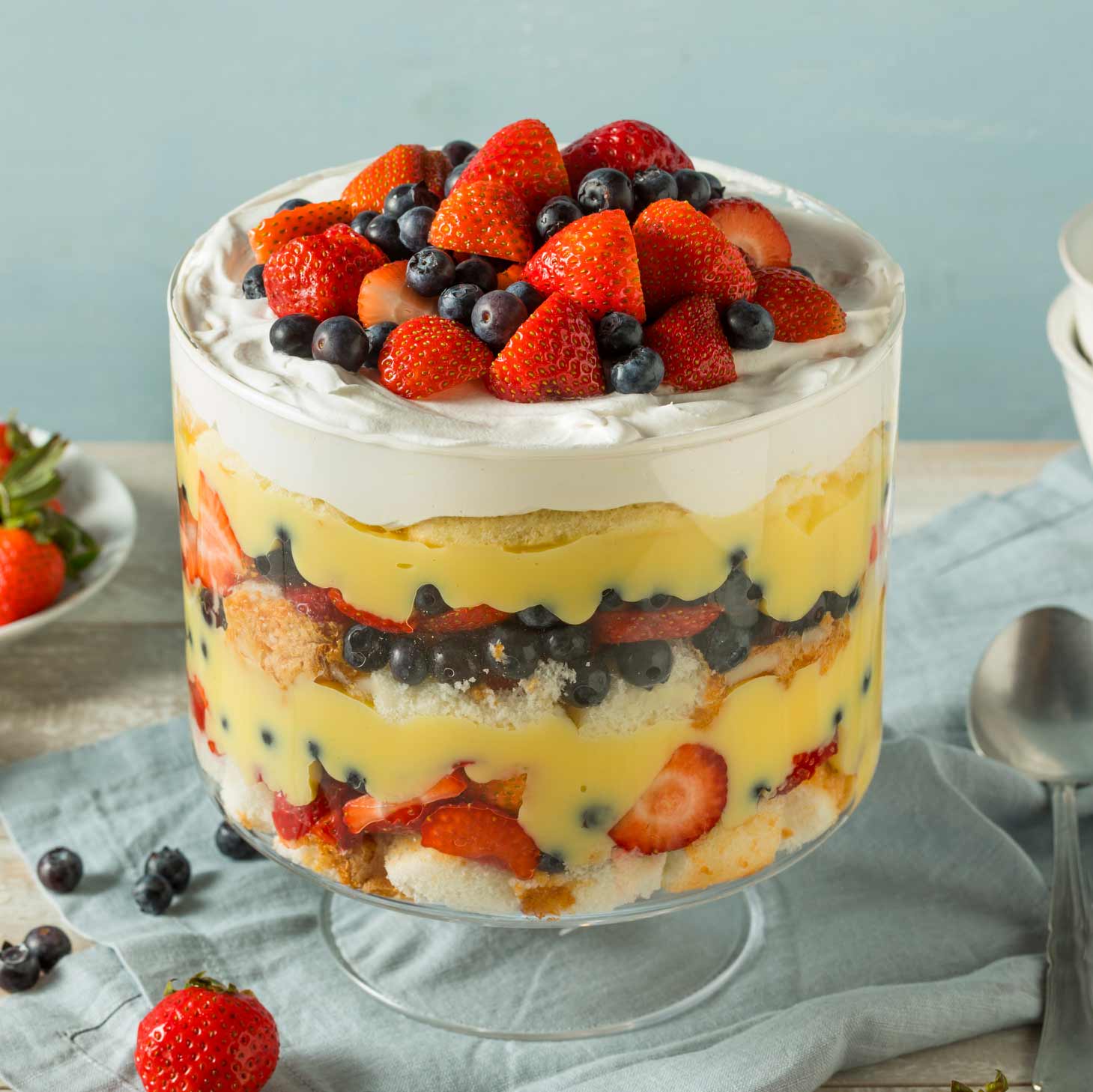 Don't forget about the best part of every meal, the dessert! This dessert is as delicious as it is beautiful, and the vibrant berries are a perfect homage to the American holiday. Gather up your fresh blueberries, raspberries, and strawberries, and let's get to it.
Place small slices of angel food cake around the bottom of a large presentation bowl. Or, one single, round piece of angel food cake can be used instead.
Spread a layer of vanilla pudding on top of the food cake.
Add blueberries, raspberries, and cut up strawberries to the layer of pudding.
Cover the berries with homemade or store-bought whipped cream.
Add one more layer of berries, and garnish with mint and more whipped cream.
This festive fare will leave your guests wanting the recipes, and a plate of leftovers. Whip up a pitcher of fresh lemonade or your favorite adult cocktail to go with, and bon appétit!
---
Labor Day marks the unofficial end of summer for many pool owners, and is the perfect time to host one more backyard bash. With stylish furniture, exciting games, and delicious food, you can host a pool party to remember. Stop by your local Leslie's to browse our wide selection of pool and backyard products. And check out our other blog post for helpful post-party pool cleaning tips!
Leslie's makes every effort to provide accurate recommendations based upon current ANSI/APSP/ICC-5 2011 (R2022) standards, but codes and regulations change, and Leslie's assumes no liability for any omissions or errors in this article or the outcome of any project. You must always exercise reasonable caution, carefully read the label on all products, follow all product directions, follow any current codes and regulations that may apply, and consult with a licensed professional if in doubt about any procedures. Leslie's assumes no legal responsibility for your reliance or interpretation of the data contained herein, and makes no representations or warranties of any kind concerning the quality, safety, or suitability of the information, whether express or implied, including, without limitation, any implied warranties of merchantability or fitness for a particular purpose.