Hot Tub Electrical Safety
We've talked about hot tub safety before, in a more general sense, and today I want to speak directly about spa electrical hazards.
We all know that water and electricity don't mix. Indeed, spa electric hazards can cause electrocution, or they can also cause fires.
Proper Power Supply

The first thing for a spa to be safe is that it needs to have the proper power supply. Portable spas and hot tubs in the US run on either 120V or 240V. The second thing is that your GFCI breakers, outlets and spa pak gfci works properly. Test your GFCI's monthly. Just push the Test and Reset buttons, to be sure they are working.
There are small hot tubs that are plug-n-play, 120V, they also need to be plugged into a GFCI circuit. This means that the breaker in the main house panel or electrical box, is a GFCI breaker, with the yellow test button, or the outlet itself is a GFCI outlet. Plugging it into a regular back patio outlet may not be safe.
For larger spas, 240V is required, often coming from a 50 amp breaker on the main circuit panel. In addition, an external cut-off box, located between the main panel and the hot tub, is often placed, but at least 5 feet from the water, to prevent touching it while in the hot tub water.
If your plug-in hot tub is tripping the breaker, you may need to upgrade the circuit amperage or even better, install a separate GFCI breaker and outlet, at least 5 feet from the spa. Small spas that plug into an outlet should always be plugged into a GFCI circuit, and never used with an extension cord.
If your 240V hot tub is tripping the breaker, you probably have a bad heater element, 9 times out of 10. Remove the heater from the circuit and see if the breaker holds steady, to verify.
Nearby Metal Objects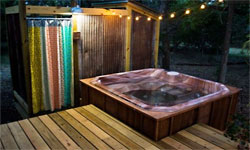 Consider metal objects that may be near your spa, within touching distance. If they are attached to something other than the spa, the possibility exists that they could become energized by something unseen, and make ground with a person in the hot tub who touches it. Inspect any metal objects near the hot tub to be sure there's not nearby power source. It's safest to just not have any touchable objects around the spa at all, especially metal. Unlike this picture here, how many electrical hazards do you see in the photo?
Nearby Power Sources
There should be no electrical outlets, outdoor lighting or other electrical appliances or supply within reach of the spa. Do not plug in your phone, and have it next to the spa. Same with small space heaters or fans propped up next to the spa. Keep all electrical products and power away from the hot tub. Use battery operated items instead.
Bonding & Grounding
These are two different things, bonding is a bare copper wire that connects the outside of the electrical equipment (pumps, heater, blower, ozonator), to prevent an electrical short in one item from energizing other parts of the spa. Grounding is a wire that accompanies all power wires leading to the electrical equipment (pump, heater, blower...), and connects to the green ground screw on the load. On the other end, the ground wire is connected to the ground bar in the breaker box.
Spa Pack Wiring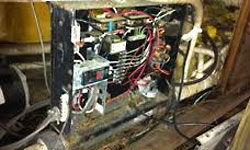 The most common spa and hot tub electrical hazard is not being shocked while in the tub, it's being shocked while under the tub! I have seen some scary wiring of spa packs in my day, and if something looks hazardous, it probably is! Wires cut by sharp door edges, rodent damage, bare terminals, insect damage, are just some of the things that can be dangerous. A bad ground or incorrect bonding can energize the entire control box in some cases. Proceed with caution, and call an electrician if your spa pack wiring is not right.
Spa Lighting

Spa lights are sealed units, that are self draining, and for most portable spas, there is little danger of electrocution from defective spa lights, which are usually low voltage 9-12 volts. However, if your spa light should leak, and it did not self drain, and your GFCI did not work properly, or if the spa light was wired incorrectly, yes - spa light hazards could exist. If it worries you, remove the light!
So that's it for me today on electrical safety, take a few minutes to look over your spa or hot tub, and if anything looks unsafe - it probably is!