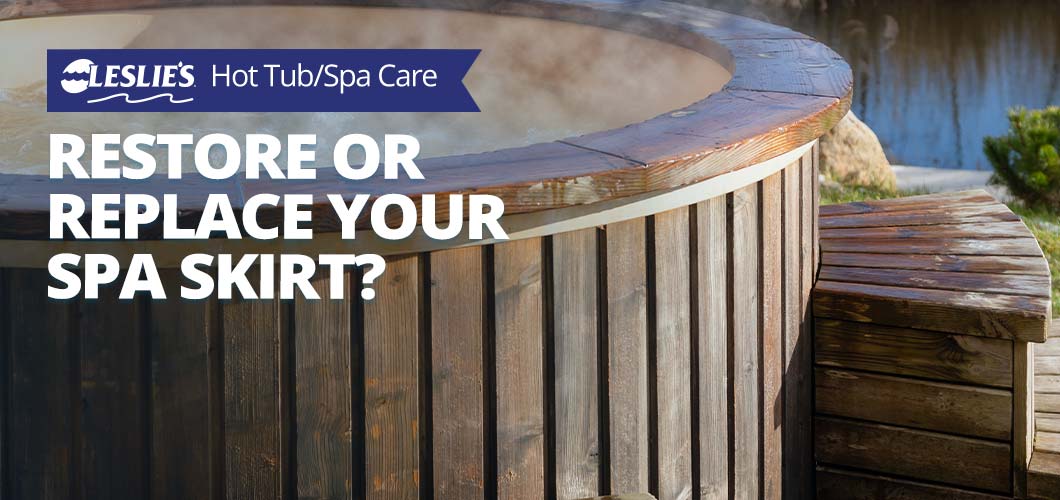 Restore or Replace your Spa Skirt?
The spa skirt, also known as the spa cabinet or spa surround, is traditionally made of redwood or cedar for long life and resistance to rot and insects. Nowadays, composite materials are also common for hot tub side panels. These composites are mixtures of wood pulp and plastics, which resists rot and fading better than real wood.
In either case, there will come a time when your spa cabinet, or spa skirt, doesn't look so hot anymore. It may be faded, stained, or rotting near the base — telling you it's time for a hot tub skirting replacement or restoration. Moisture from overgrown plants, rainwater, or lawn sprinklers can really damage the finish and appearance within a few short years. If left untreated, the spa skirt will begin to fall apart, much like the walls of an old barn.
If your spa skirt is stained or faded, but the structure is intact with very little wood rot, you can refinish your spa cabinet in the same way you would for any outdoor wood fencing, decking, or furniture.
Restoring a Wooden Spa Cabinet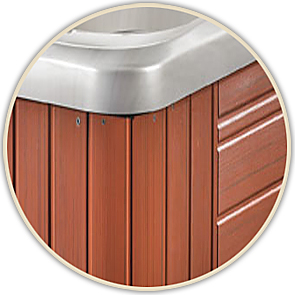 Remove the Panels: Use a cordless drill with a properly sized Phillips head to remove panel mounting screws. If you have full access all around the spa, you could leave the panels on, but you can sand and finish the panels more easily when they're removed, so you can work on them when they're horizontal.
Clean the Panels: Use a mild all-purpose spa cleaner and a brush or textured sponge. Scrub the entire panel to remove dirt, grime, and oils. Rinse clean, and use an old towel to scrub them dry.
Sand the Panels: You'll need a belt, orbital, and/or block sander for this step. Start with about 50 grit sandpaper, and sand the entire surface. Remove wood dust with a shop vac, then sand again with 100 grit. Clean again, and finish with a fine grit, around 150. Clean it well to remove all dust from cracks and edges.
Stain the Panels: Using a brush, rag, or spray, apply your chosen outdoor stain according to directions. Minwax makes products for staining hot tub cabinets.
Seal the Panels: Unless your stain is a one-step product with polyurethane, apply a wood sealer or waterproofing layer over the dry stain to protect your panels from moisture and dirt.
Replacing a Spa Cabinet
If you have advanced wood rot that a simple patch won't repair, or if you want to change the look of your spa cabinet, you could consider replacing your spa skirt. Here are a few hot tub panel ideas that you can do yourself, DIY style.
Wainscoting: These panels are sold in various sizes. They're also available in more expensive packs of pre-cut cedar or pine tongue-and-groove boards. Just as you would use them on the bottom half of a dining room wall, you can apply this to the outside of your spa. Add a pressure-treated baseboard and moulding around the top and sides of each panel.
Replacement Spa Cabinet Kits: Available in a few traditional colors, these kits are a quick solution for a long-lasting spa skirt replacement. Made of composite materials, prefab spa cabinet kits make spas with rounded corners easy to renovate. They will fit radius corners of 5" to 12" and any spa up to 96" wide.
Faux Stone or Brick Panels: This option offers a unique, updated look for your spa or hot tub. Choose from hundreds of patterns of wood, stone, or brick. These panels are interlocking and join with corner stacks, which works well for square spa cabinets. Carry the design to surrounding walls, or add faux boulders around the spa.
---
While the exterior aesthetic of your spa or hot tub is key to an enjoyable soak, the most important part of owning a hot tub is making sure the inside stays clean, well-balanced, and warm. No matter what you need help with on your spa or hot tub, Leslie's is here to help. Call or stop by your local Leslie's today for a free 10-point AccuBlue® water test and customized treatment plan. You can also find all your spa essentials online.
Leslie's makes every effort to provide accurate recommendations based upon current ANSI/APSP/ICC-5 2011 (R2022) standards, but codes and regulations change, and Leslie's assumes no liability for any omissions or errors in this article or the outcome of any project. You must always exercise reasonable caution, carefully read the label on all products, follow all product directions, follow any current codes and regulations that may apply, and consult with a licensed professional if in doubt about any procedures. Leslie's assumes no legal responsibility for your reliance or interpretation of the data contained herein, and makes no representations or warranties of any kind concerning the quality, safety, or suitability of the information, whether express or implied, including, without limitation, any implied warranties of merchantability or fitness for a particular purpose.