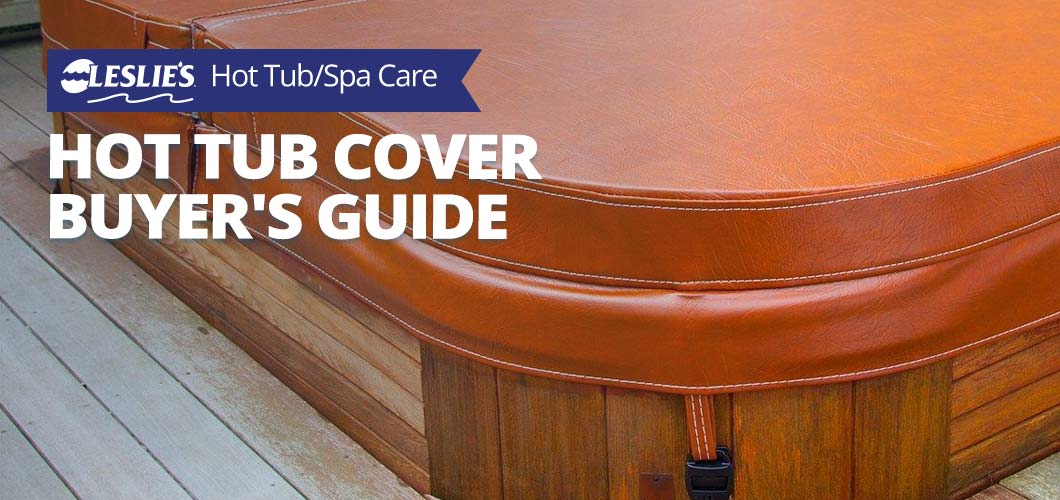 Hot Tub Cover Buyer's Guide
The cover on your spa or hot tub has started looking worn and warped. It's growing heavy and waterlogged, and it's not nearly as efficient at trapping heat as it used to be. Maybe you're ready to order a new cover, but you're not sure where to start. Take a deep breath – you're in the right place! In this post, we'll help you understand the ins and outs of buying a replacement custom cover for your spa or hot tub. Follow the steps below to order your new hot tub cover online.
1. Identify the Shape and Size of Hot Tub Cover Needed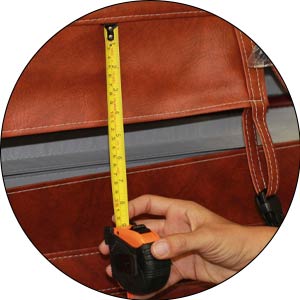 Before you can start the ordering process, you'll first need to measure your hot tub to make sure the new cover will fit correctly. It may be tempting to measure your old cover as a reference point, but you'll get a better fitting cover if you measure the hot tub instead. You'll need specific measurements based on cover shape, plus you'll need to know the skirt and strap lengths. We have all sorts of tips and tricks in our blog post, "How To Measure For a New Hot Tub Cover."
Once you have your measurements, enter them into the online submission form. Covers over 96" in any direction are a special order item, but you can request a free quote online.
2. Choose the Color of Your Hot Tub Cover
When you buy a custom spa or hot tub cover from Leslie's you'll have 11 different color options to choose from. Consider the color of your spa cabinet and acrylic interior when making your decision. Our vinyl coverings are built to last from UV-stabilized marine grade vinyl.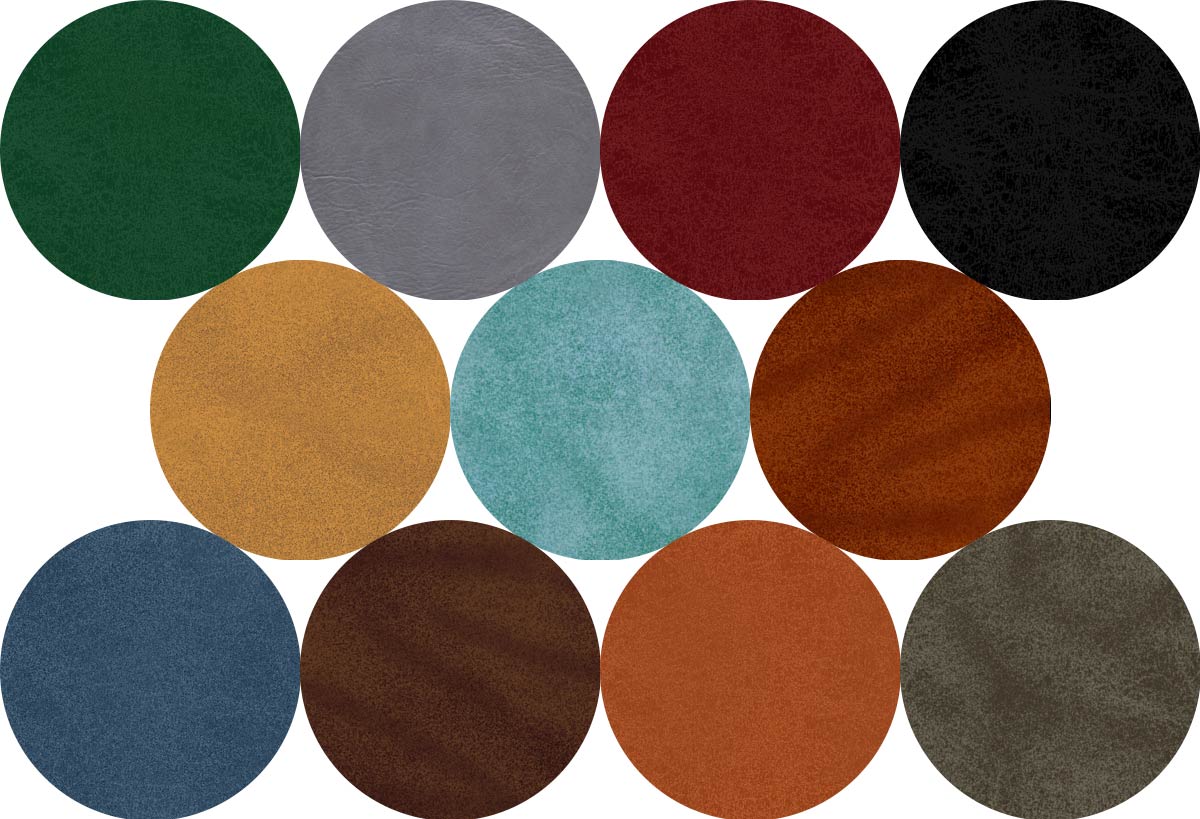 3. Select the Level of Insulation
Aside from measuring your hot tub, one of the most important parts of purchasing a new hot tub cover is deciding how much insulation you want. A lot of this decision really depends on your location, and whether the hot tub is indoors or outdoors. Indoor hot tubs and those located in warmer climates can usually get away with a thinner Economy or Standard level cover. On the other hand, outdoor spas and hot tubs located in the coldest regions that see a lot of snowfall may require a much thicker cover to help trap heat. Many spa owners end up choosing something in the middle, which offers a good balance between cost and quality.
The foam core is measured in two ways: the thickness and the density. Thickness is usually communicated as the taper, with the largest measurement being the thickness along the fold, and the smallest measurement being the thickness of the outer edge. Density is a measure of weight, with higher density foam providing better insulation and durability than lighter, less dense foam.
When it comes to cover thickness and foam density, Leslie's has six different options to choose from.
Cover Type
R Value
Taper
Foam Density
Ideal Setting
Warranty
Included Extra Features
Economy
12
4" - 2"
1.0 lb
Indoor Spas
1 Year
None
Standard
13
4" - 2"
1.5 lb
Moderate Climates
3 Years
None
Deluxe
14.5
4" - 2"
2.0 lb
Mild Seasonal Climates
3 Years
None
Energy Saver
20
5" - 3"
1.5 lb
Seasonal Climates
3 Years
Continuous Heat Seal
Ultra
24
6" - 4"
1.5 lb
Snowy, Seasonal Climates
3 Years
Continuous Heat Seal
The Works
30+
6" - 4"
2.0 lb
Snowy, Seasonal Climates
3 Years
Continuous Heat Seal,
Double-Wrapped Core, and
Heavy-Duty Windstrap Upgrade
FAQ: What is hot tub cover taper? The taper for a hot tub cover is the gradual downward slant from the center fold to the outer edges. This incline helps drain water from the cover, and adds a bit of extra stability through the middle. If your hot tub cover doesn't have a taper, you don't have a quality cover, and it won't last very long.
4. Choose Your Hot Tub Cover Upgrades
As you may have noticed, the higher level covers include certain complimentary features that lower level covers may not. If you don't necessarily need a thicker premium level cover, you can still choose to upgrade your cover with the same a-la-carte upgrade options. Why upgrade? Here are come of the features and their benefits:
Continuous Heat Seal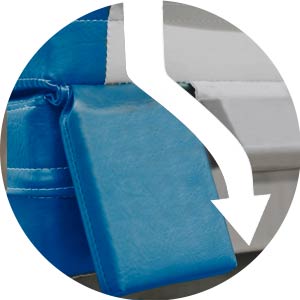 This option comes standard on Energy Saver, Ultra, and The Works covers, which are designed for use in cooler climates that see seasonal winter weather and occasional snow. A continuous heat seal fills the void along the seam, which helps boost the insulation efficiency of your cover. It also adds to the structural integrity of the center, preventing sagging and extending the cover's life expectancy.
Double-Wrapped Core

When water vapor starts seeping through into the foam, the cover gets heavy with water. This makes it more difficult to take the cover off, and the center of the cover will begin to sag. A double-wrapped core gives you a second layer of 6 mil polyethylene sheeting surrounding the foam core to prevent this from happening. Again, this option will help extend the life of your cover.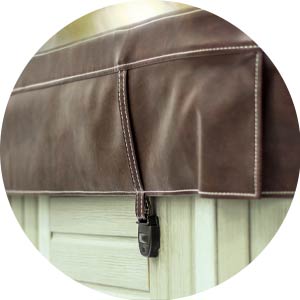 Heavy-Duty Windstrap
All covers come with safety straps and clips. But when you upgrade to a heavy-duty windstrap, you'll get so much more. These straps are ASTM approved with locking safety clips. They're reinforced with multiple scrim layers and are double stitched to the cover for maximum protection against wind damage and unsupervised entry.
---
Most custom hot tub covers take 6-8 weeks to complete before they are shipped. While you wait, you can help a warped or inefficient cover retain heat by adding an extra layer of insulation to the surface of the water in your spa. A spa blanket will help to reduce evaporation from your spa, which will conserve heat, water, and chemicals. Even once you get your new custom cover, a spa blanket can still help increase the efficiency of your spa heater, and it can also help prolong the life of your spa cover. It's a win-win situation for not a lot of money.
Leslie's makes every effort to provide accurate recommendations based upon current ANSI/APSP/ICC-5 2011 (R2022) standards, but codes and regulations change, and Leslie's assumes no liability for any omissions or errors in this article or the outcome of any project. You must always exercise reasonable caution, carefully read the label on all products, follow all product directions, follow any current codes and regulations that may apply, and consult with a licensed professional if in doubt about any procedures. Leslie's assumes no legal responsibility for your reliance or interpretation of the data contained herein, and makes no representations or warranties of any kind concerning the quality, safety, or suitability of the information, whether express or implied, including, without limitation, any implied warranties of merchantability or fitness for a particular purpose.