What's the Best Number of Spa Jets?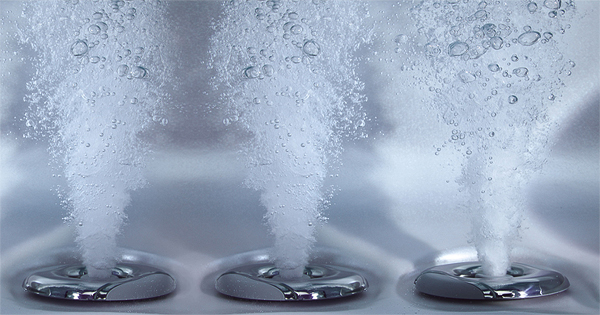 When we bought our first hot tub, I think it had 12 spa jets - and at the time that was a lot! Fast forward 30 years, and you can find spas with over 100 Jets! Is that too many?
It's not just the number of spa jets that makes a spa awesome, it's more than that. The type of spa jets, their location, and how adjustable they are - and how powerful the jet pump is, all play a role.
Type of Spa Jets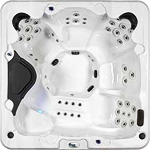 Some spa jets are non-adjustable, where other jets can be pointed or positioned in many directions with a swivel eyeball. Larger spa jets have multiple nozzles and may also rotate or swirl, and be mixed with air to add more oomph to the water flow. The nicer spa jets are fully adjustable, and can be closed easily by turning the outside bezel or ring, finished in soft rubber, chrome or stainless steel.
Location of Spa Jets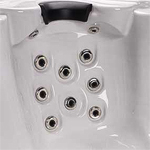 Where the spa jets are located may be important for your particular aches and pains. Powerful floor jets are nice for a good foot massage, and calf jets, neck jets are also nice to have. But, do you really need so many spa jets? Think about the areas of your body where you would like to target, and let your pain be your guide, I suppose. Air Jets are usually small holes for air only (no water), and shouldn't be called spa jets, technically.
Spa Jet Adjustments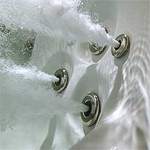 If you run water through too many jets as one time, the amount of water coming out of each jet is reduced. And since you probably don't fill every seat in your spa, you want to be able to turn off spa jets that are not being used, which increases water flow to the jets that are open. Some spas will allow you to control different spa jet banks, or 'sets of jets', by turning a large knob, or should at least allow you to close off individual spa jets that are not needed.
Jet Pump Power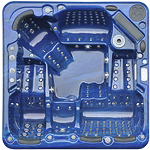 Spa jets don't increase the water flow, the amount of flow is entirely dependent on the spa jet pump. A 4hp spa pump will produce a lot more flow than a 2hp spa pump, in most cases. But any size pump has to split all the water flow among all of the jets. For a theoretical example, say your spa jet pump is pumping 100 gallons per minute, and let's say that you have 100 jets - that's only 1 gallon every minute from each jet, if they were all open at the same time. So, a hot tub with twice as many jets may need a pump that's twice as large, if you plan to fill all the seats in the spa.
So when shopping for a new spa, remember it's not just the number of jets that matter. Consider the types of spa jets used, their location, how adjustable the spa jets are, and the size of the spa jet pump - they all play a role!