Swim Spa or Hot Tub?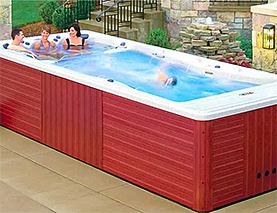 Swim Spas are like a Limousine, stretched out 2-3x longer on one side, so that you can swim, row, stretch, train or recuperate.
When it comes time to replace your spa or hot tub, or even if it's your first tub, you'll at least take a glance at Swim Spas.
I've also considered Swim Spas during a recent spa replacement a few years ago, so the considerations are still fresh in my mind. I love the idea and we came close to buying a swim spa, especially when our grand kids thought it was the coolest thing ever!
Here's some things to be aware of when thinking about a swim spa.
Swimming in a Swim Spa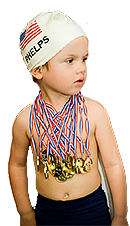 Are you a real strong swimmer? If you have swimming medals on display, you'll want to look on the upper end of the scale, or at the deluxe swim spa models. Swim spas are fine for a medium-speed crawl or breast stroke, or a strong kickboard workout, but if you are a serious swimmer, you'll literally "hit the wall", or be able to swim faster than many of the swim jet type of swim spas. Deluxe models, with larger pumps, paddle wheels and additional jets, are more suitable, if you want to swim as fast as in a regular pool.
Secondly, it's different than swimming in a regular pool. It's loud first of all, very loud from the pumps that are delivering hundreds of gallons per minute. It's also very turbulent, as you might imagine, especially in the lower priced swim jet models. Turbulence makes it hard to keep yourself aligned; you have to work at keeping your body in the center of the flow. Paddle wheel models or propeller systems with large grates can produce greater volume over a larger surface area, greatly reducing turbulence and air volume.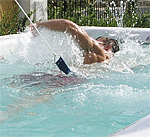 An alternative to swimming against the current is to use a harness / belt, called a Tether System, and swim against the resistance of the Tether cord, instead of swimming against a current. In this way, you don't need large swim jets and pumps at all, which reduces much of the cost of purchasing and maintaining a swim spa.
Swim Spa Walking is another popular form of exercise that can be done in a swim spa, either against the current, or using an optional underwater treadmill.
Hot Tub vs. Swim Spa - Maintenance
In terms of chemical, cleaning and covering a spa or hot tub, keep in mind that a swim spa holds around 2000 gallons of water, roughly 5x the size of your average spa.
That does not mean 5x the amount of maintenance however! The time spent cleaning and maintaining a swim spa is not much more than a regular spa.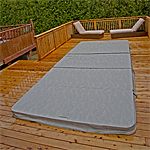 A swim spa uses a double-size and double-cost 4-panel type of swim spa cover. The additional swim jet pumps or swim current system will require maintenance at some point, and prices for these super-sized pump parts can be expensive.
I should also mention that your water and electrical consumption will also be more with a swim spa, as compared to a regular spa or hot tub.
In all, you will spend more on maintenance with a swim spa, probably twice as much as a regular spa.
Separate Hot Water Sections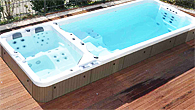 All manufacturers of Swim Spas offer models that have a separate spa section. This is very useful if you want to heat up the water to 104°, and don't want to heat the entire swim spa. Many models have a separate spa area with multi-jet captain's chairs, but don't have a wall to divide the swim and spa areas.
Maintaining two separate temperatures, hot in spa, cool in swim area, is a typically only available in the higher end models. Otherwise, they are both at the cooler swim temperature, and when you want to heat spa only, you can have it hot in under an hour, at the push of a button, (or turning a few valves).
Swim Spa Prices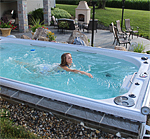 Swim Spas generally start at the high end of spas, around $15,000. They do rise in cost with size and features however, and a top of the line swim spa installation can cost (hold onto your hat), over $40,000. However, most swim spa purchases are in the $25,000 range.
Swim Spas can also be built in-ground, or placed into a deck, using a pre-fab shell, vinyl pool kit, or gunite/plaster; traditional pool materials.
Swim Spa prices are generally about 3x the cost of a regular 8-person spa.
Leslie's makes every effort to provide accurate recommendations based upon current ANSI/APSP/ICC-5 2011 (R2022) standards, but codes and regulations change, and Leslie's assumes no liability for any omissions or errors in this article or the outcome of any project. You must always exercise reasonable caution, carefully read the label on all products, follow all product directions, follow any current codes and regulations that may apply, and consult with a licensed professional if in doubt about any procedures. Leslie's assumes no legal responsibility for your reliance or interpretation of the data contained herein, and makes no representations or warranties of any kind concerning the quality, safety, or suitability of the information, whether express or implied, including, without limitation, any implied warranties of merchantability or fitness for a particular purpose.