5 Hot Tub Repairs You Can Do Yourself
Around here, we are decidedly DIY, and we do what we can to encourage spa and hot tub owners to manage their own water chemistry, spa care and maintenance. And being that we sell thousands of spa and hot tub parts, we also want our customers to feel comfortable making spa equipment repairs.
There are literally hundreds of spa repairs that you can do yourself, today we are going to focus on 5 common hot tub repairs, breaking down the process involved, so you can fix it and feel proud.
Leaking Spa Pump Seal

When a spa therapy pump is leaking, it's either going to be where the pipes screw in and out of the wet end, or it's going to be the shaft seal. A leaking shaft seal can be visually observed by looking at where the motor shaft enters the wet end. A shaft seal is a spring loaded, 2-piece part that seals up the motor shaft, as it passes into the wet end and connects to the impeller.
The easiest way to replace the shaft seal is to replace the entire wet end. The wet end is everything that in front of the motor, we have center discharge and side discharge wet ends to fit most spa pumps. In this way the entire pump is new, not just the shaft seal, including the impeller, seal plate, diffuser and volute housing. You could just replace the shaft seal, most spa therapy pumps use the #200 seal or the #201 seal.
New Topside Control Panel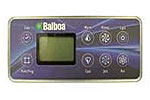 Most topside control panels (the buttons you push to control the spa equipment), can last 10 years or more - before they become unresponsive, or some calamity befalls them. Replacing a Topside Panel is not complicated, you just want to make sure to use the correct replacement panel, so that it fits the cut-out in your spa, and will connect or plug-in to your spa control.
The hardest part about replacing a spa control panel is buying the correct replacement. We have almost 100 different topside panels available from ACC, Balboa, Hydroquip, Len Gordon, Gecko and Tecmark. Most spa topside panels include the power cord of the correct length, so all you have to do is "glue it and screw it" to the panel, and connect the cord or cable.
Hot Tub Ozonator Repairs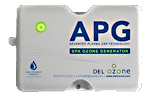 Spa ozonators are wonderful devices that can make your spa water practically drinkable, but maybe you shouldn't. Ozone is produced by either a UV bulb or a CD chip, and then delivered via hose into an ozone injector. Over 12-24months, the ozone production will deplete, and eventually fall to zero. Since there is no simple test for ozone, other than no more bubbles from the ozone jets, it's wise to schedule ozone repair on your calendar.
Every 12-24 months, or whatever is recommended by your ozone unit manufacturer, replace the ozone hose, ozone check valve, and either the CD chip or the UV bulb. With ozonator prices so low, many people find it better to replace the entire ozone unit every few years. Dimension One spas and others, may blow out the ozone air pump, and not need further repair.
Spa Heater Replacement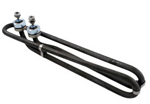 Spas and hot tubs are most often heated by an electric immersion element, housed inside of a 15" long 'flow-thru' stainless steel tube, or other vessel. Replacing a hot tub heater element is something that can be done DIY, but for simplicity, it's usually best to replace the element and tube, as a complete unit. If you feel confident and are careful in repair however, you can replace just the element and reduce your repair cost.
Like other spa repairs, the hardest part is correctly identifying and ordering correctly, the correct spa heater element or spa heater assembly. We have several ways to do this, you can find spa heaters listed by Brand (Balboa, Gecko, Hydroquip), Popularity and by Dimensional size. You also need to match the element output in Kilowatts, usually 1kW, 4kW and 5.5kW. 11kW spas use two 5.5 kW elements.
Leaking Spa Plumbing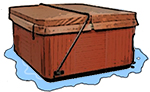 We've already talked about leaking pump seals above, but spas and hot tubs can leak almost anywhere. Common spa leaks include leaking spa jets, leaking manifold plumbing fittings, leaking unions and filters or skimmers. The first thing to do is to locate the exact source and find a spa leak. As per Murphy's Law, it's almost never going to be easily accessed. You may have to remove cabinet panels, and get yourself into awkward positions to find and fix the leak.
If it's your filter or a spa union, you may just need to tighten up the lock ring, or it could be a pinched or dry-rotted internal sealing o-ring. Leaking spa jets are usually a deteriorated spa jet gasket. Leaking glue joints, on valves or fittings will usually need to be cut-out and replumbed. Draining the spa below the level of the repair will be necessary. Other than that, it's just regular PVC plumbing, with primer and glue and the right spa plumbing fittings.
Leslie's makes every effort to provide accurate recommendations based upon current ANSI/APSP/ICC-5 2011 (R2022) standards, but codes and regulations change, and Leslie's assumes no liability for any omissions or errors in this article or the outcome of any project. You must always exercise reasonable caution, carefully read the label on all products, follow all product directions, follow any current codes and regulations that may apply, and consult with a licensed professional if in doubt about any procedures. Leslie's assumes no legal responsibility for your reliance or interpretation of the data contained herein, and makes no representations or warranties of any kind concerning the quality, safety, or suitability of the information, whether express or implied, including, without limitation, any implied warranties of merchantability or fitness for a particular purpose.