Leslie's Pool Closing Kits
Winter is inching closer and the temperature is cooling, which means it's just about time to close up your pool until next summer. But before you cover it up, there's some basic maintenance to take care of.
Making sure your pool water is balanced and sanitized after being open all summer can feel tricky, but Leslie's is here to help. Our Pool Closing Kits are designed with just the right amount of chemicals your pool water needs to stay clean, clear, and — most importantly — safe for the off-season.
Pool Closing Kits: The Right Stuff
Leslie's Pool Closing Kits contain every chemical you need to treat your pool when closing, and they come in three different sizes to satisfy every pool owner, no matter the pool size. The Standard Opening Kit is designed to treat up to 7500 gallons; it contains 1 lb of Fresh 'N Clear, the highest quality chlorine-free shock available, as well as 1 pt of Algae Control, 1 pt of Metal Free and 1 Winter Pill.
The Deluxe and Premium Closing Kits treat up to 15,000 and 35,000 gallons, respectively, by increasing the volume of the chemicals. The Premium Kit also includes 1 qt of Pool Magic+PhosFree and 1 Stain and Scale Pill.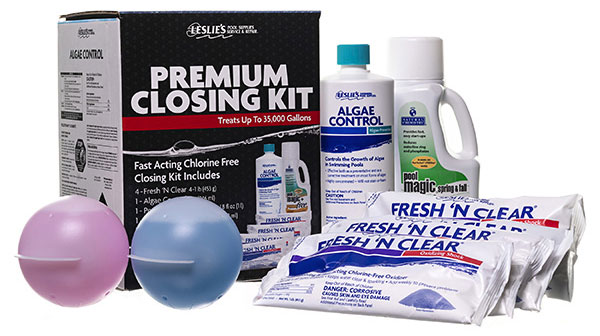 Closing Made Easy
Even if you properly opened your pool for the summer, months have gone by, and your water needs a whole new round of chemicals to keep it sparkling. But what are all those chemicals for, and why do you need them?
Fresh 'N Clear chlorine-free shock eliminate contaminants, organic waste, chlorine odors, and prevent algae while freeing up existing chlorine in your pool.
Algae Control eliminates algae blooms and also prevents future algae and slime from forming!
METALfree prevents unsightly staining, discoloration and calcium build-up, preventing damage and keeping your pool clean for next season.
Stain & Scale Pill does exactly what it says on the label — it prevents scale and metal staining in your pool! (Included in the Deluxe and Premium Closing Kits only.)
WinterPill is a convenient, quick solution to winterize your pool, leaving it clean and ready for the next swimming season.
Pool Closing Instructions
Although the assortment of chemicals can seem overwhelming at first, Leslie's has created simple Pool Closing Instructions for an Above Ground Pool and an In-Ground Pool. If you follow both this guide and the instructions on the chemical labels, you'll be well on your way to properly closing your pool.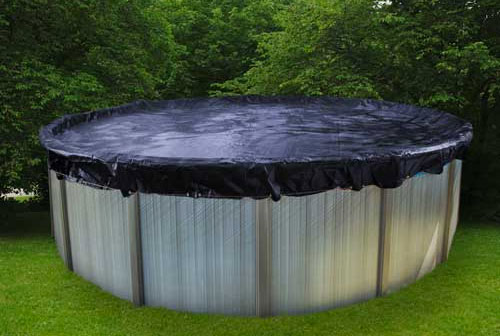 That's a Wrap!
Closing up your pool for the winter doesn't need to be a painstaking chore. With Leslie's Pool Closing Kits, you can have your water clean and clear in no time. By taking the guesswork out of winterizing your pool, you can stop worrying about next spring and plan on opening with clear water!
If covering your pool with a Winter or Safety Cover, continue to follow the steps in the above Pool Closing Instructions. You'll want to remember to remove all articles from the pool (ex. ladders, steps, etc) and drain the all water from the plumbing lines.
As always, if you have any questions, call or visit your local Leslie's store or call 1-800-LESLIES to talk to one of our pool care experts.
At Leslie's, we're here to help you create a safe, sanitary, and perfect pool experience.