Leslie's - Fresh 'N Clear Chlorine-Free Pool Shock 1lb Bags, 12-Pack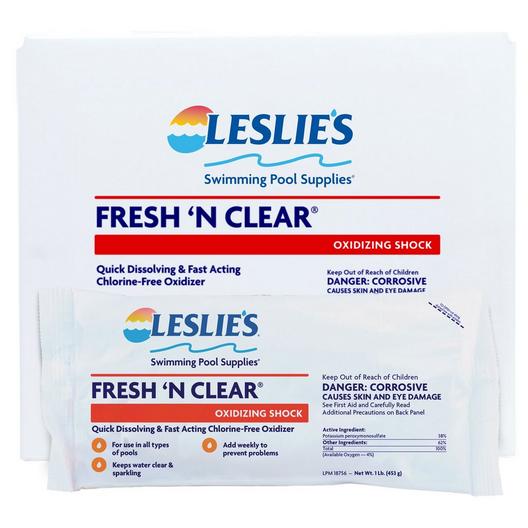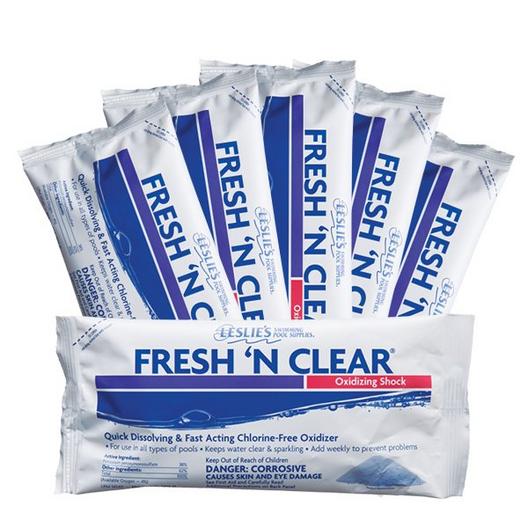 Fresh 'N Clear is a new quick-dissolving, non-chlorine shock that makes your pool sparkle and leaves your water well... 'Fresh and Clear'. By eliminating organic contaminants it allows chlorine to work more effectively. And you can swim as soon as fifteen minutes after use. Dosage: 1 lb. Per 10,000 gallons every 1-2 weeks. Dosage: 1 lb per 10,000 gallons
More Details

Subscription Available
Earn at least $4 in pool perks for this item by joining Pool Perks.
Store Pickup
Out of stock
Available at store in 1-2 weeks
Store Pickup
Pickup In Store
Standard Shipping
- Ship To Home
Select a store to check stock
---
Description
Fresh 'N Clear is a new quick-dissolving, non-chlorine shock that makes your pool sparkle and leaves your water well... 'Fresh and Clear'. By eliminating organic contaminants it allows chlorine to work more effectively. And you can swim as soon as fifteen minutes after use. Dosage: 1 lb. Per 10,000 gallons every 1-2 weeks. Dosage: 1 lb per 10,000 gallons
Quick dissolving and fast acting chlorine-free oxidizer
For use in all types of pools and spas
Keeps water clear and sparkling
Add weekly to prevent problems
Eliminates non-living organic contaminants
Prevents chloramines (poor sanitizing, undesirable form of chlorine) increasing effectiveness of sanitizer
Shock and swim in as little as 15 minutes after use
Compatible with standard chlorine, salt chlorinated, mineral, and bromine sanitized pools and spas
Clarifying ingredient helps keep pool and spa water clear and vibrant
Perfect maintenance shock to use in pool and spa all year round
Routine use: 1 lb. per 10,000 gallons
Initial treatment: 2 lbs. per 10,000 gallons
---
Details
Oxidizing your pool and spa is a crucial part of routine water treatment and maintenance. Non-chlorine shock provides all the oxidizing strength that you get with a chlorine shock, only without actually using chlorine. With Leslie's Fresh 'N Clear Chlorine-Free Pool Shock Oxidizer, 15 minutes is all you need for a "fresh and clear" pool or spa! Using 4% Available Oxygen, Leslie's Fresh 'N Clear eliminates non-living organic contaminants and prevents combined chlorine, or chloramines. This provides an increase in Free Available Chlorine which is what works to sanitize the water. Best of all, there's hardly any waiting, so you can jump in and enjoy your pool and spa after just 15 minutes. Leslie's Fresh 'N Clear will not add any additional chlorine to the pool or spa but will help increase the capability of the chlorine sanitizer that's already in the water. Leslie's Fresh 'N Clear is the perfect maintenance shock to help keep your pool and spa water clear and swim-ready!
Active Ingredient: 38% Potassium Peroxymonosulfate
The active ingredient in Leslie's Fresh 'N Clear is Potassium peroxymonosulfate (MPS) which is a strong oxidizer to remove non-living organic contaminants in the water. Chlorine sanitizer is used to kill bacteria so your water is safe to swim and enjoy but it can also bind to other things such as ammonia, sweat, urine and other water contaminants. All these contaminants can form chloramines or combined chlorine. Chloramines are not effective at sanitizing and worst of all, cause eye and skin irritation for pool and spa users. Adding Fresh 'N Clear to your water care regimen regularly eliminates these contaminants, preventing the formation of chloramines in the water. That way everyone can have a more comfortable and enjoyable swimming experience.
Chlorine-Free Oxidizer
Using reactive oxygen, Leslie's Fresh 'N Clear oxidizes and removes non-living organic contaminants in the water. This oxidation process helps increase the overall effectiveness of the sanitizer, such as Free Available Chlorine (FAC), that's already in the pool to be more efficient at killing and controlling bacteria and algae. This also helps the chlorine sanitizer in the water last longer, helping to reduce overall chlorine usage. If you have algae in the water or the chlorine level is too low, that's when you need to use a chlorine shock. But if the water is not as clear as it could be, chlorine sanitizer is in range or the pool and spa had heavy use, then Leslie's Fresh 'N Clear Chlorine-Free Oxidizer is an ideal shock to use.
Shock & Swim Just 15 Minutes After Use
Leslie's Fresh 'N Clear contains no chlorine or other disinfectant. This means that the waiting time to enjoy the water after a shock treatment is only 15 minutes. No need to wait for the chlorine sanitizer level to go back down to its normal range, as it does not impact the water chemistry significantly. Non-chlorine pool shock also does not add anything additional to the water unlike other chlorine shocks which contain cyanuric acid (CyA) or calcium. Make Fresh 'N Clear Chlorine-Free Oxidizing Shock a part of your routine pool and spa maintenance so you can spend more time in the water than out!
Compatible with Many Common Methods of Sanitization
Non-chlorine shock such as Leslie's Fresh 'N Clear is the most versatile shock for pools and spas. Pools using chlorine tablets or saltwater chlorination as their primary sanitizer can greatly benefit from using oxidizing chlorine-free pool shock. Adding Leslie's Fresh 'N Clear regularly can help reduce how frequently you have to refill your chlorine floater or feeder. It can also help extend the life of the salt cell on your salt system from having to run it at a higher percentage of chlorine output.
Usage Directions for Swimming Pools
Broadcast the required amount of Leslie's Fresh 'N Clear uniformly over the surface of the water, adding two-thirds of the total dose over the deep end of the pool.
Apply with the circulation pump running to ensure complete distribution and good circulation.
For the initial treatment, to ensure "break-through" oxidation, use Fresh 'N Clear at the rate of two pounds (2 lbs.) per 10,000 gallons of water.
Subsequent treatment for most residential pools with normal bathing loads must be made once per week at the rate of one pound (1 lb.) per 10,000 gallons of water.
For semi-commercial pools or pools with large amounts of non-living contaminants, more frequent treatment may be required.
Application must be made when no swimmers are in the pool, preferably at night. However, since Fresh 'N Clear contains no chlorine, there is no extended waiting period before swimming may be resumed.
Please Note: DO NOT use Fresh 'N Clear in biguanide treated pool water.
---
Specs
| | |
| --- | --- |
| Manufacturer: | Leslie's |
| Product Type: | Pool Chemical |
| Chemical Type: | Shock |
| Active Ingredient: | Potassium Monopersulfate |
| Dosage: | 1 lb per 10,000 gallons |
| Product Dimensions: | 10" Width x 10.1" Length x 5.7" Height |
| Product Weight: | 12.80 lbs. |
---