Choosing the Best Hot Tub Cover Lift
Hot tub cover lifts are the best aftermarket item you can buy for your spa or hot tub. But, how to choose the best hot tub cover lift for your particular spa? After all, there are a lot of differences between hot tub cover lifts. Here's a guide to help you compare spa cover lifts, narrow down the choices, and find the hot tub cover lift that's best for you.
Shape of Your Hot Tub
Some of our hot tub covers are meant to fit round tub shapes, and others won't work on round at all. In our spa cover lift comparison chart, below, you can see that we have about 4 hot tub cover lifts that fit round and square spas, and another 6 cover lifts that will fit onto square spas, or straight sided spas.
Size of Your Hot Tub
This is not usually a concern, unless you have a very large tub, like a swim spa. Most of our hot tub cover lifts will work on a spa up to 8' across, and a few cover lifts will fit spas up to 10' across. If your spa is larger than that, you probably have a 4-panel or larger cover, in which case, you may use two cover lifters, one on each end of the spa.
Clearance Required
This one is super important - some hot tub cover lifts require very little clearance, or space beside the spa to flip and store the cover off of the spa. But other cover lifts can require as much as 4 feet of space, because they hold the cover parallel to the floor. Some cover lifts also require side clearance, for the arms to swing on either side of the spa.

Assisted Cover Lifts
All of the covers use a fulcrum principle, or lever, to assist in the opening and closing of the spa cover, but those with gas shocks give an extra assist when opening the spa cover, and then allows the spa cover to close more gently. Gas shock assistance is especially helpful when a spa cover begins to take on some moisture and the weight increases.
Cover Lift Costs
Not a huge difference in prices, but spa cover lifts currently range in price from $100-$225. The cheaper hot tub cover lifts are still very durable, but have a much simpler design, and may have fewer materials. Since they are all fairly close in price, may I suggest that you focus on features and what will seem to work best on your spa.
Warranty
The warranty for hot tub cover lifts are either 1yr or 5 yr, but unlike our spa cover warranties, lift warranties are pretty tight - you know, "Acts of God, Vandalism, Neglect, Abuse, Modification are not covered by this warranty...". But, from my experience here in our returns/warranty department, warranty issues are rare anyway for spa cover lifters.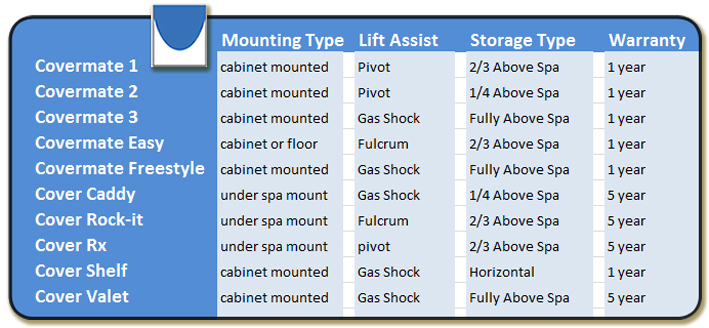 Cover Lift Attachment Method
Most people cringe at the idea of drilling large bolts into the side of their new spa cabinet. About half of our spa cover lifts require drilling into the cabinet, to mount the mechanism in place. The other models slide under the spa, with a large plate to keep it in position - and some cover lifts have the option of installing into the cabinet, or under the spa.
Cover Storage Position
Some hot tub cover lifts place the cover down against the side of the spa, some stick up just a foot or so, and other spa cover models hold the spa cover in a full, upright position. The upright spa cover can be good for privacy and as a wind block - unless you are in an area of very high winds! Most of the above-spa stored covers warn against using the cover in winds over 10 mph.