Spa Chemical Dosage Charts
I've heard it said that "spas and hot tubs are not just small pools" - indeed, they are very small pools.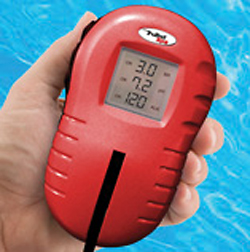 So small in fact, that the equivalent of 4 people in a spa is like having 200 people in a pool! Wacky things happen to water chemistry when even one person is using the spa or hot tub - pH jumps, alkalinity drops, and sanitizer is pummeled.
But you know this - if you take care of a spa or hot tub, regular water testing confirms irregular water chemistry, in most hot tubs. And you know how to take care of it too, a little bit of this, a little bit of that... and your spa water is balanced once again.
Today's post is designed to be a resource for the busy spa owner, a printable reference sheet of how much spa chemical to add, for an expected result. Print Out the image below and tape it inside the spa cabinet door, or on the lid of your chemical box. Plastic sleeves or report binders will keep it dry and readable.
OverDosing the Spa is very common. Measure spa adjustment chemicals carefully, using 1/8 cup (1 oz) or 1/4 cup (2 oz) kitchen measuring cups. Another useful tool, the kitchen tablespoon is 1/2 ounce, and the tablespoon is 1/6 ounce, or 0.17 oz. Add small amounts and test again after an hour or so of circulation. Keep a log book of chemical test strip readings and adjustment chemicals used - I know, sounds geeky - but it can be very helpful in getting to know your spa's chemical personality, and how it reacts to people chemistry.
Not sure How Many Gallons is in your Spa? Mathematical formulas exist, but can wrongly estimate the gallons in a portable spa, due to the varied internal seats and shapes. The best way to calculate the number of gallons in a spa is to time exactly how many seconds it takes to fill the entire spa using a stopwatch. Then time the exact amount of time it takes to fill in five gallon bucket, in seconds. Divide Spa Fill time by bucket fill time to determine spa capacity. For example, if it takes 1800 seconds (30 minutes) to fill your spa, and 30 seconds to fill a 5 gallon bucket, then... 1800 ÷ 30 = 60 buckets x 5 gallons = 300 gallons. Another way to find out is to consult the owner's manual, or search online by make/model - if the spa was built by a known manufacturer.
Spa Chemical Dosage Charts
Print out this chart and place it near your spa chemical storage area, for quick reference. Write or circle the number of gallons in your spa or hot tub.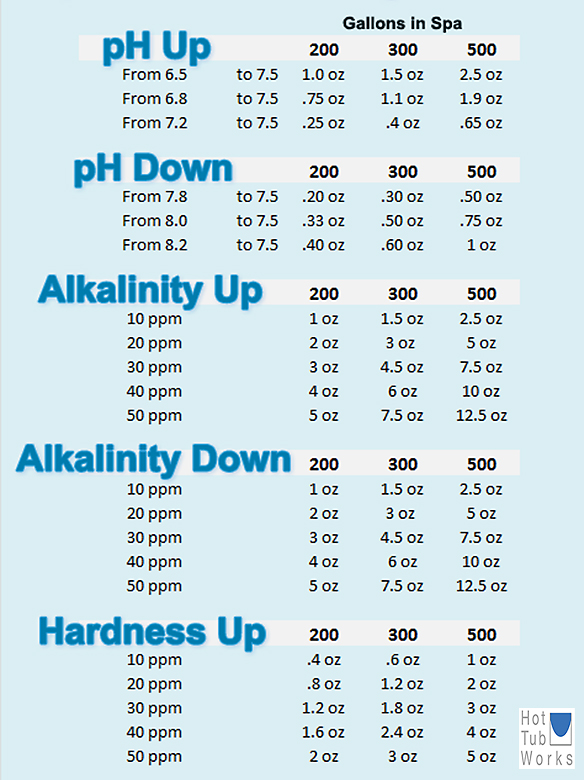 One more tip: Always add one chemical at a time, allowing 15 minutes of circulation before adding other spa chemicals. Adding chemicals right on top of each other can affect the effect!