Hot Tub Chemical Storage Ideas
Is the Container Store a favorite hang-out for you? Do you spend hours organizing everyone's sock drawer in the house? Do you feel a calm sense of control when your surroundings are neat and orderly? Me too - storage and organization is kind of a hobby of mine. There are so many good ideas out there for organizing around the home and office.
Today I bring you some ideas for organizing spa chemicals, so they are visible and orderly - but also, and more importantly, safely out of the reach of children and pets. Spa chemicals also need to be kept cool and dry, and be separated for safety. More on that later, but first, I have 4 ideas for organizing your spa chemicals and cleaners.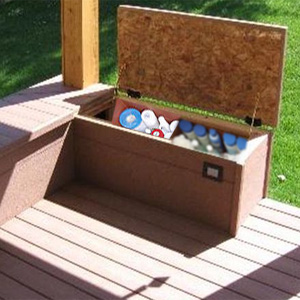 1. Deck Bench Hidden Storage
Part deck railing, part bench, the flip-up lid on this custom made wooden bench flips up to a large expanse for chemicals, filters, cleaners, and cleaning tools.
The problem with this design however is that the storage is outdoors, and subject to wide temperature extremes and humidity. High heat can cause some spa chemicals to expand and very cold temperatures can reduce potency. Moisture from rain or humidity is bad on many levels for spa chemicals. And, unless you add a latch to the lid, this design won't keep out children.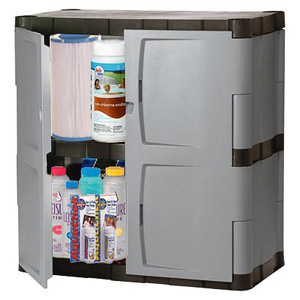 2. Rubbermaid Storage Cabinet
This type of cabinet is perfect for garage or shed storage, and is suitable for wall mounting, to keep it off the ground, away from water and children. It also has a latch which can be locked.
You can install this indoors as well, to store your chemicals in a climate controlled environment. A plastic cabinet like this one will not corrode like metal cabinets will, in the presence of chlorine or bromine gas.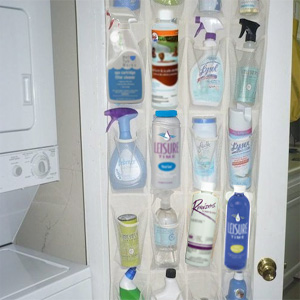 3. Over the Door Organizer
You've seen these used for cleaning products or shoes before I'm sure. I have used one for my shoes for years, but they can also be useful in office supply closets, laundry rooms and in spa storage closets.
Of course, this idea may not store all of your spa chemicals or cleaning tools, but it can hold the regular size bottles and test strips, and cleaners.
This has some great advantages in that the products are kept separate and snug in their own pouch, away from each other.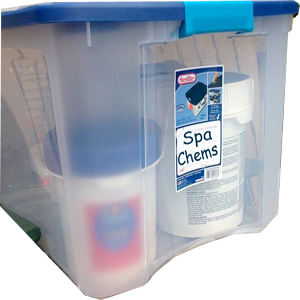 4. Sterilite Storage Bin
A favorite method of thousands of spa owners, keeping your chemicals in a portable box allows you to keep them high and dry, even if you store the spa chemicals outside.
Being portable, this type of storage option let's you move the chemicals indoors, and store in a locked closet or on a low shelf.
The problem with this method is that bottles tend to get thrown into the box, which could cause an accidental chemical spill. If you use this method, use several smaller boxes to separate sanitizers from balancers.
Spa Chemical Safe Storage Tips
Keep spa chemicals cool, 50-75 degrees F
Keep spa chemicals dry, safe from flooding and humidity
Store sanitizers separately from each other, and away from other chemicals
Twist lock the lid tightly on all chemicals after use
Rinse measurement containers before and after use
Keep chemicals safely out of reach of children
Never store chemicals loose on a shelf
Never use a shelf that may collapse in an earthquake
So get organized! If your spa stuff isn't so safely or conveniently stored, use these storage ideas for your hot tub chemicals - and get yourself organized and ready for spa season!
Leslie's makes every effort to provide accurate recommendations based upon current ANSI/APSP/ICC-5 2011 (R2022) standards, but codes and regulations change, and Leslie's assumes no liability for any omissions or errors in this article or the outcome of any project. You must always exercise reasonable caution, carefully read the label on all products, follow all product directions, follow any current codes and regulations that may apply, and consult with a licensed professional if in doubt about any procedures. Leslie's assumes no legal responsibility for your reliance or interpretation of the data contained herein, and makes no representations or warranties of any kind concerning the quality, safety, or suitability of the information, whether express or implied, including, without limitation, any implied warranties of merchantability or fitness for a particular purpose.