Mineral Purification for Spas and Hot Tubs
It's perhaps the biggest thing since bromine - silver and copper minerals used to purify spa and hot tub water. It's been around for over 20 years, so it's not new in the world of spas and hot tubs, and copper and silver ions have been purifying water for eons, so it's not new to the world.
But maybe it's new to you - if you haven't tried mineral purification before, here's why you may want to start.
Use less bromine - up to 50% less
Less work required of your spa filter
Improved water sparkle and clarity
Spa and Hot Tub Mineral Sanitizers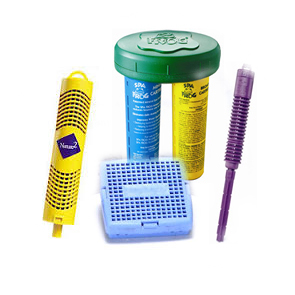 There are several different manufacturers of spa mineral sanitizers, which all employ an erosive bits of silver and copper ions, packed in activated charcoal.
As the water moves through the 4-month mineral cartridge, ions are released, which attack algae and bacteria. The result is that more than half of your sanitation needs are taken care of by natural minerals, leaving less for your bromine and spa filter to deal with. And unlike bromine and chlorine, metals like copper and silver don't just kill once and then become useless, they continue to sanitize, attracting and killing contaminants, until the particle becomes large enough to be filtered out.
Nature2 Spa Stick
Nature2 Spa Stick - Drop the 4-month stick inside the center of your spa filter cartridge, and it goes to work immediately, with enough power to run your spa without bromine, when shocking weekly with MPS.
Spa Frog Floating System
Spa Frog Floating System - This is a combination bromine floater and mineral cartridge. Both attach easily to the floating pod. The mineral cartridge lasts four months, and the bromine cartridge will last for up to 4 weeks.
Leisure Time Spa Stick
Leisure Time Spa Stick - Eventually the patent expired, and along came some pretty good copy cats of Mineral spa water treatment. The Leisure Time is almost a copy of the very similar looking Filter Frog.
Sunpurity Mineral Purifier
Sunpurity Mineral Purifier - Made by Nature2 to fit Sundance spas, the mineral purifier pack locks in place inside of the bromine chamber.
Each of these requires replacement every 4 months, and they average about $20 each . So, a year's supply is about $60 - a small amount to pay for such a huge improvement in water quality. And, if you reduce your bromine or chlorine level to 1-2 ppm, you can cut the amount you use in half, which could possibly pay for the cost of the mineral sticks.
Leslie's makes every effort to provide accurate recommendations based upon current ANSI/APSP/ICC-5 2011 (R2022) standards, but codes and regulations change, and Leslie's assumes no liability for any omissions or errors in this article or the outcome of any project. You must always exercise reasonable caution, carefully read the label on all products, follow all product directions, follow any current codes and regulations that may apply, and consult with a licensed professional if in doubt about any procedures. Leslie's assumes no legal responsibility for your reliance or interpretation of the data contained herein, and makes no representations or warranties of any kind concerning the quality, safety, or suitability of the information, whether express or implied, including, without limitation, any implied warranties of merchantability or fitness for a particular purpose.