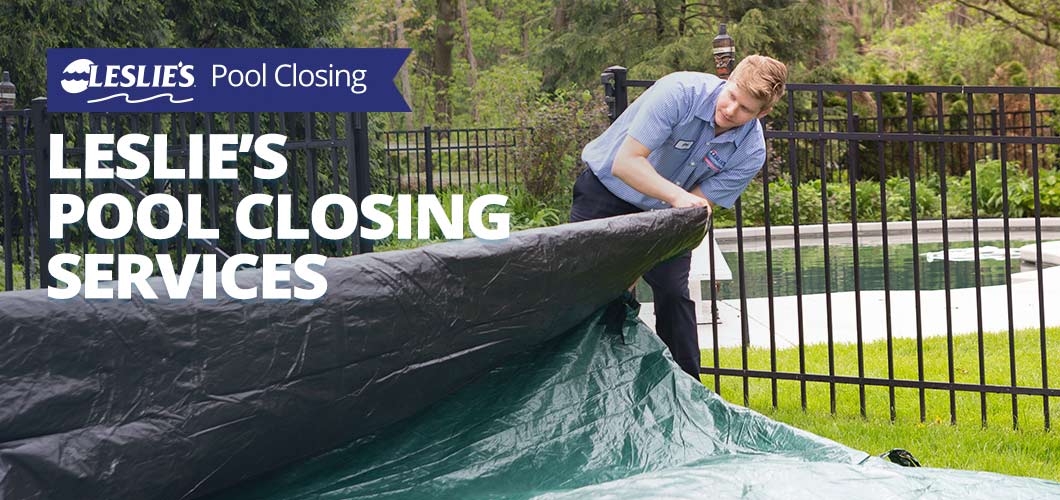 Leslie's Pool Closing Services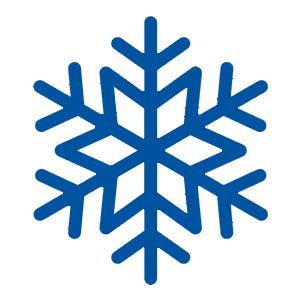 Cooler temperatures are on the way! Is your pool ready for winter? Properly closing your pool for the season is an important part of pool care. It helps protect your pool and equipment against freeze damage, keeps your water healthy to control bacteria and algae growth, and helps prevent stains and scaling on pool surfaces during the off-season. If you're wanting someone to close your swimming pool for you, or if you're simply wanting to learn more about how to close a pool, Leslie's Pool Closing Services can do the work for you!
In most areas, closing a pool involves balancing the water, adding winter chemicals, winterizing plumbing and equipment, and covering the pool. It may sound complicated at first, and it does take a bit of time to complete. But with a little help from a knowledgeable Leslie's service technician, this year's pool closing will be a breeze.
Leslie's Pool Closing Service Summary
So what's included with Leslie's Pool Closing Services? There are two different levels of service to choose from: Basic and Complete Winterization.
| Winterization Service Description | Basic | Complete |
| --- | --- | --- |
| Blow water from the filter, pumps, heater, and pipes | ✔ | ✔ |
| Add antifreeze to the plumbing system | ✔ | ✔ |
| Plug all pipes with your winterizing plugs | ✔ | ✔ |
| Blow and air-lock your bottom drains | ✔ | ✔ |
| Remove all drain plugs from the pump, filter, heater, and chlorinator | ✔ | ✔ |
| Lower your pool water to the proper level | ✔ | ✔ |
| Remove your ladders and handrails and store them on your property | ✔ | ✔ |
| Freeze protect the skimmer with your Gizzmo or skimmer guard | ✔ | ✔ |
| Shut off the gas supply at your pool's heater | ✔ | ✔ |
| Clean your pool's filter (backwash sand or DE filter and rinse off DE filter elements or cartridge filter) | ✔ | ✔ |
| Install your solid or mesh pool cover using your water bags, springs, straps, cover stakes, or sand bags | | ✔ |
Before the technician arrives, make sure the water is properly balanced, and that the pool is clean and free of debris. Please note that Pool Closing Kits and other winter chemicals are not included with the Leslie's Pool Closing Service, so you'll need to add these on your own prior to your appointment.
If you have any questions about Leslie's Pool Closing Services, or if you're ready to schedule an appointment, call or stop by your local Leslie's and we'll be happy to help. You can also send us an online service request form, and one of our friendly customer service agents will get in touch with you. We also offer a number of other winter pool services, including Pool Safety Cover Installation, Leslie's Freeze Protection Service, and our popular Winter Watch Program to help with whatever you need during the off-season.
Leslie's makes every effort to provide accurate recommendations based upon current ANSI/APSP/ICC-5 2011 (R2022) standards, but codes and regulations change, and Leslie's assumes no liability for any omissions or errors in this article or the outcome of any project. You must always exercise reasonable caution, carefully read the label on all products, follow all product directions, follow any current codes and regulations that may apply, and consult with a licensed professional if in doubt about any procedures. Leslie's assumes no legal responsibility for your reliance or interpretation of the data contained herein, and makes no representations or warranties of any kind concerning the quality, safety, or suitability of the information, whether express or implied, including, without limitation, any implied warranties of merchantability or fitness for a particular purpose.