10 Items that Every Hot Tub Owner Needs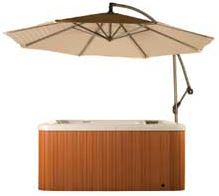 When I bought my first hot tub (not so long ago), I was expecting a complete package, but soon found out that I needed much more than just the tub itself! Sure, I got a starter chemical kit, but that was about it.
Over the next few months, I began to shop for the necessary hot tub accessories to be able to use my spa properly. Over the next few years, I acquired more toys, tools and conveniences.
Here's my list of the 10 best spa products that every hot tub owner needs, or - if I were stranded on a desert island, with just my hot tub, these are the 10 things I would require.
Hot Tub Covers
A spa cover is the first thing you buy, if it's not included in the hot tub price, and if it is - it's probably a piece of junk that won't last but a few years. Operating without a hot tub cover is like having a refrigerator with no door on it, or a heated house with no roof! Absolutely necessary - and about every five years you'll need to buy a new one.
Hot Tub Cover Lifters
A lifter may be the second thing you buy. I thought I could get along without one, and did for several years. Then one night, my cover broke while we were moving it off the spa. We both blamed each other, but the reality is - it's hard Not to break a spa cover, when you don't use a cover lifter. I hear a lot of stories about people falling into the cover, or the wind picking it up and blowing it across the yard. A cover lifter prevents both of those from happening too!
Spa Steps
Definitely didn't see this one coming, but of course you need a way to get in and out of the spa, without making a complete, and unladylike fool of yourself! Spa steps are available in colors to match your spa cabinet, and can be plastic or redwood. You could make your own steps, if you fancy yourself a woodworker. If you do that, you may as well create some under-step storage and add a pair of attached planters!
Spa Rail
As a companion to a spa step, a spa rail slides under the spa and gives a safe hand hold for climbing in and out of the spa. Especially coming out of the spa, standing up suddenly can be dizzying, and with slippery wet surfaces, it's easy to slip and fall when coming out of a hot tub. I put a spa rail on my spa just last year.
Spa Tables
For towels, drinks, snacks, keys or phones, etc..., a spa side table can be used for so many things. You can buy resin tables that install into the side panels of the cabinet, or use a freestanding type of Console table. I have several (three!) tables that were made from rough hewed wood, kind of shabby chic, surrounding my hot tub. One of them is completely filled with plants, on the sunny side of the spa. You don't need 3, but some kind of table within arm's reach is a nice touch.
Spa Pillows
Here's another item that you would think came with the spa, but I had to pay like $99 extra for my first set of spa pillows. They don't last as long as you thing. After about 5 years, the foam was all cracked and dried out. Spa pillows are more necessary than you may think. Have you ever tried to find a comfortable position with your neck on the edge of the spa? You can feel every vibration of the equipment, but not in a massaging the neck kind of way - more like teeth chattering!
Chemical Storage
Having a safe place to store spa chemicals is an important accessory. It should be lockable, to keep it out of reach of children, and for the longest shelf life, store chemicals indoors, with consistent humidity and temperature levels. I use a Rubbermaid type of container - not lockable, but then we rarely have kids in our house.
Cleaning Tools
There are a number of cleaning tools out there, but you don't need most of them. What you really DO need, however - is a flat skimmer net, to fish out leaves or food, or anything floating on the water. And, you also need a Grit Getter or some type of vacuum to clean the floor and seats of the spa. Other than that, you don't need any other specific cleaning tools, except maybe a bottle brush, which is good for cleaning out the spa jets when you drain the tub.
Spa Thermometer
Your spa probably has a digital readout of the spa temperature, so why would you need another one? For one, to double-check that your temp sensor is right, and the spa is as warm as it says it is, and secondly because it's fun! Everyone who gets in will have to check the thermometer, especially if you get one of our cute spa thermometers.