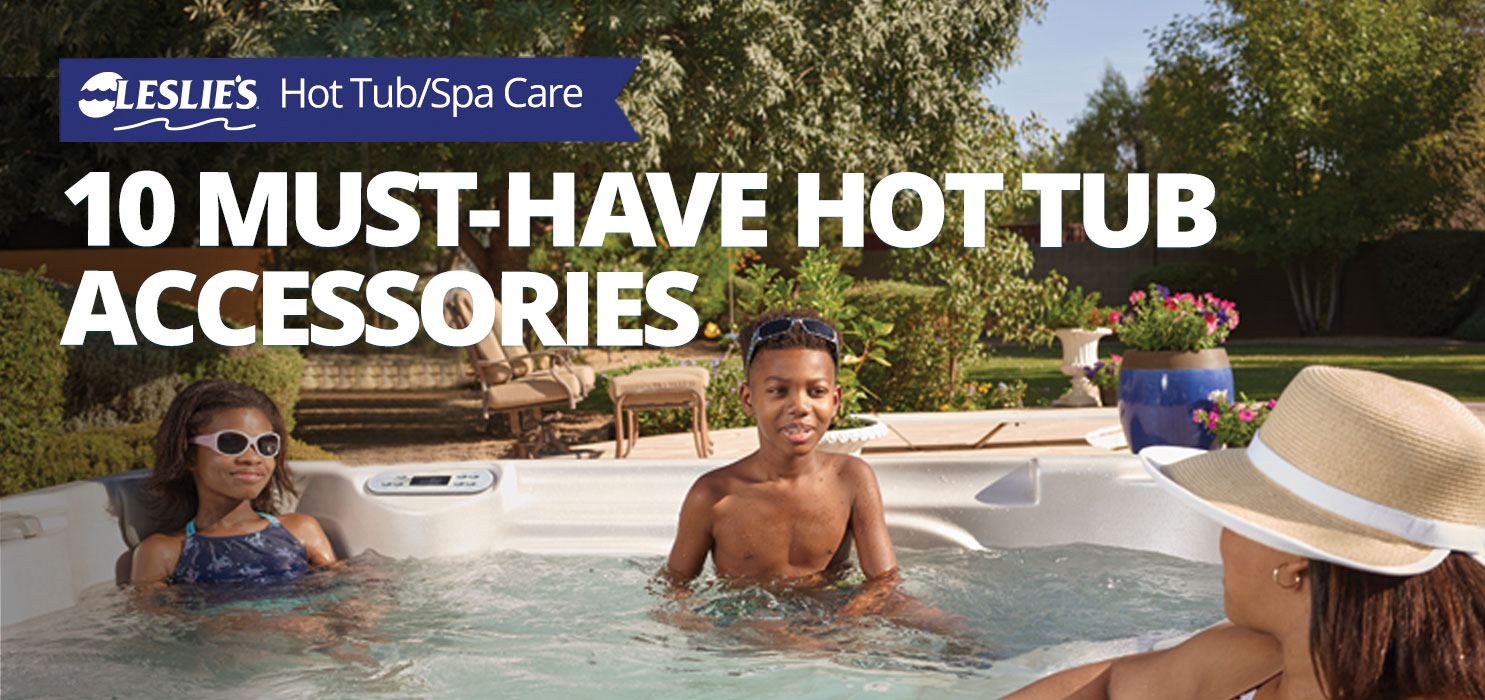 10 Must-Have Hot Tub Accessories
It's hard to beat a relaxing soak in the hot tub. With the right accessories, you can easily turn your luxurious soaking session up just a few notches. Hot tub accessories come in many shapes and sizes, and can be both useful and fun. From handy steps that make it easier to get in and out of the hot tub, to indulging aromatherapy products that enhance relaxation, the options are endless. Let's take a look at the 10 most popular must-have hot tub accessories.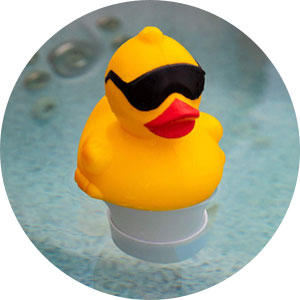 1. Bromine/Chlorine Floater
Ranging from fun to practical, the options for hot tub bromine and chlorine floaters are endless. If fun is more your style, you'll want to check out the Derby Duck Floating Brominator by GAME. It's an entertaining, easy way to add 1" bromine tablets to your spa water. A pair of cool shades makes this adorable bromine floater stand out from the rest. There's even a Derby Duck Floating Thermometer (sold separately) that's made to match. You can have a whole flock of useful little duckies in your spa or hot tub!
If practical products are more your speed, King Technology's FROG floaters are just the ticket. These floaters combine the benefits of minerals with the fast-acting sanitation power of chlorine and bromine. Depending on which sanitizer type you prefer, you can choose between bromine with FROG Serene or chlorine with FROG @ease.
2. Spa Steps
A good set of spa steps is one of the most important hot tub accessories money can buy. Without them, getting in and out of the tub is awkward, cumbersome, and potentially dangerous. There are many different models available, ranging from one to four steps, and some even include a storage compartment for holding spa chemicals and other small accessories. Some taller steps come with railings to make entry and exit safer.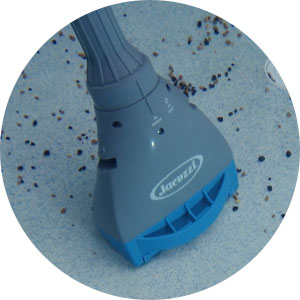 3. Spa Vacuum
Even under cover, spas can quickly accumulate debris. Dirt and sand brought in on feet settles to the bottom or hangs around around the seats. Get yourself a spa vacuum to get rid of it all. The most popular type of vacuum is one powered by manual suction, often called a spa wand or manual vacuum. There are also self-contained battery powered vacuums that work well in a variety of settings, including swimming pools. Certain battery-powered spa vacuums are also rechargeable.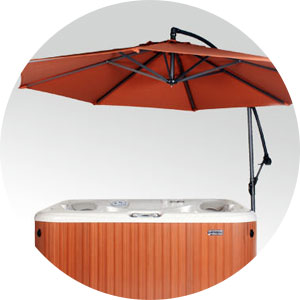 4. Umbrella
Not only are umbrellas an aesthetically pleasing addition to your hot tub area, but they serve a very practical purpose, as well. This hot tub accessory makes mid-day soaks much more enjoyable by keeping direct sunlight off of your face while you relax. Some hot tub umbrellas mount directly to the hot tub, while others attach to a metal plate that slides underneath the hot tub. Cantilever patio umbrellas that connect to a weighted base are also popular, because they can be used anywhere on the patio.
CAUTION: It's never a good idea to soak in the hot tub during a thunderstorm! Do not use a hot tub umbrella for protection while it's raining or storming outside. Extending the umbrella during stormy conditions can also increase the risk of weather-related umbrella failure, which is usually not covered under warranty.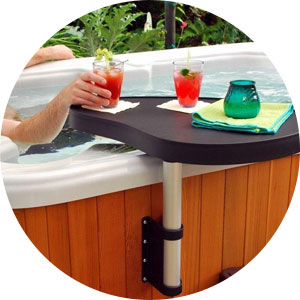 5. Drink Holder
Drink holders are a hot tub accessory you might not even think about. Your body can lose a lot of water during a 10-20 minute soak, which increases the risk of dehydration. It's important to stay hydrated while using a hot tub. Spa side drink trays and floating cup holders are the perfect solution for keeping a bottle of water or your favorite beverage nearby. Drink trays can also come in handy for morning mimosas with friends or for a glass of wine at the end of a long day.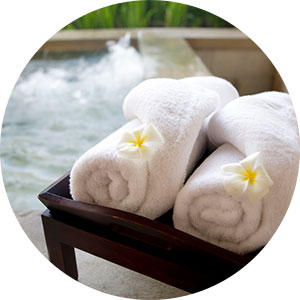 6. Towel Holder
Let's face it. There's really not a good place to put a towel while you're soaking in the hot tub. You need it to be close so you don't get chilled as you step out. But where? The options are usually setting it on the steps, laying it across a piece of nearby patio furniture, or draping it over the edge of the spa and hoping it doesn't get wet. With a towel holder, you can keep the towels close, dry, and clean. Towel trees, expandable towel racks, and mounted towel bars are a few of the more popular choices. Some spa owners opt for a nice basket or storage container to stow the towels.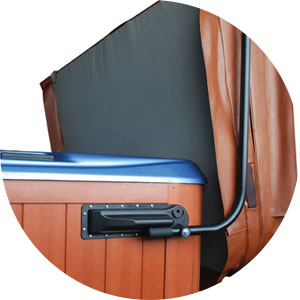 7. Cover Lift
The point of a spa or hot tub is to relax your muscles and ease your aches and pains. There's no sense in undoing all of that by fighting with the hot tub cover. We have great news: there's a hot tub accessory that can solve that problem! Hot tub cover lifts make it ridiculously easy to move the cover on and off the spa. Cover lifts also help protect your spa cover from accidental damage while the cover is not in use.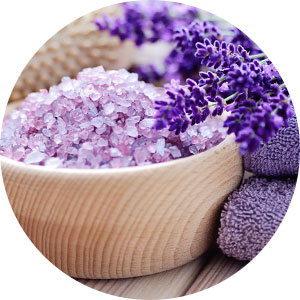 8. Aromatherapy
From fun and fruity to soothing and therapeutic, aromatherapy sets the mood for just about any soaking session. Aromatherapy products are most often available in liquid and crystal forms. These products are formulated specifically for hot tubs, meaning they won't affect water chemistry or clog up the filter with oily residues.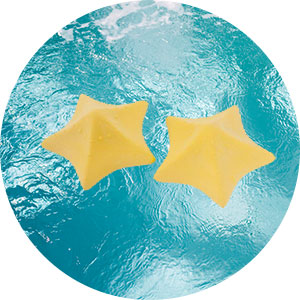 9. Oil and Scum Removers
Organic contaminants such as body oils, lotions, and cosmetics create a recipe for havoc in your hot tub. Unsightly scum at the waterline, clogged water filters, and an abundance of spa foam are all problems that plague many spa and hot tub owners. Adding one or two Oil and Scum Removers to the water can make a world of difference. Made of an absorbent foam material, these handy hot tub accessories float on the water's surface and trap oily residues. Once they're all used up, throw them away and replace with new ones.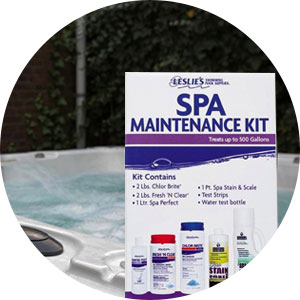 10. Spa Maintenance Kit
It takes a lot of work to maintain a hot tub! There are several different chemicals needed, and then you have to worry about chemical compatibility and knowing when to use what. But the Spa Maintenance Kit from Leslie's eliminates a lot of the guesswork, making it easy to sanitize the water and keep the hot tub sparkling. The Leslie's Spa Maintenance Kit includes a 2 lb bottle of both Fresh 'N Clear and Chlor Brite for effective sanitation. It also contains 1 L of Spa Perfect, 16 oz of Spa Stain & Scale, and a water test bottle to help with basic maintenance.
---
For more popular hot tub and spa accessories, take a look at our Spa Accessories category online. These and many other hot tub products can also be found at your local Leslie's store.
Leslie's makes every effort to provide accurate recommendations based upon current ANSI/APSP/ICC-5 2011 (R2022) standards, but codes and regulations change, and Leslie's assumes no liability for any omissions or errors in this article or the outcome of any project. You must always exercise reasonable caution, carefully read the label on all products, follow all product directions, follow any current codes and regulations that may apply, and consult with a licensed professional if in doubt about any procedures. Leslie's assumes no legal responsibility for your reliance or interpretation of the data contained herein, and makes no representations or warranties of any kind concerning the quality, safety, or suitability of the information, whether express or implied, including, without limitation, any implied warranties of merchantability or fitness for a particular purpose.