Leslie's - Ultra Bright Advanced Pool Clarifier 1 Quart, 2 Pack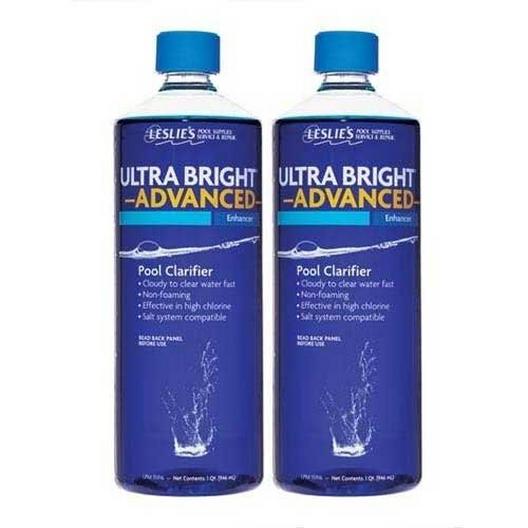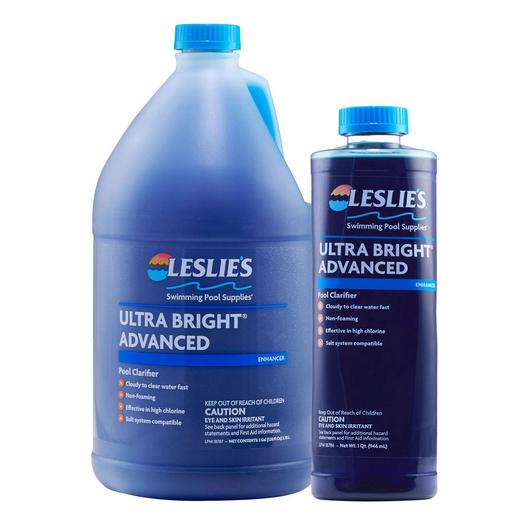 Leslie's Ultra Bright Water Advanced clears up cloudy water while cleaning your filtration systems, leaving your pool sparkling, clean and clear. Dosage: 4 oz per 10,000 gallons. More Details
Please note: This item is only available for in-store pickup and the selected store is out of stock. Please select a nearby store with available inventory to process your order.
Store Pickup
Pickup In Store
Standard Shipping
- Ship To Home
Pick up on Thursday, Mar 30
- Pickup at Chantilly, VA 13932 Lee Jackson Memorial Hwy Ste
Check nearby in-stock stores
Bundle contains:

Leslie's - Ultra Bright Advanced Pool Water Clarifier - 1 qt.
---
Description
Leslie's Ultra Bright Water Advanced clears up cloudy water while cleaning your filtration systems, leaving your pool sparkling, clean and clear. Dosage: 4 oz per 10,000 gallons.
Cloudy to clear pool water fast
Non-foaming
Effective in high chlorine levels
Salt system compatible
Uses high-quality chitosan to deliver superior water clarity
Improves pool filter performance
Keeps pool water crystal clear
Coagulates contaminants/particles under 1 micron
No premixing required
Environmentally friendly
Maintenance dose: 3 fl. oz. per 10,000 gallons
Cloudy water dose: 7 fl. oz. per 10,000 gallons
---
Details
Leslie's Ultra Bright Advanced is an environmental friendly water clarifier that clears up cloudy water by eliminating small contaminants. It works by coagulating the smallest of particles such as fine dust, oils and other contaminants (under 1 micron) allowing your filter to get rid of these particles that would otherwise be too small to eliminate. With as little as 4 ounces, Ultra Bright Water Clarifier will clean your pool water, sanitation and filtration systems. Ultra Bright Water Clarifier will quickly leave your pool sparkling clean and clear without any irritation or waiting time for your swimmers.