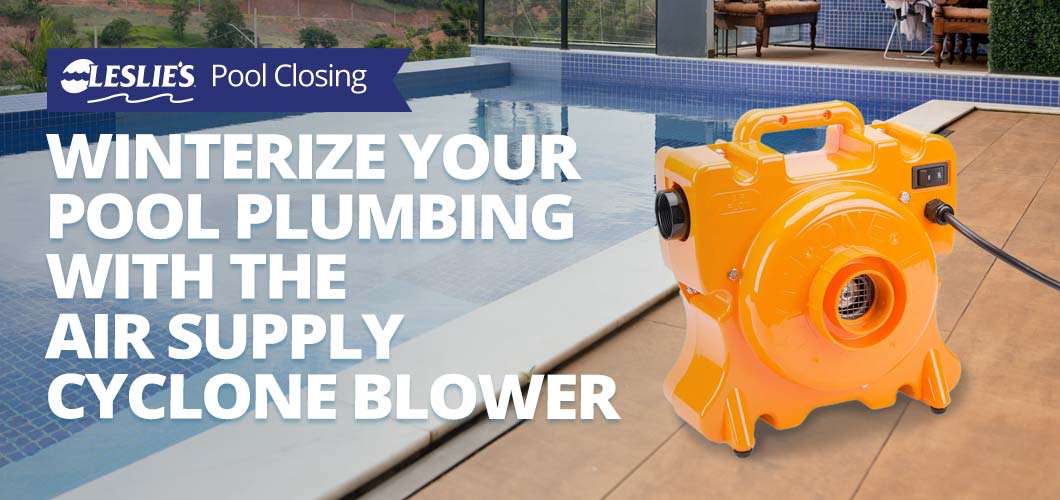 Winterize Your Pool Plumbing with the Air Supply Cyclone Blower
Winter is coming! Okay, maybe not yet, but it's never too early to prepare your pool for the winter hiatus. If you live in an area with freezing weather, this article is for you! Today, we're talking about the Air Supply Cyclone Blower.
One of the most important steps in closing your pool for winter is to clear out the plumbing lines. Water expands as it freezes and turns into ice, which can crack your pool's plumbing. This can pose major problems when you open your pool next spring. The Air Supply Cyclone Pro Pool Blower and Liner Vac is the perfect product to clear out your inground pool's plumbing ahead of the winter months. This combination vinyl liner vacuum and pool line blower hooks up to the plumbing lines so you can blow all the remaining water out of the plumbing lines and back into your pool.
Keep This in Mind When Using the Cyclone Pool Line Blower:
The Cyclone blower makes it possible for pool owners to winterize their inground pool plumbing without hiring a professional. However, it's important to remember that each pool setup is different. If the blowout process is done incorrectly, you risk damaging your pool equipment. It's important to try and avoid pushing air through your cartridge, sand, or diatomaceous earth filter. When in doubt, always refer to the winterizing instructions provided by your pool builder or manufacturer, and follow the directions included with your Cyclone Pro.
PRO TIP: Remember to also remove all drain plugs from your pool equipment during the winterization process. You can store these in the pump strainer basket over the winter months. Once your pool lines are free of water, we highly recommend adding non-toxic swimming pool antifreeze to your pool's plumbing. This helps provide added protection against leaky plugs and water in the lines. Always follow the manufacturer's recommendations for your system.
The Cyclone Pro is a Multi-Functional Pool Tool
Not only will the Cyclone blow out your inground pool lines for the winter, it can also help with installing vinyl liners in your inground or above ground swimming pool. The main port of the Cyclone is actually a powerful liner vac, used to suction the liner to the pool wall during the refilling process. This helps ensure a smooth, wrinkle-free installation that will help prolong the life of your new vinyl pool liner and help it look its very best.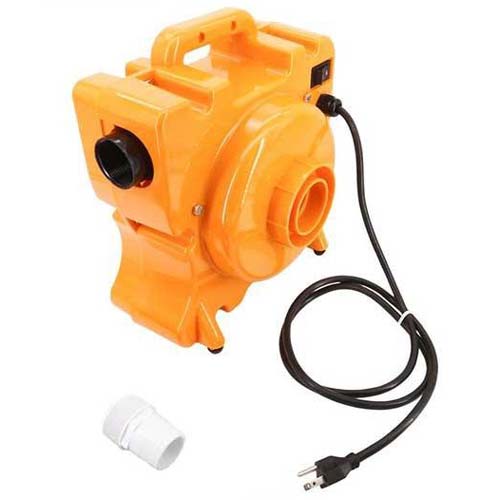 Cyclone Pro Air Blower Features:
The Cyclone Blower and Liner Vac plugs into a standard 3-pronged electrical outlet.
This unit includes a 3.0 HP motor.
It doubles as a tool to install an above ground or inground pool liner, or can be used to winterize inground pool plumbing lines.
The 1.5" threaded blower outlet can accommodate a variety of PVC fittings, including a 1.5" threaded hose adapter.
The dual-sized suction inlet can accommodate up to a 4" flex hose or 2" PVC pipe for maximum air flow during liner installation.
We suggest purchasing a 3' long, 1 ½" hose for easy maintenance.
---
When you're ready to start closing your swimming pool, taking the time to winterize your plumbing and equipment correctly will save you from a lot of headaches come springtime. With the Air Supply Cyclone Pro 3 HP pool blower, you now have the option of doing it yourself. For more tips and tricks on how to close your pool correctly, you can download our complete closing guide here.
Leslie's makes every effort to provide accurate recommendations based upon current ANSI/APSP/ICC-5 2011 (R2022) standards, but codes and regulations change, and Leslie's assumes no liability for any omissions or errors in this article or the outcome of any project. You must always exercise reasonable caution, carefully read the label on all products, follow all product directions, follow any current codes and regulations that may apply, and consult with a licensed professional if in doubt about any procedures. Leslie's assumes no legal responsibility for your reliance or interpretation of the data contained herein, and makes no representations or warranties of any kind concerning the quality, safety, or suitability of the information, whether express or implied, including, without limitation, any implied warranties of merchantability or fitness for a particular purpose.