Winter-Proof Your Hot Tub
There are two types of hot tubs, those built for hard winters, and those that are not. In fact, many hot tubs models sold in southern markets, such as here in southern California, are built a bit 'thinner' - not intended to handle sub-zero or high altitude climates.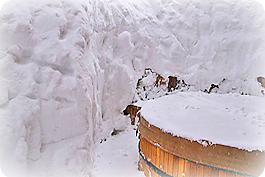 A hot tub that works perfectly well in a Tampa or Los Angeles winter will have trouble holding hot temps in Chicago or Colorado. Snowbelt spas are built with better insulation, around the shell, cabinet and plumbing, larger heaters and heat recapture, and a spa cover with thicker and denser foam.
Occasionally I hear about the unfortunate who buys a sunbelt spa, and/or a very cheap model, and installs it at his mountain cabin, only to find out that it tops out around 90° F, spinning the electric meter non-stop just to keep the water warm.
There are ways, however - to improve on poor spa insulation, responsible for most heat loss in hot tubs. Even if your hot tub is a well-insulated model from a well-known brand, you can improve your energy efficiency and improve your R-value.
ADD INSULATION
The number one way, is to increase the insulation inside of the spa cabinet, unless you already have a 'fully-foamed' spa where the shell and pipes are buried in spray foam. Don't block air flow, there needs to be some air intake, but you can line the insides of spa cabinets with pink insulation board or bats of attic foam, held in place with construction adhesive.
Spray Foam is taking it a step further, you can thick layers of spray foam on the back side of the spa shell, the PVC pipes can be sprayed, you can even bury the spa jets in foam. Regular construction foam like Great Stuff can be used on small areas, or to encase 3/4 of a spa in foam, look at Dow Froth 200, fills 16 cubic feet of area with foam! Foam can be cut-out in the future if access to a jet is needed. Just be sure not to encase anything electric, or anything that moves or spins!
FLOATING BLANKET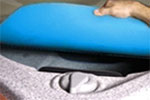 A floating spa blanket is an easier economical step to make, but no less as effective! Floating spa blankets are quite effective at reducing heat loss through spas and hot tubs. Especially if your spa cover doesn't fit quite right, or is put on just slightly ajar - a floating blankets stops the bleeding, or most of it.
There are 3 types of floating spa blankets, which is a perfect example of a good, better and best product line. Our Good PE spa blanket has air-filled pockets on a 12 mil thick polyethylene backing. For better heat retention, our closed cell Foam spa blanket does a much better job, but the best spa blanket is the foam and aluminum, Radiant spa blanket.
NEW SPA COVER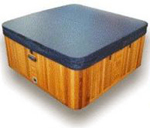 For spas and hot tubs in the very coldest of temperatures, nothing is more important than "The Works" spa cover, made with 2 lb Foam weight, in a 6" to 4" taper for the ultimate in heat retention. New spa covers that come with a spa are more often than not the "Economy" spa cover, made with 1 lb Foam and a thinner profile.
When a spa cover foam panels absorb water, the heat retention of the foam is reduced, and the sagging raises the cover from the spa, allowing more heat to escape. A new spa cover is the number one way to increase your efficiency.
SPA COVER CAP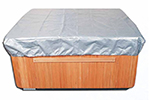 And to protect the important investment that is your spa cover, the Spa Cover Cap is a cover for your cover! Stretches over your spa cover like a fitted sheet. Shields your hot tub cover from harsh UV sun, rain and snow, birds and squirrels and more. 2 sizes are available to fit most spas, 7'square and 8' square.
Spa Cover Caps are made in silver reflective woven polyethylene to last for many winters to come. Might add a small amount of R-value to your spa, but not much.
PROTECTA-SPA COVER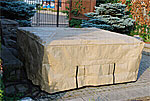 The Protecta Spa Cover is a cover for an entire spa or hot tub, available in 3 sizes. Rugged protective cover encloses your entire spa to keep wind, rain, dirt, snow, and harmful UV rays from direct contact with your spa cover and cabinet. Protecta-Spa features a Velcro closure for a snug fit, a vented area for the equipment. Like the Spa Cover Cap, Protecta Spa Cover is not marketed as a thermal cover, but every little bit helps!
SPA COVER WIND STRAPS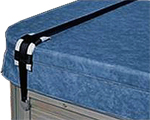 For spas that are in high wind areas, perched out on a high deck or cliff overlooking a fabulous view, wind can be a large heat thief from your spa. Strong winds at the right angle can work their way under the spa cover skirt and blow across the surface of your hot tub water! Adjust your spa cover clips, so that it is necessary to push down slightly on the cover to latch them. For strong wind areas, our 'Hurricane' spa cover straps are over-the-top straps to lock your cover down tight in strong winds of any type. Wind blocks are another good idea, privacy walls or hedges to block wind around the spa.
So - if your spa is struggling to heat up fully, or stay warm overnight, improve your insulation to raise your hot tub R-value. And if your spa has trouble maintaining temps when you are using the spa, or when the blower is running, you may want to look into our larger spa heaters.
Leslie's makes every effort to provide accurate recommendations based upon current ANSI/APSP/ICC-5 2011 (R2022) standards, but codes and regulations change, and Leslie's assumes no liability for any omissions or errors in this article or the outcome of any project. You must always exercise reasonable caution, carefully read the label on all products, follow all product directions, follow any current codes and regulations that may apply, and consult with a licensed professional if in doubt about any procedures. Leslie's assumes no legal responsibility for your reliance or interpretation of the data contained herein, and makes no representations or warranties of any kind concerning the quality, safety, or suitability of the information, whether express or implied, including, without limitation, any implied warranties of merchantability or fitness for a particular purpose.