When Hot Tubs Lose Power - Strange But True Stories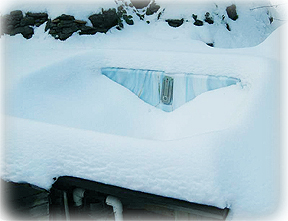 Do not drain the spa! Most winter power outages are resolved quickly, and most spas with any sort of insulation, and a good spa cover, can hold heat for at least 24 hours. If your spa was 90° when the power went off, it can take a long time for temperatures in the pipes and equipment to cool to near freezing, especially in a spa with a tight cabinet and good insulation.
Do not put flames under the spa! Small fires (true story), or a kerosene heater, or any gas heater placed under the spa can cause a big problem with soot, carbon monoxide and melted spa parts. Keep the cover closed, and lay heavy woolen blankets over top if needed to help old spa covers.
Do not pour antifreeze into the spa. Some of you are laughing, but another true story. "I don't care if the label says non-toxic antifreeze for pools", it's not safe to pour into the spa, plus it wouldn't work unless you poured in an amount equal to at least 10% of your spa water volume.
Do not stuff blankets or comforters underneath the spa. When the equipment starts up, the pump and heater need the air spaces to keep themselves cool. Besides, who would want to use that blanket again? Not me!
WHAT YOU CAN DO - in an Extended Power Outage
Cover the spa cover with heavy woolen blankets and plastic tarp, wrapped tightly around the edge. This can help hold heat in, especially with older covers or spa covers that don't fit tightly, or seal up all heat loss.
Check the water temperature with a floating thermometer that you can quickly access via a smartphone app, or by quickly lifting the cover just slightly. The water temperature in the pipes will have to reach a few degrees below 32° for several hours before they expand enough to cause damage. At 32°, most water will just turn slushy and not freeze hard.
Add hot water to the spa. Drain half the water, and refill with hot water from a garden hose connected to a spigot in the kitchen or laundry room. You can find an adapter from kitchen sink threads to garden hose threads at most hardware stores and home stores.
Use Hot Stones, warmed for 30 minutes, in a fireplace or wood burning stove. Put them in a large iron skillet and place them under the spa cabinet. 8-10 large stones can be enough to warm the cabinet spaces for the overnight.
Of course, you can drain the spa, as a last resort. It may be the best option for a home that is unoccupied during winter, with no one available to maintain the spa. However, if you plan to drain the spa for longer than a day or two, follow these tips on winterizing a spa - not only to protect the spa from freezing water, but from pockets of water and moisture that can grow into a nasty biofilm.
The best thing to do during a power outage, is the same thing that you do with the refrigerator - keep the door closed, and call to let your power company know that you are without power. If it drags on for days, such as after ice storms, keep adding hot water to the spa, or bite the bullet and drain it completely, especially if you are due for a water change anyway.