Tips for Installing Water Bags
Water bags are the easiest and most effective way to hold down your winter pool cover. Built from heavy-duty vinyl designed to withstand sub-zero temperatures, water bags will give you peace of mind, knowing your pool cover will be secure all winter long.
Water bags are designed to sit around the edges of your winter cover, keeping it in firmly in place, even in the windiest conditions. All of Leslie's Water Bags are made from durable vinyl that has been treated with UV inhibitors, as well as anti-bacterial and anti-fungal additives. Built using non-leak seams and valves, they will hold up during long, cold winters. Leslie's offers many different types of water bags, including single channel, double channel, above-ground, and Winter Cover Blocks, so let Leslie's help you find the type that is right for your pool!
Tips For Installing Water Bags
If your pool cover came equipped with water bag loops around the edge, use single-channel bags. If the cover came without loops, use double-channels bags or Winter Cover Blocks.
Place water bags around the perimeter of the pool cover, 18 inches apart. In very windy areas, it may be beneficial to place the bags end-to-end.
Only fill water bags 1/2 to 3/4 full. Water will need room to expand when frozen. A small amount of pool antifreeze may be added to help guard against freeze damage.
Never use sharp items such as bricks, cinder blocks, or railroad ties on your pool cover. To prevent rips and tears, always use Water Bags or Winter Cover Blocks.
If you experience problems with small animals or birds poking holes in your water bags, it may be a good idea to switch to Winter Cover Blocks.
All water bags and Winter Cover Blocks can be filled using a standard garden hose.
How Many Water Bags Do I Need?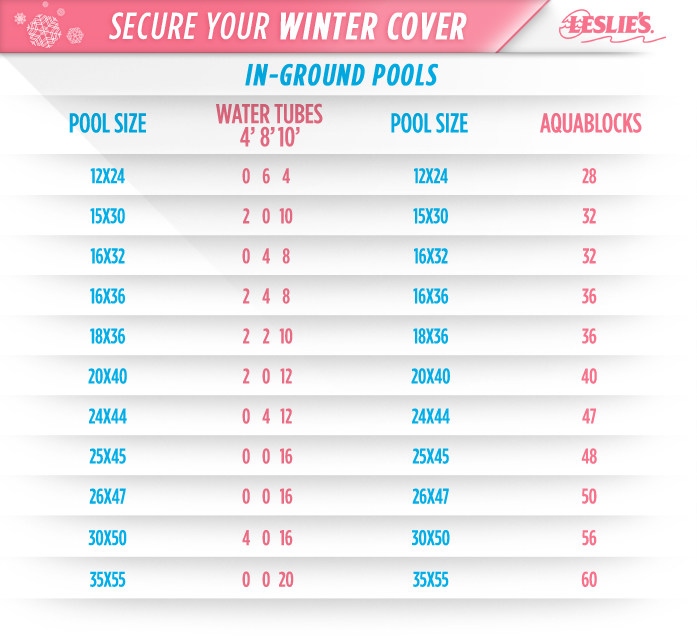 If you have any more questions, please contact us at 1-800-LESLIES or visit your nearest Leslie's location. We also carry a large selection of Pool Winter Closing products to protect your pool and spa through the off-season.