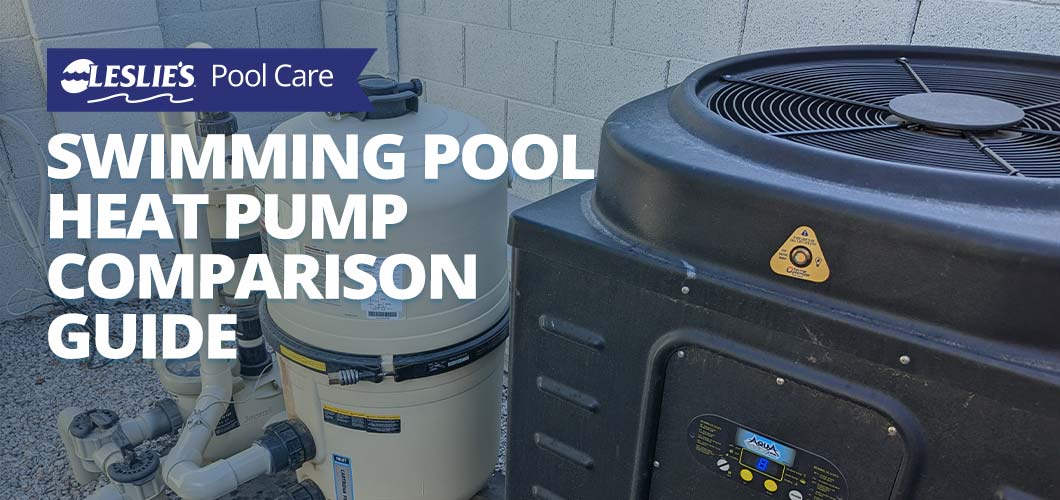 Swimming Pool Heat Pump Comparison Guide
When deciding on the best way to ensure a comfortable swimming temperature, it's important to consider the varying costs of heating a pool. Heaters and heat pumps provide a higher BTU output than their less costly solar-powered alternatives. However, when comparing heat pumps vs. gas or electric heaters, heat pumps come out on top when it comes to saving you money on operating costs. Once you've decided that a heat pump is the right option for your swimming pool, it's time to figure out which model you should get. This guide is here to help you through the process! Below you'll find comparison details on six of our most popular heat pumps, built by some of the most trusted names in the industry.
What Size Heat Pump Do I Need?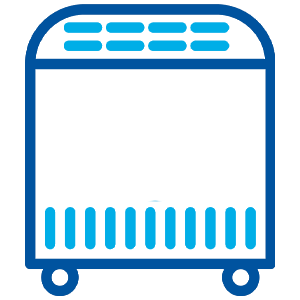 This is probably the most important factor you'll need to determine before buying a new heat pump. If you purchase one that's inadequate for your pool size, you may find yourself running it at full capacity all the time, and for a mediocre pool heating result. On the other hand, "bigger is better," but that also comes at a price. The higher the BTU output, generally the higher the upfront cost. To keep your heat pump purchase within budget, it'll take a bit of math to figure out what you need. We go into greater detail in our other article, An In-Depth Look at Pool Heat Pumps.
To keep it simple, most pools can follow these heat pump BTU guidelines based on water volume:
10,000 gallons or less: 60,000 BTU or higher
15,000 gallons or less: 90,000 BTU or higher
20,000 gallons or less: 120,000 BTU or higher
25,000 gallons or more: 140,000 BTU
Heat pumps top out at 140,000 BTU, so pools larger than 30,000 gallons may take a little longer to heat up
Things to Consider When Comparing Heat Pumps
Before you commit to buying and installing a brand-new heat pump for your swimming pool, there are a few things you'll need to keep in mind. Besides the BTU heat output and the size of your pool, there are a few other points of comparison between different pool heat pump models.
Coefficient of Performance
The Coefficient of Performance, abbreviated as COP, is a measure of efficiency. It looks at the relationship or ratio between energy requirements and total heating or cooling output into the pool. The higher the number, the higher the efficiency of the heat pump. The lower the number, the more energy you'll use to control the temperature in the pool — which translates to higher operational costs per BTU.
Amperage and Voltage
Most heat pumps require a dedicated breaker for either 50 or 60 amps. However, some smaller models, such as the Raypak Crosswind, can use a lower amperage breaker. Almost all heat pumps require 240 volts. Make sure your pool's breaker box is equipped to accommodate the additional energy demands of a heat pump. We highly recommend consulting a qualified electrician when dealing with electrical components.
Flow Rate
Make sure the minimum and maximum flow rates align with your other pool equipment. If your pump isn't moving water faster than the minimum flow, the heat pump won't even turn on. On the other hand, if the flow rate is too high, you may risk damaging the heat pump. If you have a pump that exceeds the maximum flow rate, some plumbing modifications can help reduce the rate of flow passing through the heat pump. Pool owners with a variable speed pump will need to take the time to program their pump accordingly for optimized performance, as lower speeds may not provide ample heating time for the pool.
Heat Exchanger
The materials that make up the heat exchanger inside your heat pump are a major component in its longevity. Most modern pool heat pumps feature a titanium heat exchanger, which offers superior resistance to corrosion. In fact, some manufacturers offer a warranty on their titanium heat exchangers that exceeds the warranty for the unit itself. Cupronickel used to be a common choice, but has lost popularity with the emergence of longer-lasting, high-efficiency titanium heat exchangers that resist corrosion from water chemistry.
Warranty
How long is your unit covered under warranty? What does the warranty cover, and are there varying periods of liability? Take a minute to read the fine print, so you know what is — and is not — covered. If warranty coverage is a big part of your decision, go with a heat pump that offers the longest and most complete coverage.
Dimensions
How big is the footprint of your chosen heat pump? Will it fit on your equipment pad, or will you need to rearrange some things? If you're replacing an existing heater or heat pump, will the new heat pump take up more or less room by comparison?
Heat Only vs. Heat/Cool
Most heat pumps are "heat only." However, some also allow you to cool your pool. This can come in handy in really warm climates, where summer temperatures can make your pool water feel more like a hot tub than a refreshing swimming pool. If you find yourself craving cooler water in the summertime, and you don't want to invest in a secondary pool chiller, a heat/cool heat pump may be just the ticket.
Pool Heat Pumps Comparison
Now that we've got all that out of the way, it's time to look at some heat pumps! The six units featured below are among our most popular. However, there are quite a few more to choose from. Check out our heat pumps category to see what's currently in stock and ready to ship.
| | | | | | | | |
| --- | --- | --- | --- | --- | --- | --- | --- |
| Make/Model | BTUs | COP | Flow Rate | Heat Exchanger | Warranty | Dimensions | Heat/Cool |
| Jacuzzi JHX127 | 127k | 5.8 | 25–80 GPM | Titanium | 6 Years* | 35" x 35" x 43" | Heat Only |
| Hayward HeatPro W3HP21404T | 140k | 6 | 30–75 GPM | Titanium | 3 Years | 30.25" x 34" x 44" | Heat Only |
| Hayward HeatPro W3HP21004T | 90k | 5.7 | 30–75 GPM | Titanium | 3 Years | 30.25" 34" x 37" | Heat Only |
| Raypak R8450ti-E | 140k | 5.6 | 30–60 GPM | Titanium | 7 Years | 35.75" x 35.75" x 45.2" | Heat Only |
| Raypak R6450ti-E | 119k | 5.9 | 30–60 GPM | Titanium | 7 Years | 35.75" x 35.75" x 45.2" | Heat Only |
| Raypak Crosswind 65-I | 61k | 5.7 | 28.5–37.5 GPM | Titanium | 2 Years | 16.5" x 39" x 26" | Heat or Cool |
*The Jacuzzi JHX127 is eligible for Leslie's Equipment Protection Plan, which is a free extended warranty program offered exclusively to Leslie's Pool Perks members.
You can also call or stop by your local Leslie's to speak with one of our friendly pool experts. We can help answer any questions you may have about pool heat pumps, and can also schedule a professional installation for you to satisfy warranty requirements. It's also easy to schedule a heat pump installation service online.
Leslie's makes every effort to provide accurate recommendations based upon current ANSI/APSP/ICC-5 2011 (R2022) standards, but codes and regulations change, and Leslie's assumes no liability for any omissions or errors in this article or the outcome of any project. You must always exercise reasonable caution, carefully read the label on all products, follow all product directions, follow any current codes and regulations that may apply, and consult with a licensed professional if in doubt about any procedures. Leslie's assumes no legal responsibility for your reliance or interpretation of the data contained herein, and makes no representations or warranties of any kind concerning the quality, safety, or suitability of the information, whether express or implied, including, without limitation, any implied warranties of merchantability or fitness for a particular purpose.