Raypak - Crosswind Heat/Cool Electric Pool Heat Pump 61K BTU, 208/230V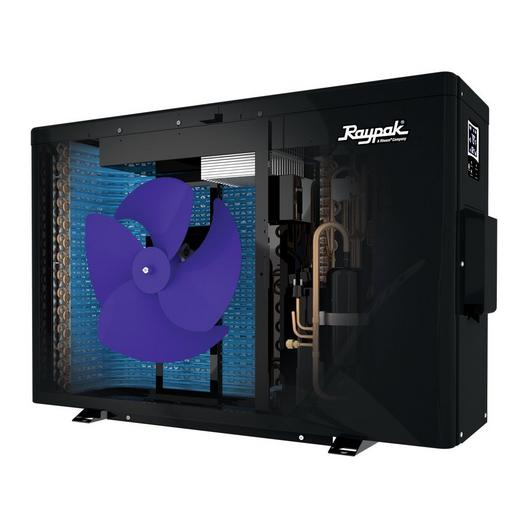 Enjoy the perfect water temperature with the intelligent, whisper-quiet, energy efficient Raypak Crosswind Heat/Cool Pool and Spa Electric Heat Pump 61K BTU.
More Details

Membership Available
In-store Pickup
- Not Available for this item
Earn at least $149 in pool perks for this item by joining Pool Perks.
Join/Sign In Now
Enjoy the perfect water temperature with the intelligent, whisper-quiet, energy efficient Raypak Crosswind Heat/Cool Pool and Spa Electric Heat Pump 61K BTU.
Heating and cooling electric pool heat pump
LCD display digital control
Whisper quiet operation
Inverter compressor coupled with a low-speed fan motor for a serene pool and spa environment
Spiral titanium heat exchanger
Weatherproof plastic jacket
Energy efficient inverter technology automatically adjusts and controls water temperature
Heat and cool mode - enjoy your pool all year long
Compact size for easy installation
Precise temperature control for higher efficiencies and cost savings
The Raypak Crosswind Pool and Spa Electric Pump may be small in size but it makes up for it in power. This 61,000 BTU electric heat pump is among some of the quietest pool equipment on the market. Being whisper quiet even, you will forget it's there, allowing the pool and spa owner to enjoy a day in the water blissfully without having to hear noisy equipment running in the background. The Raypak Crosswind's compact size makes installation a breeze so it can be installed outdoors to fit any pool or spa equipment pad set up.
Raypak's Cutting-Edge Features
The Crosswind heat and cool pump features an easy-to-read, user-friendly LCD digital display giving you all the control. The Raypak Crosswind 61K BTU heat/cool heat pump also has a spiral titanium heat exchanger to transfer heat a lot quicker and more efficiently to the water in your pool or spa. The Raypak Crosswind can also cool your pool to a comfortable temperature during those scorching summer days. The heat and cool feature allows you to enjoy your pool anytime of the year, all year long.
Inverter Technology
The cutting-edge technology Raypak has engineered for this heat and cool pump makes it more energy and cost efficient than any of its competitors. Crosswind's inverter technology intelligently adjusts your pool or spa temperature based on heating demand. Instead of shutting off when your precise temperature is reached, the Crosswind will automatically shift into maintenance mode. By doing so, it's able to maintain the set temperature more efficiently and quietly. The Raypak heater maintains by adding small increments of heat to keep it at the desired level using less power than costing less money in energy.
Extend your swim season with the luxury of The Raypak Crosswind's Heat and Cool Mode! Now you can cool down your pool during the hot summer days and warm the water when the temperature begins to drop in the fall.
Common Questions:
What is the heat exchanger type on the Raypak Crosswind Electric Heat/Cool Pump?
The Raypak Crosswind pool and spa heater features a spiral titanium heat exchanger.
What is the plumbing size?
All water connections are 1-1/2" PVC unions.
What is the heat output of the Raypak 017741 Crosswind?
The Raypak Crosswind has a heat output of 61,000 BTU.

| | |
| --- | --- |
| Product Type: | Pool Heat Pump |
| Manufacturer: | Raypak |
| Heat Output: | 61,000 BTU |
| Heat/Cool: | Yes |
| Part Number: | 017741 |
| Fuel Type: | Electric |
One (1) Year Limited Warranty on Product, see Owner's Manual for a full description of warranty claims and coverage details.