Spa Pillows and Hot Tub Cushions - Get Comfy!
Here's a quick post about some of my favorite spa and hot tub accessories, spa pillows and spa cushions.
Surfaces are hard and slick in a hot tub, and even though contoured seating offers some relief, by the end of a 20 minutes spa session, you could find yourself with a sore bum or stiff neck.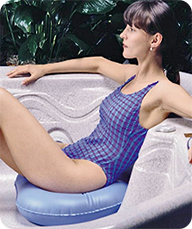 Spa booster seat - this ingenious product stays put, because you fill it with water, to the level of firmness that you want. Great for kids, or shorter folks, this pillow keeps your head above water and makes your soak much more pleasant.
We also carry the water seat, which has three internal compartments to fill with marbles or washed pea gravel for a spa seat that will really mold to your shape and hold you firmly in place.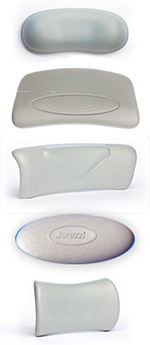 Spa pillows - this is a large category, with nearly 30 different spa pillows - some generic or universal, and some made for specific spa models from Hot Spring, Jacuzzi and Sundance.
Hot tub pillows are fairly durable items, but over time, chemicals and sun can begin to break down the outer coating, and then it starts to crack. Ugly. I just replaced my pillows last year, on a 10 year old spa - so not a bad lifespan!

Some spa pillows just disappear - maybe the wind took it, or your dog buried it somewhere in the backyard! Whatever happened, if your pillows are damaged or missing, you can find most replacements on our spa pillows page.
If you don't see the hot tub pillow for your brand, we also have 3 generic type spa pillows on top of the page, or a universal spa pillow, the type shown here with a weighted bag that folds over the edge of the spa or hot tub.
Get comfy in your spa! Spa cushions and spa pillows make great spa accessories. Whether you sit high in the water, or sink down very low to your chin level, cushion your spa and get more comfortable!