Spa & Hot Tub Parts: Air Switches for Spas and Hot Tubs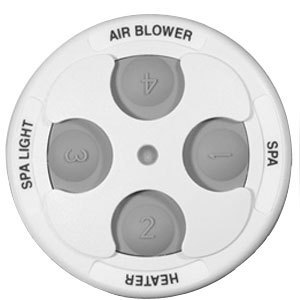 Air Switches have been used for spa side controls for as long as I can remember - probably after early hot tubbers got tired of having to get out of the tub to turn on jets, air, or lights!
Using an air switch provided a safe means of turning on hot tub equipment with wet fingers. Air switches for spas have come a long way since the early days, and many spa manufacturers are now controlling many spa functions with micro circuits on PCB's (printed circuit boards).
However, there are still LOTS of spa switches out there; some showing their age. This post has information on troubleshooting, identifying, ordering and installing spa air switches.
Types of Spa Air Switches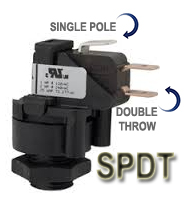 Air switches used in spas are used as a break in a circuit, just like a light switch or a circuit breaker. There are several types of switches that are used on spas and hot tubs. Here's a breakdown of the most common types of spa air switches.
A standard air switch controls a single load, that is - just the light or the blower, for example. They are sold in a few distinct types - Single Pole - Single Throw or SPST (one wire in, and one wire out), or the Single Pole - Double Throw SPDT (one wire in, two wires out). A Double Throw can be used for a two-speed pump to operate high speed and low speed, each on separate outputs.

You may also see a switch that is like a "Double SPDT", with two wires in, and four wires out. This is known as the DPDT, or that's right... the Double Pole - Double Throw air switch - pictured here on the left. Multi-function switches can have even more terminal sets, you may have larger switches with 4 sets of terminals, which can turn several items on or off, at the same time, or in sequence.
Air switches will also have a "Spout" or a small ribbed opening - where an air hose pushes on to the air switch. The location of the Spout can make a difference, some are side mounted and some may be bottom mounted, as on our image examples.
Another distinction between spa air switches is in their operation. Latching type of air switches are "Push On - Push Off" activated, such as a single color spa light. These are also known as Alternate or Permanent air switches. Sequencing switches, mentioned above, control several functions at once, such as selecting a "SPA" function, which will turn on jets and blower and heater, for example. Multi-function sequence switches have multiple terminals for wire connections. Momentary spa switches close the circuit (On) only while the air switch is depressed, and opens the switch when the button is released. These are also known as Non-Latching switches for spas.
Trouble Shooting Spa Air Switches
Basic: Your first indication of a problem may be that you push the button and nothing happens, or the result is different than what you expected! First step in diagnosis would be to remove your equipment panel and locate the thin air hose connected to the spa side controls. Make sure that they are all connected, on both ends, follow the hose from the button to the switch.
Next, push the button and listen for the switch to "click", or make a small noise (you may need to turn off the spa to hear it). If you hear no noise, inspect the air hose for cracks or splits. If OK, inspect the air switch with a flashlight, looking for insects or disconnected wires.
You may have an air switch with an adjustable dial, over a threaded body. Spa air switches come factory calibrated, and there is usually no need for adjustment. However, during troubleshooting an air switch, you may turn the dial in one direction or the other, but track the number of revolutions, so you can return to the starting point if adjustments make no difference.
Advanced: Shut Off power to the spa at the incoming circuit breaker. Use a multi-meter to check continuity through the switch. Place your meter on the Ohms setting, to check the resistance, and place meter leads onto each incoming (common) terminal and also on the terminal just below it. You may need to remove the wires from the terminal, but only do one set at a time, and remember which is which, or label them with masking tape.
While you are holding the meter onto the terminals, have a helper push the air switch button up-top (or clamp your meter leads). While connected, your meter should read continuity/no continuity, as the button is pushed on and off. If any of the pole/throw sets do not display this behavior, the switch has failed.
Identifying your Spa Air Switch
It's important to select a replacement switch with the exact type - not necessarily the same brand, but the same number of Poles and Throws, the same voltage and amperage, the same Operation Type and the same Spout location.
If you identify a faulty spa switch, remove and label each individual wire, and unscrew the switch from it's mounting (power is still Off!). Put your glasses on and write down all identifying information - Volts, Amps, Type and Manufacturer.
Usually, searching these numbers on Hottubworks will pull up pictures of possible replacements. Look at the pictures to try and positively identify your switch. If you have questions, you can always call our tech support center.
Buying a New Spa Air Switch
We sell dozens of air switches every day. Of these, about 10% of orders are returned - with customers selecting the wrong one. We don't want you to lose any time with your spa, so if you have a question or are just unsure about what type of spa air switch you have, please give our team a call.
Of course, our spa air switches are very easy to order online, with large pictures and full descriptions - and a friendly return policy. So, if you'd rather not call us, make your best selection and let us know if you have any questions while installing the new air switch.
Installing a New Spa Air Switch
You'll normally find all of your air switches housed in a central control box, with a uniform mounting method. Some are screwed in place or clipped in place. Remember to have the power Off during switch troubleshooting and replacement. Label all wires that are removed, and proceed in a logical forward and reverse order. After removing wires and air hose, the switch can be removed, replaced, re-wired and re-hosed.
Leslie's makes every effort to provide accurate recommendations based upon current ANSI/APSP/ICC-5 2011 (R2022) standards, but codes and regulations change, and Leslie's assumes no liability for any omissions or errors in this article or the outcome of any project. You must always exercise reasonable caution, carefully read the label on all products, follow all product directions, follow any current codes and regulations that may apply, and consult with a licensed professional if in doubt about any procedures. Leslie's assumes no legal responsibility for your reliance or interpretation of the data contained herein, and makes no representations or warranties of any kind concerning the quality, safety, or suitability of the information, whether express or implied, including, without limitation, any implied warranties of merchantability or fitness for a particular purpose.