Saltwater Chlorine or Saltwater Bromine?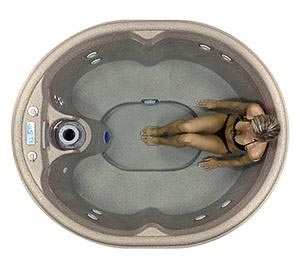 Salt water chlorine vs. salt water bromine. Which is better?
The chlorine vs. bromine debate, along with the pros & cons of using a hot tub salt system have been hashed out before on this blog, but what if you already love spa salt water generators, and wonder about using sodium bromide, instead of sodium chloride as the necessary salt.
Bromine is better than chlorine in a hot tub, as it stays potent in high temperatures and in a wide range of pH values, and has less odor. So why not use Sodium Bromide instead of Sodium Chloride in a spa or hot tub with a salt generator?
Sodium Bromide salt is much more expensive than Sodium Chloride salt. This is because of the higher cost of raw materials. It costs only $5 in NaOCl after draining the spa (unless you use Dead Sea Salts, which are much more costly), but to replace the NaOBr, it can cost $25, each time you drain.
Bromine Generators cost twice as much to purchase than equivalent spa chlorine generators. Roughly $200 for salt systems, and $400 for bromine systems.
But wait ~ aren't Bromine tablets also twice as expensive as using spa chlorine tablets? Yes. Bottom line is that Bromine costs more than chlorine, no matter how you introduce it to the water.
For many spa owners, it's worth the extra cost to have a Bromine spa.
Spa Chlorine and Bromine Generators
Can you use bromide salts with a salt chlorinator? You could, after draining and refilling with fresh water, add sodium bromide ions to the water to create bromine, instead of chlorine. However, salt chlorine generators such as the Saltron Mini are optimized to work with sodium chloride, although the manufacturer told me that either salt can be used.
Is there a difference between Salt Brominators and Salt Chlorinators? There are small differences in the salt cell coatings and in the salt level required for operation, but the operation or technology is the same. They both convert ions into a sanitizer, which afterwards revert back to the base salt, where the process can begin again. Spa Salt Bromine Generators, such as Tru Blu and the Gecko Alliance, in clear bromine salt system for spas.
What type of Salt is used in a Saltwater Hot Tub? If you are using sodium chloride, be sure to use a pool salt with a high 99% level of purity, without added caking agents, desiccants or iodine added. For a bromine spa, add pure sodium bromide salts to the spa, the same bromide booster that is used to build the 'bromine bank' when using bromine tablets. Many spa salt system owners also use Dead Sea Salts, which contain potassium and magnesium, in addition to sodium.
Leslie's makes every effort to provide accurate recommendations based upon current ANSI/APSP/ICC-5 2011 (R2022) standards, but codes and regulations change, and Leslie's assumes no liability for any omissions or errors in this article or the outcome of any project. You must always exercise reasonable caution, carefully read the label on all products, follow all product directions, follow any current codes and regulations that may apply, and consult with a licensed professional if in doubt about any procedures. Leslie's assumes no legal responsibility for your reliance or interpretation of the data contained herein, and makes no representations or warranties of any kind concerning the quality, safety, or suitability of the information, whether express or implied, including, without limitation, any implied warranties of merchantability or fitness for a particular purpose.