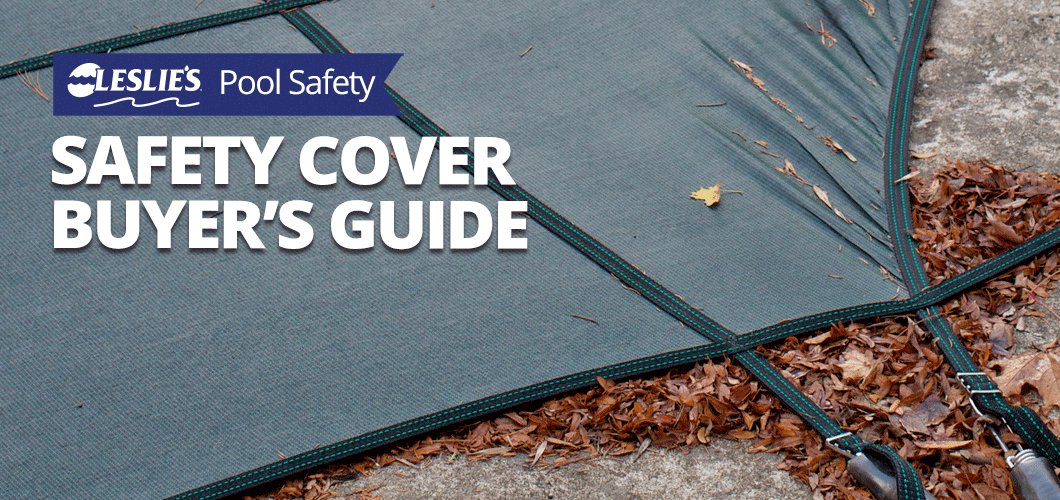 Safety Cover Buyer's Guide
If you've never used a pool safety cover before, buying one may seem like a daunting task. A safety cover is not only an attractive pool cover for the winter months, but it also serves a very important purpose, especially for households with children or pets. Once the safety cover is on the pool, you can rest assured that nothing — and no one — will fall into the water unattended. It's important to purchase the correct size and shape for your pool, and knowing how to measure for a safety cover is the first step. There are also a few different styles of safety covers — mesh, solid, or a hybrid of the two. But what's the difference? Which safety cover is best for your pool?
How to Measure an Inground Pool
Finding a pool cover that fits your pool is the first step to safety. Safety covers protect your pool during the winter by keeping water and chemicals in, and dirt and debris out. They also eliminate the chance that a child or pet could accidentally fall into the pool while unsupervised. A well-fitting safety cover is one of the most important purchases you can make for your pool, and Leslie's can help you find the right one.
DIY TIP: An ill-fitting safety cover can do more harm than good. One that's too small leaves room for accidents and possible entrapment. On the flip side, a cover that's too large or isn't fitted properly can wear out prematurely, causing dangerous weak spots and/or rips along the pool ledge.
It goes without saying that pools come in all shapes and sizes. Leslie's carries standard rectangular safety cover shapes, including safety covers with a center end step, left end step, or a right end step. If your pool doesn't quite fit that mold, we can also help you order a custom safety cover. Non-typical shapes, large pools, or pools with unique features are all candidates for custom covers. To determine if you should purchase a standard or a custom cover, just ask yourself a few simple questions:
Is the pool rectangular, with only squared (not rounded) sides and no step sections?
Is there at least three feet of deck space around the entire pool?
Are there no permanent objects — like handrails, steps, ladders, or planters — within 1 foot of the pool edge?
If you answered YES to all of these questions, then your pool is the perfect candidate for a standard safety cover, which can be purchased easily online. If you answered NO to the first question because your pool has a side step, you may still be able to purchase your new safety cover online or in-store. You'll just need to know the size of your pool to see what's available.
To know which size safety cover you need, use a measuring tape to measure the length and width of your rectangular pool. If there is a step section that extends beyond the rectangle, measure that separately. Pool covers are sold according to pool size, and automatically include an overlap of about 1 foot on each side. For example, if you have a 14' x 28' rectangular pool, buy a cover that's labeled as a 14' x 28' cover. In reality, the cover you receive will be slightly larger, measuring 16' x 30'. This information is clearly stated in the product details to help ensure you're buying the correct one.
DIY TIP: If your pool already has a safety cover, but you're looking to replace it, make sure the strap locations will match up to your existing anchor placement. If they don't match up, you'll either need to consider a custom safety cover, or go through the hassle of setting new anchor points.
On the other hand, if you answered NO to any or all of the above questions, your pool will require a custom safety cover. Custom safety covers can be designed to fit any size or shape of pool, and can accommodate any irregularities like walls, planters, and slides. For help with your custom order, download the easy-to-use Custom Safety Cover Measuring Form, and give us a call at at 1-800-LESLIES (1-800-537-5437) to answer questions and complete your order.
Mesh vs. Solid Safety Covers
Pool safety covers are available in two main types — mesh and solid. There's also a third type, a solid cover with a mesh panel, which combines the best of both worlds. Both materials have their own distinct advantages and disadvantages. Take the time to understand those differences so you can decide which type of cover is right for your pool.
Mesh Safety Covers
PROS
Less expensive than solid covers.
Lightweight material is easy to install and remove.
Heavy-duty polypropylene fibers are tightly woven and built to last.
Rain water and melting snow passes through the mesh, so it won't be weighed down by standing water.
No puddles on the pool cover reduces potential for accidents involving children or pets.
Does not require a sump pump to remove standing water from on top of the cover.
Keeps all debris except fine dust particles out of the pool, making spring opening a breeze.
Leaves and debris remain dry and blow away.
Rain water and melting snow replenish water lost from evaporation.
CONS
Allows fine dust particles to enter pool, so vacuuming is required when removing the cover during spring opening
Sunlight can enter the pool, which can help harbor the growth of bacteria and algae.
Solid Safety Covers
PROS
Provides a completely solid barrier between your pool and the environment.
Super strong construction won't rip or tear, keeping your pool clean and your family safe.
Prevents all water, snow, and debris from entering pool, even fine dust particles.
Keeps sunlight out, preventing any bacteria or algae from growing during the winter.
Water and chemicals do not evaporate from your pool, meaning less work and fewer chemicals used during spring opening.
Some solid covers contain mesh drain panels, allowing standing water to drain from the cover.
CONS
Sump pumps are required for solid covers without mesh drain panels. Sump pumps remove standing water from the cover, and prevent accidents resulting from slippery or icy covers.
Solid covers are heavier and require a little more work than mesh covers to install and remove.
DIY TIP: Need to buy a pool cover pump? We have plenty to choose from to suit your pool's unique needs. Pumping capacity ranges widely, from 300 GPH (gallons per hour) all the way up to 3200 GPH. There are also manual or automatic models to allow greater control of how you use the pump.
Once you've determined if you need a standard or custom safety pool cover, and you've decided whether a mesh or solid safety cover would work better for your pool, you're ready to choose your cover! Certain covers are available in different color options, including blue, green, and black.
Still have questions? Let our friendly pool professionals help you. For more information about pool safety covers and other pool maintenance solutions, call or stop by your local Leslie's store.