How to Measure Your Pool for a Safety Cover
When the swimming season comes to an end, it's important to protect your pool from the elements. Although a basic pool cover will do the job, that won't provide extra protection for your loved ones. A safety cover, however, will significantly reduce the risk of pool-related injuries.
A safety cover is a secure cover that will give you peace of mind if children or animals run across it. There are five types of safety covers to consider: pro solid, pro mesh, pro supreme solid, pro sunblocker mesh and pro thirty year commercial mesh. You can read about the differences between each type of cover here.
Starting Out
Before we begin, open the Leslie's custom cover safety form. This PDF will help you along the way with the measuring process. Now, let's take a look at how to properly measure your pool for a safety cover.
First, a reminder to take your time and measure correctly. Remember that the manufacturer producing your cover will only have the measurements you provide when making your cover. Accuracy is of the utmost importance.
Measuring Time
The measurements are fairly straightforward for rectangular or oval pools. However, for pools with unique shapes and features, we use the A-B triangulation measuring method. I recommend using chalk or painter's tape when marking points on the pool.
This method of measuring uses triangulation to determine the shape of the cover with all of the pool's features. We mark points at three-foot intervals around the pool perimeter. Markings are also placed where obstructions are found. Additionally, you should provide a sketch of the pool with the A-B lines, cross-dimensions, and notes concerning special features or obstructions.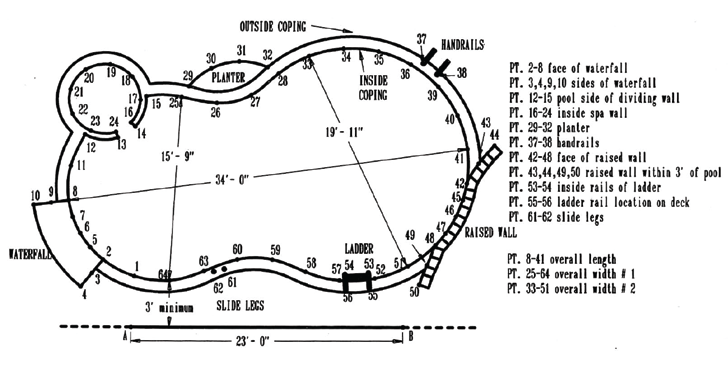 Although this seems simple, it's easy to get something wrong. For instance, the stakes that you put into the ground could be pulled out of position during the measuring process. Another common error is to take measurement points around the pool in the wrong direction. The manufacturer is expecting the measurements to be clockwise from left-to-right. If the measurements are taken counter-clockwise from right-to-left, you'll end up with a mirror image of the pool.
A lot of manufacturers recommend that, in addition to the sketch, you should provide pictures of the pool. Take close-up pictures of any raised walls, ladders, hand rails, and any other unique features, as well as a wide view of the entire pool. This gives the manufacturer an idea of any details that might have been left out on the measuring form.
It can also be helpful to the cover manufacturer if you measure the perimeter of any special features. Measure around the spas and other features, and provide these measurements as well. This should ensure that your cover is made correctly.
Inching Towards Success
Well, there you have it. While a time-consuming and somewhat painstaking task, measuring your pool correctly is the only way to confidently order a safety cover. With accurate measurements, you will have security, protection, and - most importantly - a cover for your pool!