Romantic Hot Tub Ideas
Love is in the air, and Valentine's Day weekend is upon us! If you're like me, you're so over the typical Valentine's dinner and a movie. The restaurants are all so crowded, and they usher you in and out as quickly as possible. Rushing out on a work night and trying to make everything feel so romantic can almost feel forced - there has to be a better alternative!
We have an idea if you'd like to try something different this year. Cancel the fancy restaurant reservation, and put away the slinky dress and high heels. Make a unique, personalized date for the two of you in your hot tub! It's easy to pull off with just a little bit of planning. We've gathered a few tips and ideas to get you started.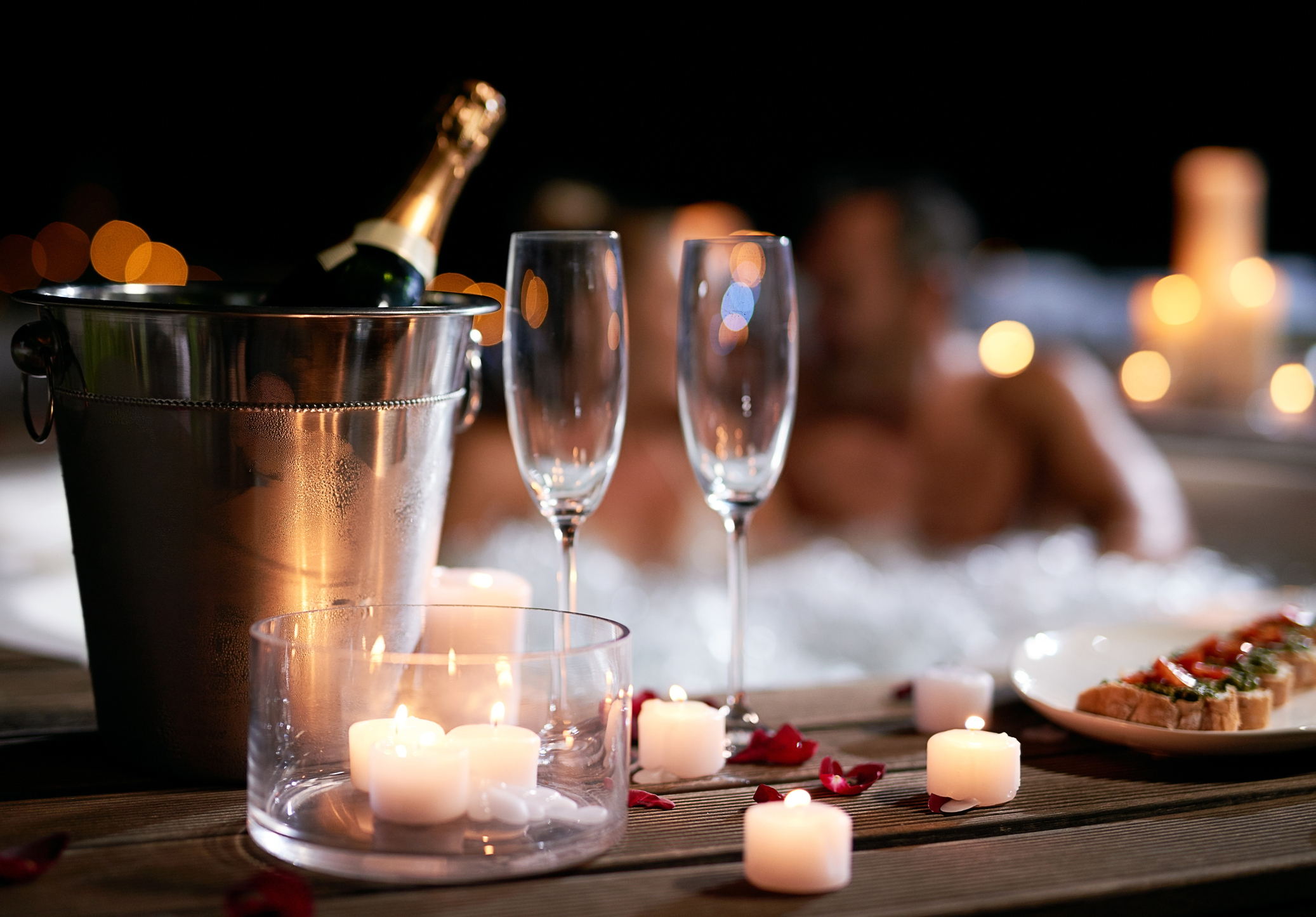 The Spa-posal
The romance begins with a courtly gesture. Put together a memorable invitation that builds interest and anticipation. The ASK is more than just a simple proposition. It's all about the presentation and packaging, and asking your special person to join you for a romantic night in.
Hand-written invitations, hand delivered on fancy stationery is hard to resist. It's an overture that will melt his/her heart.
Post-it Notes - Write your proposition in fancy script over many heart-shaped Post-it notes, placed on the bathroom mirror or in strategic locations around the house.
Send flowers in advance from a local florist. As an added touch, you can write a loving sentiment to your beloved.
Gift wrap a robe and slippers, a new bathing suit or some other nice gift. Include your date night invitation inside the box.
Print two tickets to a "Hot Show" on a ticket printing website, or make your own design using your favorite image editor.
Spell it out with sweets - Write your proposal on a cake, or use Valentine's heart candies for a clever and tasty message.
Like any good invitation, be sure to include a specific date, time and location. Make it as formal or personalized as you want. Any gesture from the heart is sure to be well received. To kick it over the top, name the evening according to a theme. "Evening Under the Stars" or "Hot Tub Heaven" will help generate more excitement and enticement. It will also help you in planning your date, branding the evening as though it were at a resort spa or an exclusive tropical hideaway.
Choosing a Gift
The gift comes before the big event, so it's actually a pre-gift, given at the start of the evening. Choose a sweet and thoughtful gift that's related to the theme or your evening plans. As mentioned above, the gift can be combined with the "ask" in many clever ways.
Fluffy robes - Soft, matching robes and slippers. Bonus if you buy two sets so you match each other.
Blooming flowers - A bouquet of his or her favorite flowers is still one of the most romantic and sensual gifts you can give.
Chocolate dipped fruits and berries, or go for the traditional heart-shaped box of chocolates.
Romantic apparel - For her, a new spring hat or summer dress. For him, a sports jacket, cap or pair of nice shoes.
Watches and jewelry - Take pictures of their favorite pieces, and visit a local shopping mall to find something similar. A new watch or a shiny bracelet makes for a perfect Valentine's Day gift.
The pre-gift is an important part of the evening's allure. It doesn't need to be extravagant, nor does it need to be "store bought." Remember, the presentation of the gift is key. It's not so much what's in the box, but how you wrap it and present it. Be sweet!
Setting the Mood
Setting the mood for the evening is also key. The hot tub is a natural mood setter, and adding little touches here and there can help make it more romantic. Use a few decorative elements or some personal touches to really make your spa area more inviting. Here are a few ideas on how to set a romantic tone around the hot tub.
Soft music and soft lighting - Set up some Bluetooth speakers and play a soft, romantic playlist. Use some candles to light the path or set a few around the tub.
Rose petals - Create a path of rose petals leading to the spa. Set aside a bowl of petals to add to the water's surface just before you and your partner enter the tub.
Tropical plants - Add a few large green tropicals or flowering plants around the spa to soften the view and add some natural flora.
Aromatherapy - Our diverse selection of scented elixirs and spa crystals add sensual aromas to promote relaxation and heighten the five senses. It really works!
Bottle of champagne, chilling in an ice bucket, with two (plastic) champagne flutes. Classically romantic.
Hang curtains - If your spa is out in the open, hang decorative privacy screening around spa. Using material like bed sheets or sheer fabric will usually do the trick.
Having a few conversations starters ready to go can help keep things light and fun. Playing "Remember when...?" or dreaming together about exotic travel plans are two good starters. Exchanging back, neck and shoulder massages is another great way to get relaxed and enjoy your time together.
Planning the Food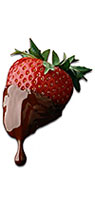 For snacks in the hot tub, I always recommend fruits and veggies, especially colorful berries and fruit wedges. Avoid any greasy foods or dips. Just some brightly colored fruits, best enjoyed au naturel. Here are some more romantic ideas for dining on Valentine's Day.
Al fresco dining by candlelight - Set up a table for two on your patio, and enjoy the starlight overhead.
Private dining by candlelight in the comfort of your own home.
Private sunset picnic at the beach, lake or your favorite scenic overview.
Appetizer smorgasbord - Fill a large platter with your favorite restaurant style appetizers.
Breakfast for dinner - After soaking in the hot tub, jump in the car to go to IHOP or a small local diner.
Dinner with friends - Before kicking off your romantic evening at home, plan an intimate Valentine's dinner party with a few of your closest friends and their partners.
Don't be afraid to heat things up this Valentine's Day - or any day, for that matter! Your hot tub is the perfect way to spend quality time with your significant other and personalize it for just the two of you. This Valentine's Day is sure to be a day to remember.
Leslie's makes every effort to provide accurate recommendations based upon current ANSI/APSP/ICC-5 2011 (R2022) standards, but codes and regulations change, and Leslie's assumes no liability for any omissions or errors in this article or the outcome of any project. You must always exercise reasonable caution, carefully read the label on all products, follow all product directions, follow any current codes and regulations that may apply, and consult with a licensed professional if in doubt about any procedures. Leslie's assumes no legal responsibility for your reliance or interpretation of the data contained herein, and makes no representations or warranties of any kind concerning the quality, safety, or suitability of the information, whether express or implied, including, without limitation, any implied warranties of merchantability or fitness for a particular purpose.