Product Review - Jacuzzi J-D300 Suction Side Pool Cleaner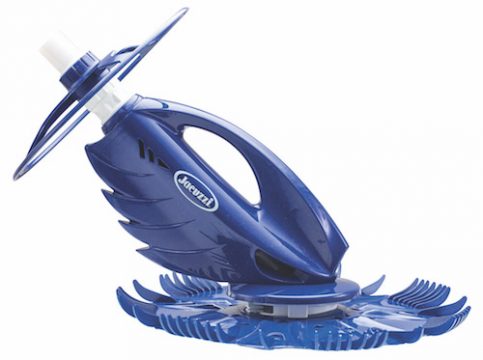 Jacuzzi J-D300: High Quality, Durable and Affordable
Jacuzzi Pool Equipment, a name synonymous with quality, has created an affordable suction side pool cleaner to keep any in-ground pool clean with minimal maintenance. The J-D300 Suction Side Pool Cleaner comes equipped with commercial-grade construction to boast durability, providing worry-free pool maintenance each season.
What makes the Jacuzzi J-D300 stand out from the rest?
Includes a 40' hose and free replacement diaphragm
Quick setup: The J-D300 only takes a few minutes to install without the need for tools or a booster pump!
Extended 3-Year Warranty with Leslie's Equipment Protection Plan for Leslie's Rewards Members
Better cornering and overlapping patterns reducing spots that are "missed"
Suitable for all in-ground pool surfaces
Affordable investment
Details to keep in mind:
Suction side pool cleaners typically are not designed to clean pool features (waterfalls, steps or ladders). Those areas need to be cleaned manually with a pool brush.
This cleaner is designed to vacuum small debris. Large debris and fallen objects should be manually removed before running the J-D300.
We recommend keeping this cleaner in the pool except when swimmers enter the pool or during shock treatments.
Suction side pool cleaners are powered by the pool pump, which may put some strain on your pool equipment.
The Jacuzzi J-D300 only has one moving part, the diaphragm, which will need to be replaced as it wears.
Still weighing your options? Here are some great customer reviews:
"Have used it two times since we got it and it works great. This one replaced one we had for over ten years. This one does not get stuck on the floor of the pool and it does our steps very well. Great find!" - Patricia B.



"Love this! Tried 4 different cleaners and this is the only one that doesn't get stuck on the drain or the stairs! Works great!" - Sergio C.


Final Thoughts
After review, we were quite pleased with the Jacuzzi J-D300. This cleaner covers more surface area than a standard pool cleaner and packs a punch with very few moving parts. Long-lasting construction, affordable price and a 3-Year Extended Warranty make the Jacuzzi J-D300 one of the highest selling suction side pool cleaners on the market!
Now only:

J-D300