How To Choose the Right Automatic Pool Cleaner Type
A clean pool … it's what we all want. Now comes the tricky part: How do we make that happen?
Some of us prefer the ease of hiring a pool service, but that can be pricey. Others like to get their hands dirty and handle the cleaning themselves. And some of us don't necessarily have the budget to afford a pool service or the time/desire to do it ourselves. If you fall in that last group, this post is for you.
Automatic pool cleaners are a great option for anyone looking for an affordable, easy solution to keeping a pool healthy, beautiful, and swim-ready. So which type of automatic cleaner is right for you? Let's jump in and find out.
There are three types of automatic pool cleaners, with options all but guaranteed to fit your budget: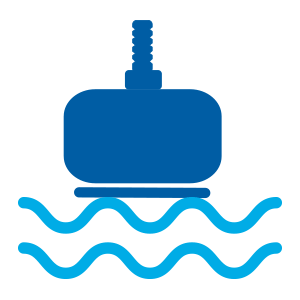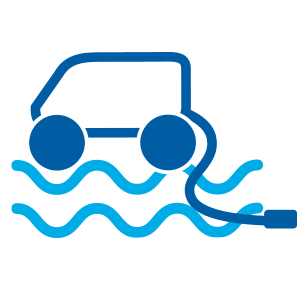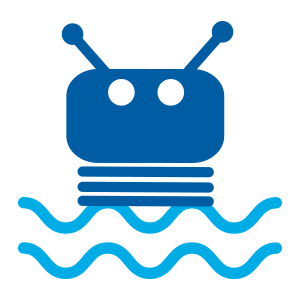 Here is a quick overview of each type to help make your decision more clear.
Suction Side Automatic Pool Cleaners
Suction cleaners work with the dedicated suction line in your pool or connect to your pool's skimmer. They use the filter pump's suction to propel the cleaner throughout the pool, vacuuming and cleaning the pool surface to eliminate dirt and debris. If your pool has a heavy debris load, an in-line leaf canister may be attached to the cleaner hose to prevent the pump basket from filling with debris.
Pros
Lower cost
Fewer moving parts
Easy maintenance
Good for finer dirt and tough-to-reach areas
Cons
May increase dirt and debris load on the filter, requiring more frequent backwashings or cleanings
Pump must be operating for cleaner to work
DIY TIP: Always remove your automatic pool cleaner before adding chemicals, especially pool shock; some chemicals can damage the cleaner.
Pressure Side Automatic Pool Cleaners
Pressure cleaners use existing pressure side water flow to propel the cleaner throughout the pool. The water returned back into your pool fuels the cleaner. Unlike suction cleaners, pressure cleaners don't use your pool's filtration system to filter out dirt and debris. Instead, they use a filtration bag, which relieves pressure and wear on your filtration system. And if your pool is heated, pressure cleaners help distribute the heat.
Pros
Lower cost
Easy maintenance
Lowers dirt and debris load on filter
Scrubs pool walls and floor
Good for markets with more leaves
Cons
Requires a filter pump to operate
Most models require extra booster pump
Increased operating costs if both pumps are required (they would need to run at the same time)
Must empty filtration bag
SAFETY TIP: For safety purposes, always remove the pool cleaner before swimming.
Robotic Automatic Pool Cleaners
Robotic pool cleaners don't use your existing pool equipment; they run off of the power from your home. They free up wear and tear on your pool equipment and reduce overall power costs while providing superior cleaning power. The energy efficiency and the reduced maintenance and wear on pool equipment make robotic pool cleaners ideal for most pools. The upfront cost, however, can be higher than suction and pressure cleaners.
Pros
Supports simple "plug and play" operation
Picks up large and small debris in the built-in-filtration system
Can clean and scrub the pool floor, steps, and waterline
Pumps 3,000-4,000 gallons of water each hour, acting as secondary filtration system
Programmable features (timer, path, etc.)
Many are Bluetooth compatible
Cons
Higher upfront cost
Requires emptying built-in filter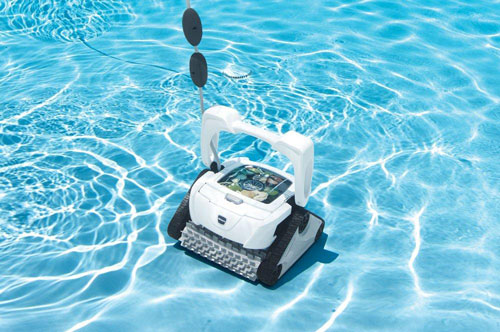 Now you've got an idea of how an automatic pool cleaner can save you time and money. For information on specific models, check out our online selection or visit your local pool supply store (find your nearest Leslie's store).
And remember … at Leslie's, we're here to help you create a safe, sanitary, and perfect pool experience.