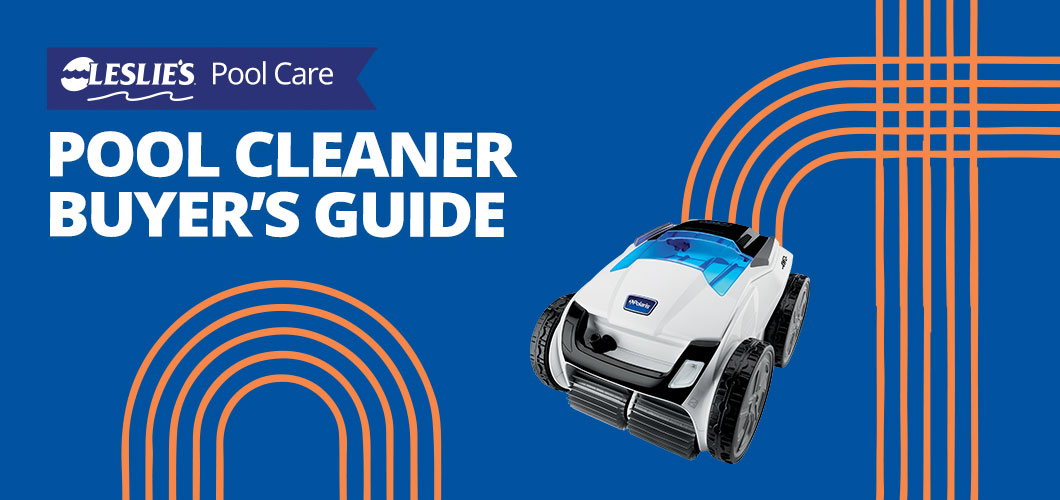 Pool Cleaner Buyer's Guide
Is it time to upgrade your automatic pool cleaner? If your current cleaner isn't working quite as well as it used to, or if you're just looking for a more efficient way to clean your pool, you're in the right place. With the Leslie's Pool Cleaner Buyer's Guide, we help you do the research. From there, it's up to you to decide which pool cleaner is best for you and your inground swimming pool. So let's get started, shall we?
Before we get too far into discussing the different pool cleaners and their features, you must first decide which type you want. To clarify, there are three types of automatic pool cleaners: suction side, pressure side, and robotic. If you already know what kind of cleaner you want, you can skip ahead to the product highlights below. If you're undecided, head over to our other blog post, which explains How to Choose the Right Automatic Pool Cleaner. Then you'll be ready to focus on the right category of pool cleaners.
In this buyer's guide, we'll look at the features of some of our most popular automatic pool cleaners for inground pools.
MONEY-SAVING TIP: Leslie's Pool Perks members earn 5% in Pool Perks rewards on any purchase. Some manufacturers also offer a mail-in rebate for their pool cleaners, which can multiply your savings even further.
Robotic Pool Cleaners
First up in this pool cleaner buyer's guide, we'll talk about robotic pool cleaners. This class of cleaners is the most technologically advanced on the market. First and foremost, they're energy efficient. They also save wear and tear on your pump and filter system, and they're compatible with every pool type. Some of the more modern robotic pool cleaners also have Wi-Fi capabilities. Subsequently, this allows you to program and control the cleaner right from your smartphone.
Polaris VRX iQ+
As part of the newest generation of automatic pool cleaners, the Polaris VRX iQ+ comes fully loaded with a long list of impressive features. Advanced navigation sensors and controls precisely map your pool. It then uses that info to calculate optimal cleaning time with a SMART Cycle Cleaning Mode. This cleaner easily adapts to your ever-changing pool cleaning needs.
Onboard Wi-Fi technology easily connects to the iAquaLink Control app on your smartphone. This app allows you to manage the cleaning schedule and manually guide the unit for targeted spot cleaning. You can even use it to check the water temperature before jumping in the pool. The VRX iQ+ comes equipped with powerful Vortex Vacuum technology, 4WD agility, and a large easy-access debris canister. It also features seven diverse cleaning modes and the patented Easy Lift Removal System for simple waterline retrieval. It's easy to see why the VRX iQ+ is our #1 most popular pool cleaner.
REBATE ALERT! $50 manufacturer's rebate available for the Polaris VRX iQ+ until September 4, 2023.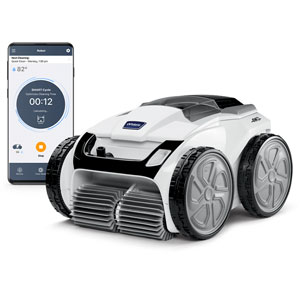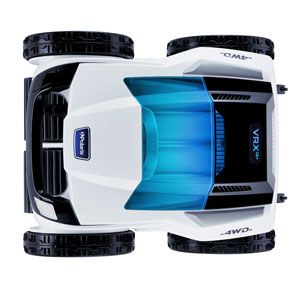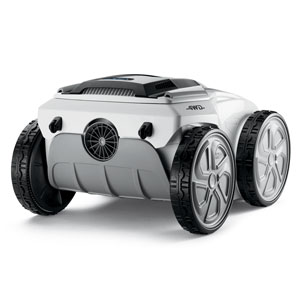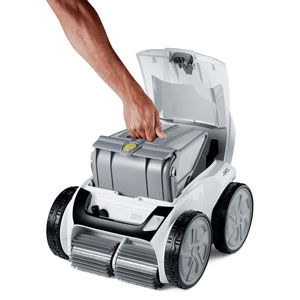 Jacuzzi JCRX
Bearing one of the most trusted names in pool and spa care, you know you're getting a top-of-the-line product when you purchase a Jacuzzi JCRX robotic pool cleaner. All-terrain tank treads easily navigate throughout the pool and around/over obstacles. Rotating brushes precisely clean and scrub pool surfaces, while powerful suction draws in both large and small debris. The clear lid and illuminated debris canister let you easily see the contents. Once full, the basket is incredibly simple to remove and empty.
This cleaner comes equipped with a convenient cleaner caddy for storage and transportation. Paired with a 60' twirling power cable, you won't ever have to worry about the cleaner getting tangled and twisted. When the cleaning cycle is complete, the retrieval mode makes it easy to remove the cleaner from the pool. In addition to the great features listed above, the Jacuzzi JCRX is covered under Leslie's Equipment Protection Plan, which is an exclusive benefit available to Leslie's Pool Perks members.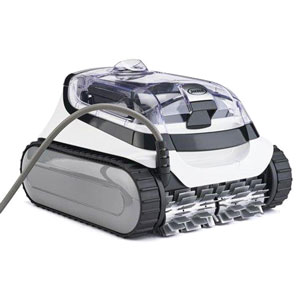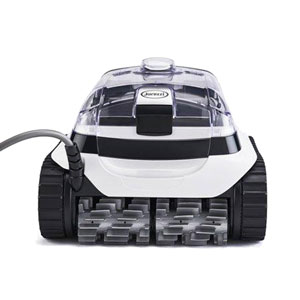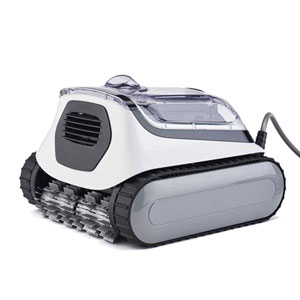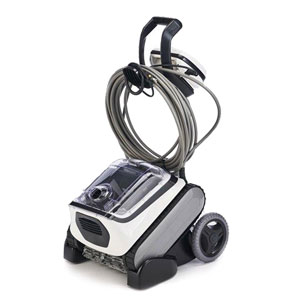 Dolphin Proteus DX3
If you're looking for a high-end robotic pool cleaner that's on the lower end of the cost spectrum, you can't go wrong with the Dolphin Proteus DX3. Its 2-hour cleaning cycle actively scrubs and vacuums to remove algae and debris from the pool walls and floor. The ultra lightweight design makes it easy to handle, both when placing the cleaner in the pool or retrieving it at the waterline.
The fine filter works great for general purpose daily cleaning, while the ultra-fine filter panels effectively remove particles as small as 50 microns from the pool. The DX3 robotic pool cleaner is ideal for smaller inground pools up to 35 feet in length. If you need something for a larger pool, take a look at the Dolphin Proteus DX4, which is suitable for pools up to 50 feet. For the most modern technology in the Dolphin Proteus line, take a look at the Proteus DX5i, which includes Wi-Fi and Bluetooth capabilities for advanced control features right from your smartphone.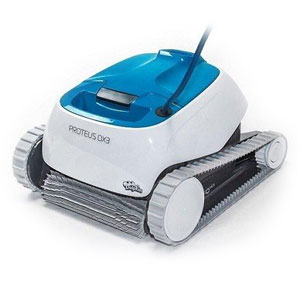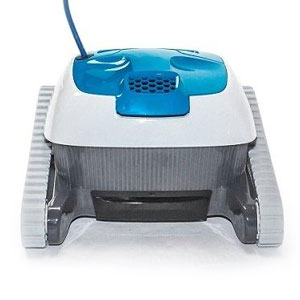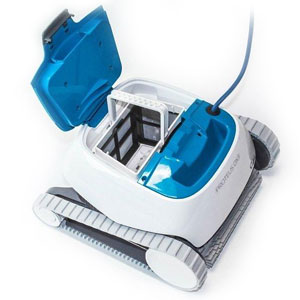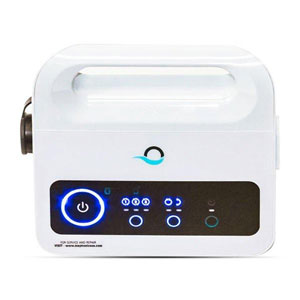 Aiper Seagull 1500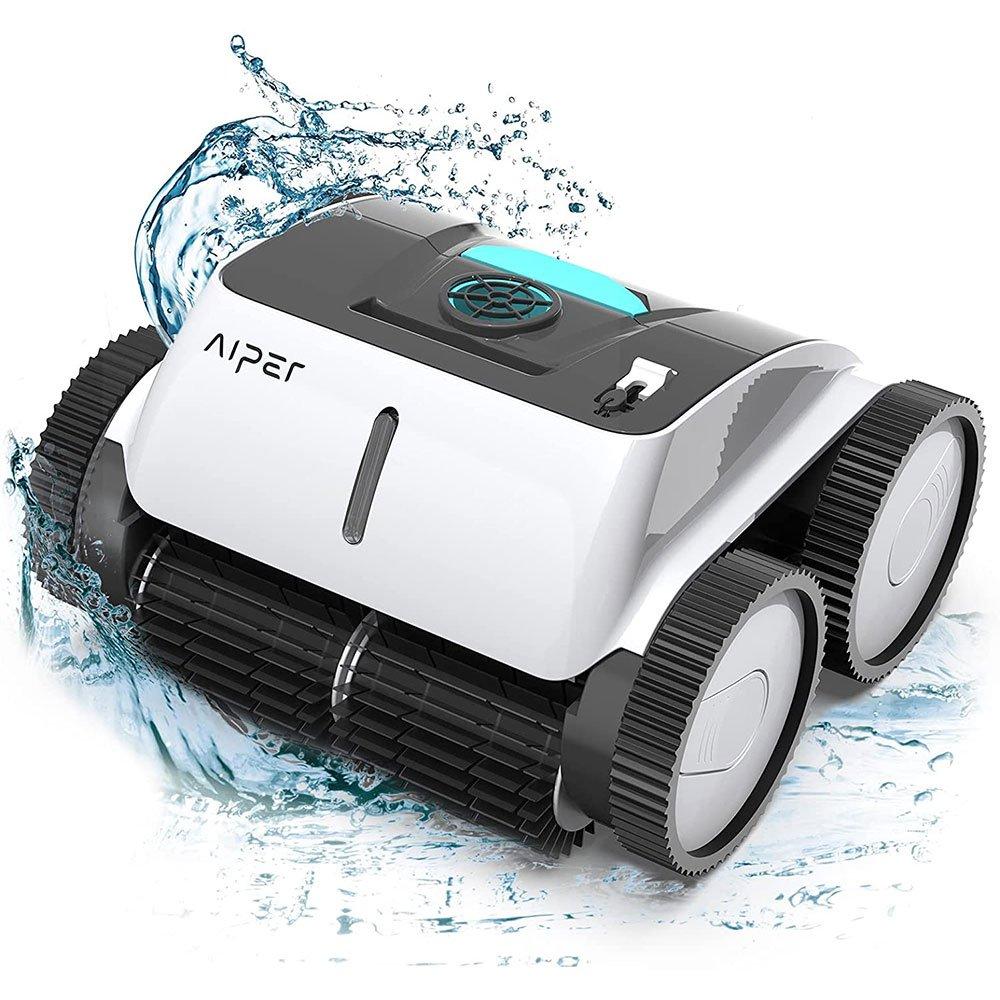 Robotic cleaners already make pool cleaning incredibly easy. The new Seagull robotic cleaners by Aiper bring that convenience up a few notches with modern cordless technology. Without the limitations of a traditional power cable, the Aiper Seagull 1500 works great for larger pools up to 1,614 sq. ft., and eliminates the risk of entanglement while swimming. Advanced triple-axis drive motors power dual hyper-scrubbing brushes for superior cleaning power, while its sophisticated gyroscope technology automatically detects the size of the pool and adjusts its route by 15º with each pass to provide a thorough cleaning of the entire pool floor.
The Seagull 1500 comes with an 8600 mAh battery, providing up to 90 minutes of powerful cleaning. Need a deeper clean? The battery recharges in 7–8 hours, meaning you can get multiple cleaning cycles per day. When the battery is low or the cleaning cycle is complete, its self-parking function will place the cleaner near a wall for easy retrieval with the included retrieving hook. Its robust 4-wheel drive system allows the Seagull 1500 to climb walls with ease, ensuring your floor, walls, and waterline stay meticulously clean. The large onboard debris basket is easy to remove and clean. Despite all of these great features, perhaps the most attractive is the Seagull's price tag. When you're looking for high performance on a budget, look no further than the Aiper Seagull line.
In addition to the Seagull 1500, we also carry smaller models, such as the Seagull 1000 (floor only, for pools up to 1,076 sq. ft.) and the Seagull 600 (floor only, for pools up to 538 sq. ft.), which work great for above ground pools.
Suction Side Pool Cleaners
As we move deeper into the buyer's guide, next up are the suction side pool cleaners. Unlike robotic pool cleaners, which are completely independent of your pool plumbing, a suction side pool cleaner relies on the suction generated by your pool pump. These cleaners attach to the dedicated suction line or pool skimmer. Since your pool equipment filters the debris with this type of automatic cleaner, it's important to keep your skimmer basket, pump basket, and pool filter clean and free of excess debris. These cleaners are typically the least expensive and require less maintenance over time, making them a popular choice for many pool owners.
BONUS TIP: For particularly heavy debris loads, a leaf canister hose attachment can help keep your pool lines from clogging and keep your cleaner running efficiently.
Zodiac MX8 Elite
Get a deeper clean in your pool with the Zodiac MX8 Elite. Cyclonic scrubbing brushes actively scrub pool surfaces to remove the toughest stuck-on debris like dirt, algae, and waterline scum. Dual-cyclonic technology efficiently directs debris into the inlet, and the convertible vacuum inlet allows larger debris to easily pass through. The wide cleaning path, maX-Drive Navigation with 360º programming patterns, and X-Trax traction technology ensure maximum pool coverage, all the way up to the tile line. This pool cleaner features a flow regulator valve and energy efficient design, which allows it to perform well with a wide array of pump types. Yes, even variable speed pumps. A secure twist-lock hose allows this cleaner to reach distances up to 38 feet. The MX8 Elite isn't available online, so stop by your local Leslie's store today to take a closer look at this robust suction side pool cleaner.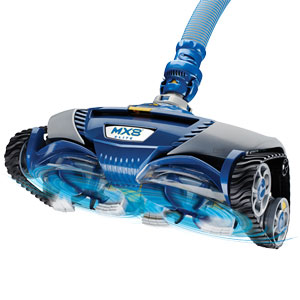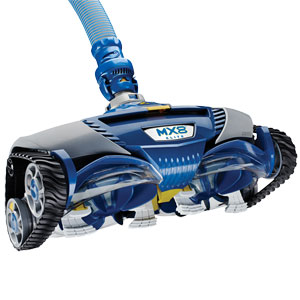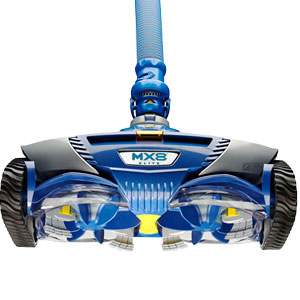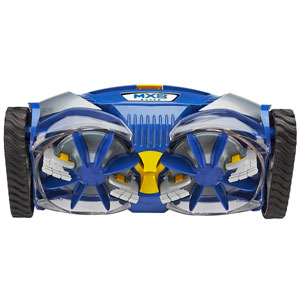 Hayward Phoenix 2X and 4X
With very few moving parts and a sturdy, yet lightweight design, this powerful automatic pool cleaner is built to last. Self-adjusting turbine vanes maximize suction power, even under low pressure. In addition, this cleaner is unique in that you can change the suction inlet throats according to the power coming from your pool pump. This means the cleaner can be used with both large and small pool pumps, as well as energy efficient variable speed pumps that may not have as high of a flow rate.
The advanced steering system ensures complete pool coverage, and easily navigates uneven surfaces and unique pool shapes. In addition, it won't get stuck in corners or hang up on main drains. Robust tire treads give this cleaner superior maneuverability and wall climbing capabilities. Wear indicators help you know when it's time to replace the tire treads. The Phoenix comes in the 2-wheel model (2X), a popular choice for most pool applications, and is also available in the 4-wheel model (4x) for larger pools or pools with a depth greater than 6 feet.
The latest generation of top-notch Hayward suction pool cleaners, the Phoenix is only available at your local Leslie's store.
REBATE ALERT! $125 manufacturer's rebate available for the Hayward Phoenix 2X and 4X until April 29, 2023.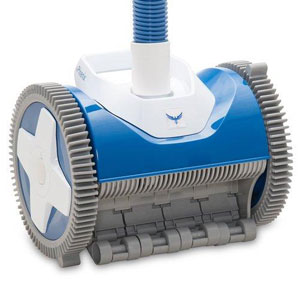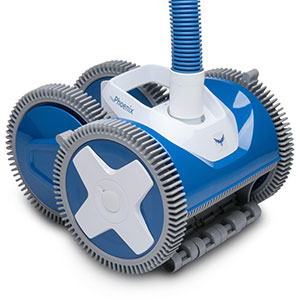 Hayward PoolVac V-Flex
Three words synonymous with the PoolVac V-Flex suction suction pool cleaner are power, reliability, and performance. Because it's equipped with patented variable vane turbine technology, this pool cleaner easily tackles large debris for virtually clog-free cleaning. Variable speed pumps are no problem for the V-Flex cleaner, as it's able to provide powerful suction, even at lower flow rates. Exclusive patented AquaPilot® steering delivers consistently reliable pool coverage that effectively cleans the floor, walls, and pool coves.
The unique wing and skirt design provides constant suction power and allows the wide vacuum inlet to pick up more debris faster. Two different models are available according to your pool type – vinyl or gunite/concrete. They're only available in-store, so stop by your nearest Leslie's location to learn more about the features of this capable pool cleaner.
REBATE ALERT! $125 manufacturer's rebate available for the Hayward PoolVac V-Flex until April 29, 2023.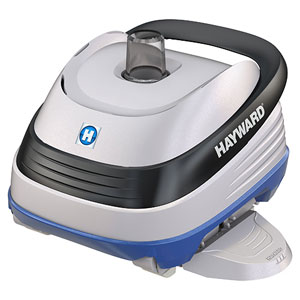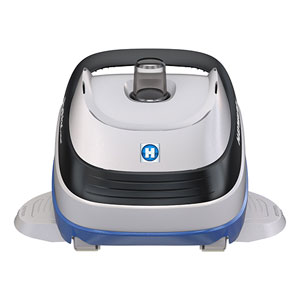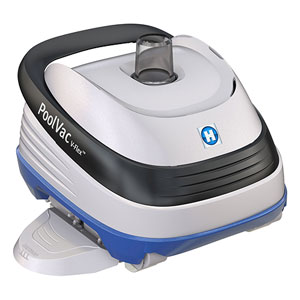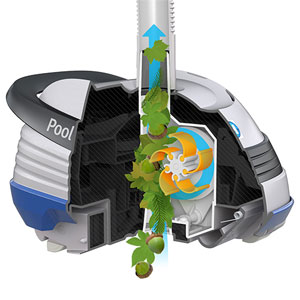 Jacuzzi J-D300
If you're looking for a fresh take on a reliable suction side pool cleaner, look no further than the Jacuzzi J-D300. This cleaner only has one moving part — the diaphragm — and a backup replacement diaphragm is included right in the box. The specially designed finned disc scrubs surfaces as it vacuums the floor, steps, and walls of your pool. It's signature bumper ring helps protect the cleaner hose against kinks and tangles, prevents it from getting stuck on steps and in corners, and also helps maintain a tight and secure seal for maximum suction power.
Designed to clean the pool in 4-6 hours, it comes with 40 feet of hose to tackle most pool sizes. This pool cleaner is also available in an upgraded model, the J-D300+, which comes in a sleek, stylish black color. The J-D300+ also includes a Jacuzzi JDC debris canister for enhanced cleaning efficiency. Both the J-D300 and the upgraded J-D300+ are covered under the Leslie's Equipment Protection Plan, which is a free benefit available to all Pool Perks members.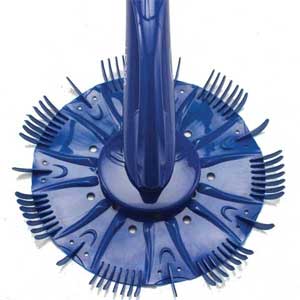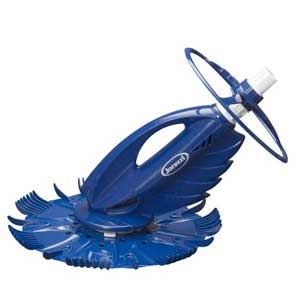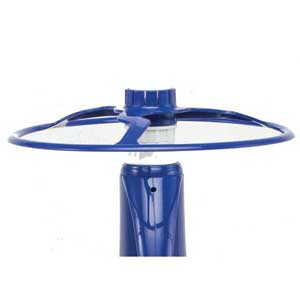 Pressure Side Pool Cleaners
Last, but not least, rounding out our buyer's guide are the pressure side pool cleaners. This class of automatic pool cleaner doesn't put as much strain on your pool filter as a suction side cleaner. However, pressure side cleaners still rely on the pressure generated by your pool pump to operate. They connect to the pressure side of your pool's return line. Pressure side cleaners then use that water flow to propel debris into the onboard filtration bag or canister. Because they draw from the return line, they can also help distribute heat from your pool heater more efficiently throughout the entire pool. When the pressure from your pump is not sufficient, a dedicated booster pump may be required. Because many models are built with a large capacity debris canister, these cleaners are great for pools surrounded by leafy trees.
Polaris 280/360/380
As some of the most popular pressure side pool cleaners on the market, the 280, 360, and 380 models from Polaris have proven themselves both powerful and reliable for decades. Using high-powered Venturi jets to direct debris into a large single chamber zipper bag, these cleaners can easily capture and remove both large and small debris from your pool. All models come equipped with auto back-up, which helps the cleaner navigate throughout the pool without getting stuck.
As the cleaner moves about the pool, it sweeps and scrubs the floors and walls. The sweep hose takes care of steps and tight corners where other cleaners can't touch. These cleaners are also available in the BlackMax style, which offers a sleek, black look that stands out from the rest. They're great cleaners to own, but what's the difference between the different models? Let's take a look:
If you decide on a model that requires a booster pump, we recommend taking a look at the Polaris PB4-60.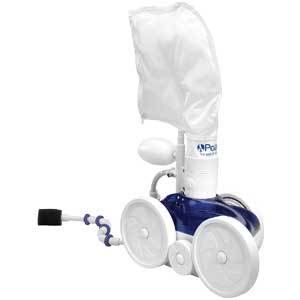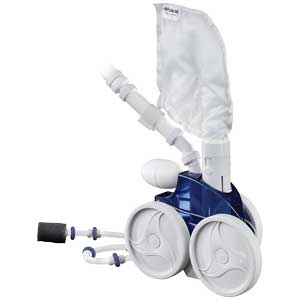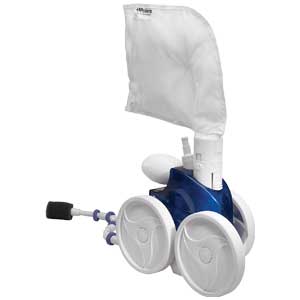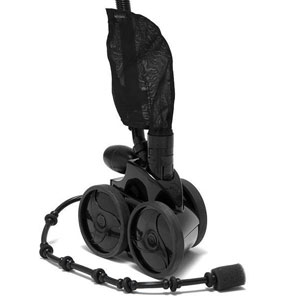 Polaris Quattro P40
If you're looking for a quality pressure side pool cleaner, but still like the sleek, compact design of a robotic pool cleaner, the Polaris Quattro P40 is the model for you. This modern cleaner readily cleans the floor, walls, and waterline of your pool. Its active brushing action removes even the most stubborn stuck-on dirt and debris. Furthermore, the dual-stage filtration and an extra large intake ensure this cleaner will easily remove large and fine debris from the pool. Once full, the debris canister is easy to remove and empty.
4WD agility and multi-directional navigation allows the Quattro P40 to quickly and efficiently cover your entire pool from top to bottom. Triple Venturi jets offer maximum cleaning power, even for heavier debris like acorns and pebbles. However, the added power means this cleaner requires a booster pump. The Polaris Quattro P40 is a top-tier product that's only available at your local Leslie's. Stop by to learn more about this cleaner, or to check it out for yourself!
REBATE ALERT! $150 manufacturer's rebate available for the Polaris Quattro P40 Sport until September 4, 2023.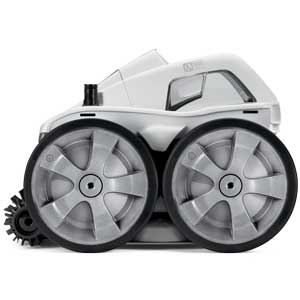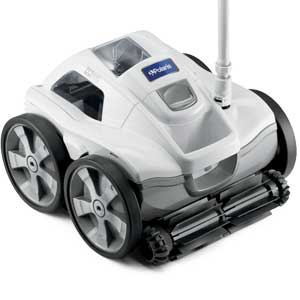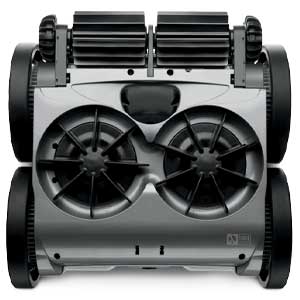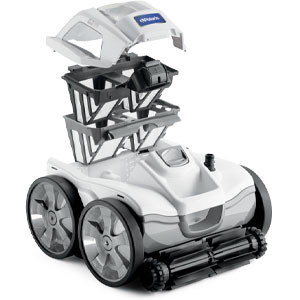 ---
We hope this buyer's guide was helpful in choosing your next automatic pool cleaner. If you still have questions about which type or model is right for your pool and budget, we can help! Call or stop by your local Leslie's today to speak with one of our friendly and knowledgeable pool experts.