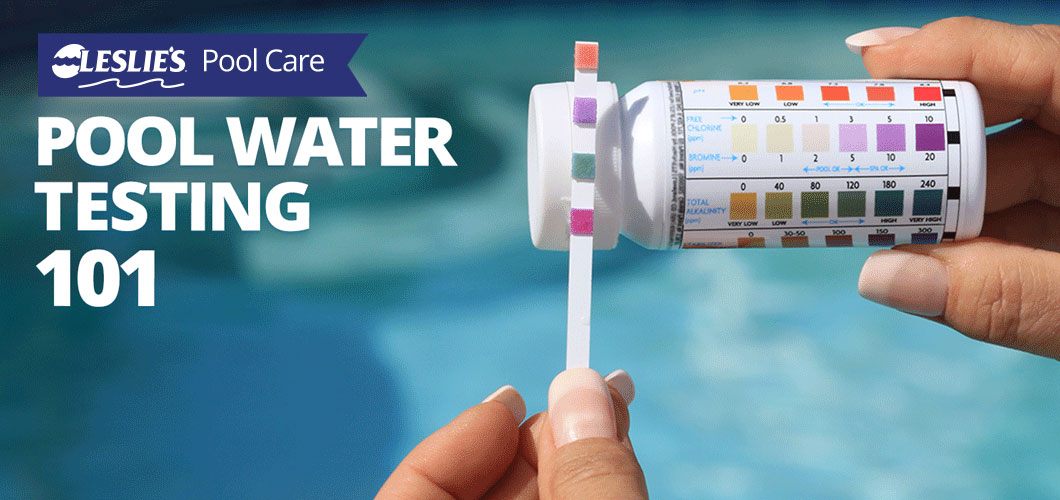 Pool Water Testing 101
Safe, healthy water. When it comes to our pools and spas, it's what we all want most. Regular water testing is an essential part of maintaining your pool's welfare. Getting an accurate reading of your water chemistry helps you understand exactly how much of what product your pool needs. Testing your pool water prevents the possibility of under-treating or over-treating the water, which keeps your pool properly balanced and saves you money!
Let's go over a few of the basics when it comes to properly testing your pool's water. There are two ways to test your pool water — at home or in store.
At-Home Pool Water Testing
Leslie's offers several pool water testing options you can use at home, including test kits and test strips. Testing at home is easy, but there are a few things you need to know before getting started. Which type of test will work best for you? Let's take a quick look at the pros and cons of each:
Liquid Test Kits
PROS
Most accurate type of water test; liquid reagents are the best for testing chemistry levels in your pool
Testing available for more diverse aspects of water chemistry
This method is used by pool professionals and health departments
CONS
Most expensive water test
Testing process can take longer and be more complicated than test strips
Reagent bottles must be held vertically to ensure uniform drop size, and drops must be counted as they're slowly added
More prone to user error
DIY TIP: Remember to never touch the reagent dropper tips, and always wash your hands after using water test reagents. Make sure to never interchange reagent caps.
Test Strips
PROS
Fastest water test
Simple to use and read
Least expensive to purchase
Most popular option for pool owners wanting a quick, daily pool chemistry analysis
CONS
Fewer options for testing capabilities
Not as accurate or precise as a liquid test kit
Some results take just a few seconds to develop, and some take longer, so it's important to understand timing for accuracy
Hands must be completely dry when removing the strip from the container
General At-Home Testing Tips
It's a good idea to always keep essential pool chemicals on hand, so you can treat your pool as needed. These include a primary sanitizer to kill germs and algae, a weekly shock treatment to keep your sanitizer working effectively, and water balancers to manage pH, Total Alkalinity, and Calcium Hardness. Use the results of your water test and the size of your pool to determine proper dosage according to the product label. Here are 10 helpful tips to get the most accurate testing results:
Always follow the instructions included with the test kit or test strips.
Typical water tests include measurements for Free and Total Available Chlorine, pH, Total Alkalinity, Calcium Hardness, and Cyanuric Acid. If your pool has a salt system, also check the salt levels.
For test kits, take your water sample from 12–18 inches below the surface after the circulation system has been on for an hour. A good rule of thumb is to take your water sample from about elbow deep in the pool water, away from the return fittings or floating chlorinator. For test strips, dip the strip per the label directions.
Ideal testing ranges are as follows:

Free Available Chlorine: 2.0–4.0 ppm
pH: 7.4–7.6
Total Alkalinity: 80–120 ppm
Calcium Hardness: 200–400 ppm
Cyanuric Acid: 30–50 ppm

High chlorine levels can skew other readings, such as pH and Total Alkalinity. If high levels of chlorine are present, you can either wait for the levels to drop (such as after shocking the water), or you can add a chlorine neutralizer to the pool in cases of extreme overdose. Some kits don't recommend testing the pH and Total Alkalinity if the chlorine reading is 5.0 parts per million (ppm) or higher.
It can take a moment for some testing reactions to occur. Familiarize yourself with the instructions before using any type of water test.
Store all test materials in a cool, dark area, and check them for accuracy on a yearly basis. Expired testing materials can cause inaccurate readings.
Accurate water tests are highly recommended before adding any chemicals.
After adding chemicals, it's important to let the water circulate completely before testing your water again. This process usually takes about 4–8 hours for most pools, but the timing depends on the pump size, pool size, and run time. Always follow the product label directions to ensure adequate product circulation.
Even if you test regularly at home, we recommend bringing a water sample into your local Leslie's at least once a month to ensure your pool water chemistry is properly balanced.
DIY TIP: Even if you can't bring a water sample to your local Leslie's, it's easy to get a customized water treatment plan. Simply download the Leslie's app to your phone and enter the results from your at-home water test. The app quickly highlights any chemistry issues in your pool and provides recommendations for getting your water back in balance.
In-Store Pool Water Testing
If you're not the DIY type, or simply want to get the most accurate and professional water test reading, we recommend bringing your water to your local Leslie's. We offer free in-store AccuBlue® water testing at all store locations. Simply bring a sample of your pool water to any Leslie's location for your free test, and our helpful, friendly associates will prescribe a customized treatment plan based on your test results. The treatment plan is a step-by-step, easy-to-follow approach to maintain clean, safe, and beautiful pool water.
Whether you test your water at home or bring it in for professional testing, it's vital that you maintain a regular testing and balancing schedule. By knowing the condition of your pool's water, you can keep it safe, healthy, and sanitized at all times.
Leslie's makes every effort to provide accurate recommendations based upon current ANSI/APSP/ICC-5 2011 (R2022) standards, but codes and regulations change, and Leslie's assumes no liability for any omissions or errors in this article or the outcome of any project. You must always exercise reasonable caution, carefully read the label on all products, follow all product directions, follow any current codes and regulations that may apply, and consult with a licensed professional if in doubt about any procedures. Leslie's assumes no legal responsibility for your reliance or interpretation of the data contained herein, and makes no representations or warranties of any kind concerning the quality, safety, or suitability of the information, whether express or implied, including, without limitation, any implied warranties of merchantability or fitness for a particular purpose.