Natural Hot Tub Maintenance
My hot tub is not 100% natural, but it's close. I use very few bottled spa products, either for cleaning the water, or for cleaning the hot tub. Having a "Natural" hot tub or spa is more than just adding a mineral purifier or ozonator, or using enzymes - all of which I use.
If you really want to reduce reliance on spa chemicals, you have to take some action to replace the work done by spa sanitizers, clarifiers, algaecides, defoamers, etc..
Here is my short list of things that I do to maintain my Natural hot tub:
RUN THE PUMP LONGER
I know, not very "green", to run the pump longer each day, but stagnant water starts to get funky quick without strong sanitizers in the water. For this reason, I run my circulation 3x as much as most people. I also run the pump on high speed almost every day to loosen any filmy or crusty deposits, opening the air intakes (or you can turn on a blower), to aerate the water. And when we use the spa, I add MPS afterwards and leave the spa running for about an hour, with the cover open.
SHOWER BEFORE USING
This is really necessary to maintaining a natural hot tub. If you don't want to run a high bromine level, or have to shock the spa after every use, take a serious shower before getting in the hot tub. And ladies, don't forget to put your hair up (or wear a cap) and remove make-up before getting in the tub. If your natural tub is not au-naturel (you wear something), be sure not to use swim suits, shorts or shirts that have been washed with soap. If so, wash them again on a long cycle without soap.
NEW SPA FILTER EVERY YEAR
A natural spa - one without bromine or peroxide sanitizers, has to replace the spa filter cartridges more often. Simply more stuff needs to filter out of the water, so your spa filter has to work harder. Spas that aren't trying to be "Natural" may get up to two years out of a spa filter, but I always change mine every December.
CLEAN YOUR SPA NATURALLY
Cleaning your cartridge in a 50/50 vinegar solution is a natural way for those with very high calcium levels, or hard water, to keep their filters and jets from tiny crystalline deposits. Use baking soda (sodium bicarbonate) on a wet scrubber sponge as a way to clean and scour very dirty surfaces. Natural citrus based cleaners can also be used, in fact you can cut a lemon in half and use it as a tub scrubber!
KEEP WATER BALANCED
Another very important part of natural hot tub care, is keeping the water balanced. If the pH or Alkalinity get too high, it makes a perfect environment for all sorts of things to grow. I keep mine between 7.2-7.4, and always check it before I get in the water. If there are 2 or more people using the spa, I check it again afterwards, it's almost always higher. Add calcium hardness increaser if your level is below 150 ppm, and alkalinity increaser if below 80 ppm.
ADD ONLY GOOD FILL WATER
Your tap water may not be the best water for your spa, with chloramines, metals, minerals and other invisible gunk. Just like we filter our drinking water, we filter it before I put it into the hot tub! Just use the Pre-Filter on the end of your garden hose when filling the tub. I can't over-emphasize how important this is to maintaining a natural hot tub! Start off with bad water, and it quickly becomes hard to maintain it naturally.
MAINTAIN PURIFIERS
I have a Del Ozonator and I use the Nature2 mineral stick. Because I don't also use bromine tablets or chlorine granules in my hot tub - I have to make sure these units are working properly, and replace them as needed. Every 4 months for the skimmer stick (my calendar alert pops up), and I just replaced my ozonator with the Next Gen model that lasts up to 5 years. I also add a small amount of spa enzymes to my spa weekly, natural proteins that consume microbes. And I use only as much shock as needed.
MPS SHOCK AS NEEDED
I use MPS shock, or non-chlorine shock, about every other time I use the spa, or about once per week. If that seems fairly often, it's because I'm not using any bromine or chlorine in my hot tub. If I don't use the MPS shock at least 1-2x per month, my water begins to look gray and dull, and I begin to 'question its sanitary', so I add just two tablespoons of MPS every week or so.
DRAIN / REFILL MORE OFTEN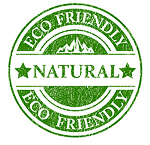 Also not green, or environmentally friendly, and possible illegal in your area - but there comes a point when the water is literally choked with solids and needs to be changed. The water gets so crowded, that some of it gets thrown out of solution and becomes visible. First as a dull appearance, followed by a slight haze, progressing to cloudy water. When spa water becomes 'old', it becomes harder to keep clean and clear and harder to keep sanitary. For most natural hot tubs and spas, including my own, a drain and refill is done every 90-100 days.
Natural Spa maintenance doesn't need to involve so-called 'natural' hot tub treatments, or systems that claim to do everything with one monthly treatment. It's not easier than a bromine/chlorine spa - it is more work and more multi-layered than many would have you believe.
Leslie's makes every effort to provide accurate recommendations based upon current ANSI/APSP/ICC-5 2011 (R2022) standards, but codes and regulations change, and Leslie's assumes no liability for any omissions or errors in this article or the outcome of any project. You must always exercise reasonable caution, carefully read the label on all products, follow all product directions, follow any current codes and regulations that may apply, and consult with a licensed professional if in doubt about any procedures. Leslie's assumes no legal responsibility for your reliance or interpretation of the data contained herein, and makes no representations or warranties of any kind concerning the quality, safety, or suitability of the information, whether express or implied, including, without limitation, any implied warranties of merchantability or fitness for a particular purpose.