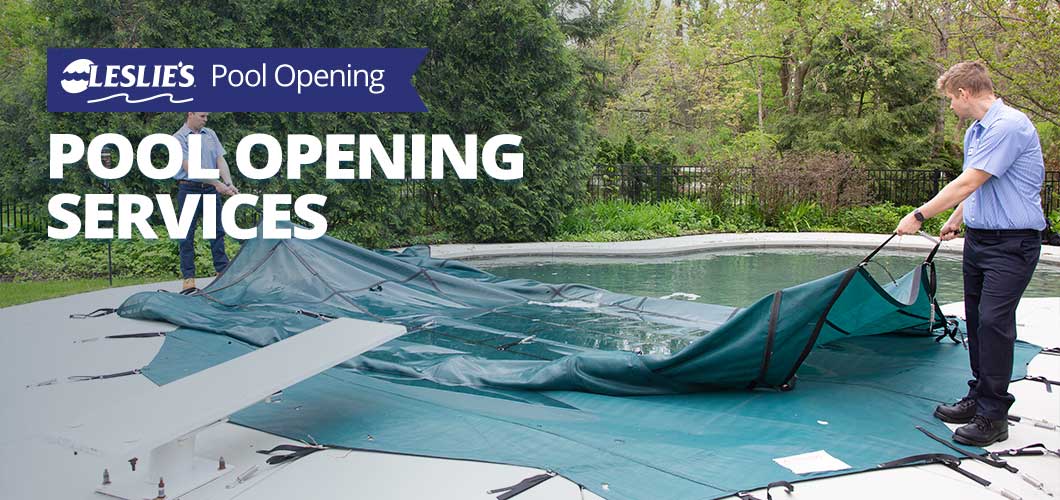 Leslie's Pool Opening Services
As a pool owner, spring is the most exciting time of the year. Longer days and warmer temperatures mark the early beginnings of summer! It's a season full of backyard activities and fun days spent in the swimming pool. But before you can start swimming, it's important to ensure the pool is properly cleaned, balanced, and sanitized. There's a lot of work involved with opening a pool, but Leslie's makes it easier for you with our Pool Opening Services.
You might be wanting to learn how to open a pool yourself. On the other hand, maybe you're just needing a professional to open your pool for you. Either way, you'll get the help you're looking for with Leslie's Pool Opening Services. We offer two levels of services to cater to you and your pool's unique needs: Basic Pool Opening or Complete Pool Opening. Which level of service do you need? Here's a quick breakdown of all that's included with Leslie's Pool Opening Services:
Service Comparison
| Service Description | Basic Pool Opening | Complete Pool Opening |
| --- | --- | --- |
| Remove winterizing plugs and other winterizing items | ✓ | ✓ |
| Reassemble pump and filter, including plugs and O-rings | ✓ | ✓ |
| Reinstall ladders and handrails | ✓ | ✓ |
| Start pool equipment | ✓ | ✓ |
| Light and test fire heater | ✓ | ✓ |
| Remove pool cover | | ✓ |
| Fold and store pool cover and cover accessories (water bags, springs, straps, stakes, screw down anchors, etc.) | | ✓ |
Finish Opening the Pool
Although chemicals are not included with Leslie's Pool Opening Services, we can still take the guesswork out of getting your pool properly balanced and sanitized once the equipment is up and running. After our trained service technician opens your pool, bring a water sample to your local Leslie's store for a complete AccuBlue water test analysis. This free test looks at 10 different aspects of water chemistry, and provides you with a customized water treatment plan to get your pool water properly balanced again.
While you're in the store, pick up a Pool Opening Kit to get a jump start on water care. All kits come with Chlor Brite pool shock, Algae Control, Ultra Bright Advanced clarifier, and a bottle of Stain & Scale Prevent. The Deluxe and Premium Kits also include a bottle of Perfect Weekly Start-Up, a phosphate remover and enzyme blend that quickly breaks down oils and organic contaminants that build up in the pool over the winter months. Once our service technicians get your pool equipment up and running again, it's the perfect way to finish opening your pool and get the water clean, clear, and ready for swimming.
---
If you're ready to open your pool, get in touch with us to schedule an appointment. You can schedule your Pool Opening Service appointment at your local Leslie's, or fill out the convenient online form on our Pool Opening Services page. All of our service technicians are highly trained, licensed, bonded, and certified Leslie's employees — not third-party contractors. Our team of experts will gladly answer any questions you might have about the pool opening process.
Schedule Your Pool Opening Services Today!
Leslie's makes every effort to provide accurate recommendations based upon current ANSI/APSP/ICC-5 2011 (R2022) standards, but codes and regulations change, and Leslie's assumes no liability for any omissions or errors in this article or the outcome of any project. You must always exercise reasonable caution, carefully read the label on all products, follow all product directions, follow any current codes and regulations that may apply, and consult with a licensed professional if in doubt about any procedures. Leslie's assumes no legal responsibility for your reliance or interpretation of the data contained herein, and makes no representations or warranties of any kind concerning the quality, safety, or suitability of the information, whether express or implied, including, without limitation, any implied warranties of merchantability or fitness for a particular purpose.