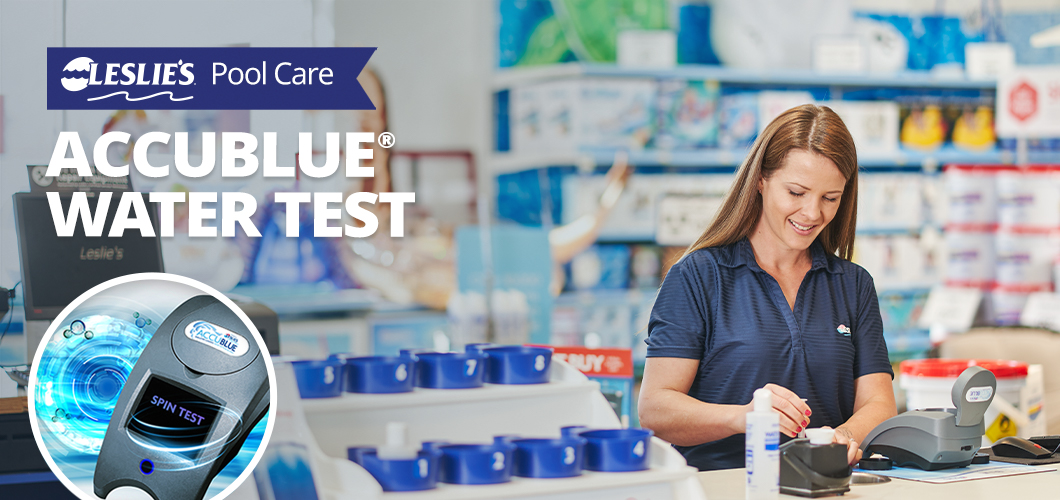 Leslie's AccuBlue Water Test: Fast, Accurate, Complete
Healthy, clean, clear, and inviting pool water. It's what we all want. To make sure you get it and keep it that way, the most important thing you can do is get an accurate pool water chemistry diagnosis. With the right tools, you'll immediately know what's not right with your pool water and how to fix it. Water test kits are a common solution. But when you need the precision of a professional-grade water test, pool owners everywhere rely on Leslie's AccuBlue®.
With the always free AccuBlue 10-point water analysis and treatment plan, you get the insights you need — fast. AccuBlue combines the highest level of innovative technology and proprietary water treatment software, and it's only available at your local Leslie's. Our 60-second pool water test and treatment plan provides precise, comprehensive results, as well as a custom-tailored plan for to fix any identified issues.
AccuBlue technology: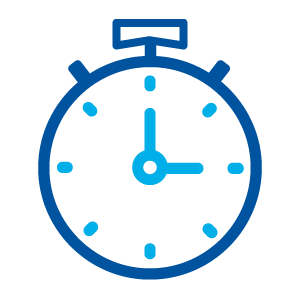 Tests your pool water and gives you detailed, accurate results in 60 seconds.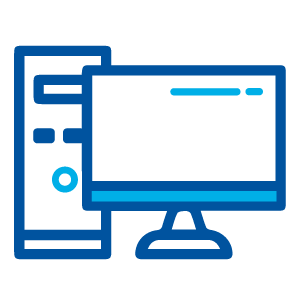 Analyzes your results with Leslie's proprietary water treatment software.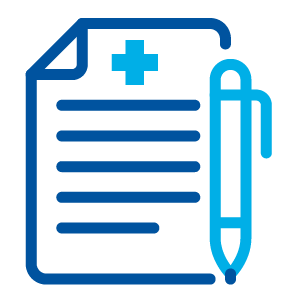 Identifies problems with your water and prescribes customized solutions.
With this customized treatment plan, you and a Leslie's expert can find the exact products you need to keep your pool clean, safe, and beautiful.
How Does a Leslie's AccuBlue Water Test Work?
This exclusive service is available only at Leslie's, and it's free for all customers. Yes, you read that correctly! All you have to do is bring a pool water sample to your local Leslie's, place it in the testing queue with a few details about your pool, and we'll do all the rest for you.
Once you hand over your water sample, a Leslie's team member will load it into the AccuBlue machine. Without getting too technical here, the unit passes varying wavelengths of light through the water sample inside a testing disk to determine the complete and specific chemistry of your water.
A Closer Look at Pool Water Chemistry
Most other water tests only analyze a few aspects of water chemistry. Leslie's AccuBlue analyzes 10 unique aspects of the sample. And it doesn't matter if you use chlorine, bromine, or biguanide as your primary sanitation method — AccuBlue provides accurate readings for all types of sanitizers.
With a Leslie's AccuBlue water test, the most comprehensive and accurate results in the industry are ready in about a minute.
| | | |
| --- | --- | --- |
| Aspects of water chemistry analyzed | Most water tests | AccuBlue |
| Free Chlorine (non-Bromine pool or spa) | ✔ | ✔ |
| Total Chlorine (non-Bromine pool or spa) | ✔ | ✔ |
| Total Bromine (Bromine pool or spa) | ✔ | ✔ |
| pH | ✔ | ✔ |
| Total Alkalinity | ✔ | ✔ |
| Calcium Hardness | ✔ | ✔ |
| Cyanuric Acid | ✔ | ✔ |
| Copper | | ✔ |
| Iron | | ✔ |
| Phosphates | | ✔ |
| Total Dissolved Solids (for non-salt pools) | | ✔ |
| Salt Levels (for pools with salt systems) | | ✔ |
PRO TIP: Once you get your AccuBlue test results, use the Leslie's app to keep track of your complete water history!
Customized Water Treatment Plan & In-Store Expertise
Once you have your results, let's not forget perhaps the biggest benefit of Leslie's AccuBlue — your customized water treatment plan. This easy-to-follow set of step-by-step instructions eliminates the guesswork in caring for your pool. The treatment plan provides clear direction on the specific chemicals to use, the proper amount/dosage for your pool size, and the order and conditions in which everything should be added. We even include extra pool care tips and recommendations to help keep your water sparkling.
With test results in hand, our Leslie's experts will help you find what you need to treat or correct any problems or imbalances in your pool. You'll also receive detailed instructions for how to treat your pool with the items you're bringing home.
Experience Leslie's AccuBlue
Now that you're familiar with the advantages of using our state-of-the-art AccuBlue water testing system, we look forward to seeing you at your local Leslie's! Our goal is to help you easily maintain a healthy, clear, and inviting pool, so you can make the most out of pool season. Bring your water sample in for a free AccuBlue water analysis today!
Leslie's makes every effort to provide accurate recommendations based upon current ANSI/APSP/ICC-5 2011 (R2022) standards, but codes and regulations change, and Leslie's assumes no liability for any omissions or errors in this article or the outcome of any project. You must always exercise reasonable caution, carefully read the label on all products, follow all product directions, follow any current codes and regulations that may apply, and consult with a licensed professional if in doubt about any procedures. Leslie's assumes no legal responsibility for your reliance or interpretation of the data contained herein, and makes no representations or warranties of any kind concerning the quality, safety, or suitability of the information, whether express or implied, including, without limitation, any implied warranties of merchantability or fitness for a particular purpose.