Hot Tub Ozone Working? How to Tell
It's a common question we get from hot tub owners - how to tell if a spa ozonator is actually working?
No matter what spa ozone brand you have, eventually it will fail. All spa ozonators will begin to reduce output and will one day suddenly stop producing ozone, but how do you know when that day comes?
Today's blog post will deal with how a hot tub ozonator works, but more about how it doesn't work - along with the most popular ways to check ozone output.
It's good to be skeptical, in these cases - your spa may become unhealthy, and allow bacteria and germs to thrive without an operational ozonator.
OZONE INDICATOR LIGHT
This can be a good 'indicator' of ozone being produced, if your spa ozonator has a light to indicate ozone production, other lights only indicate power. UV bulb ozonators should emit the usual eerie blue light when operating, and Del spa ozone and others with a CD chip usually have a small vibration sound when operating. However, keep in mind that things can appear normal at the ozonator, when ozone is not actually being produced.
BUBBLES AT OZONE JET
Ozonators produce tiny 'champagne bubbles' that are shot into the spa plumbing lines, and eventually work their way to the surface. Smaller bubbles are good, under 1 mm in size, larger bubbles are usually air. Depending on your ozone system, bubbles coming out through the normal jet or port (usually in the footwell area), may not always indicate ozone. Some hot tub ozone systems use air pumps or air venturi fittings that mix air with the ozone, so there are bubbles all the time, even when there is no ozone.
THAT OZONE SMELL
Ozone has a uniquely pungent yet fresh smell, and is recognized by most people in the air at concentrations as low as 10 ppb. It is strongest when lifting the spa cover after hours of being closed. It's normally easy to smell, in fact, ozone comes from the Greek word ozein, which means 'to smell'. Another method is to remove the ozone hose from (a plugged) injector, and hold the hose up to sniff for an ozone smell. Faulty check valves or injectors can cause ozone delivery problems, so be sure the entire system is going and flowing.
OZONE TEST KIT
An ozone test kit is available, and they work with a glass ampule that is connected into your ozone hose line (requires assembly). Turn on the ozonator and within a minute the color will change inside the ampule, in the presence of ozone. It won't measure output exactly, but can give you an approximate level of ozone production. It also is a one time use test, and at $10+ each, not cheap enough to do too often.
POOR WATER QUALITY
Another fine indicator that your ozonator is depleted or not working is that the water quality has suffered or required more maintenance lately. Bouts of cloudy water, lack of sparkle, or even algae may have tipped you off. If you can rule out low pump run time, tired filter cartridge, bad water balance or lack of other sanitizers or shock, then you may have a problem with ozone output.
What Now?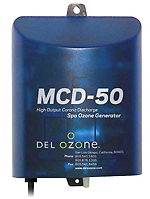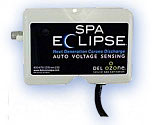 If you think that your ozonator is producing less ozone than before or no ozone at all - you are probably correct. Although new ozonators by Del have a 3-5 year lifespan before burning out, older models need a new bulb or renewal kit every 18-24 months. And although it happens, spa ozonators don't often last far beyond the recommended lifespan. As mentioned earlier - all ozonators will fail, and stop working. It's best to be prepared, and plan for a scheduled replacement.
New Del Ozone units are small and uncomplicated, to a point that replacement has become an easy DIY job to replace an ozonator. The Del Spa Eclipse or the Del MCD-50 include new hoses, check valves and injectors for a full ozone system replacement. Retrofits to most manufacturer ozone systems easily.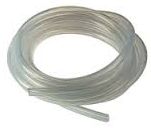 Although spa ozone As an alternative to replacement, many spa and hot tub ozonators have parts available such as replacement bulbs, CD chips and Renewal Kits, to make your system run like new again.
And once again I'd like to remind you - ozone manufacturers recommend that ozone hoses, ozone check valves and ozone injectors be replaced annually, for best results. Quite often you see, an ozonator failure is actually caused by a failure to one of these three key components.
Leslie's makes every effort to provide accurate recommendations based upon current ANSI/APSP/ICC-5 2011 (R2022) standards, but codes and regulations change, and Leslie's assumes no liability for any omissions or errors in this article or the outcome of any project. You must always exercise reasonable caution, carefully read the label on all products, follow all product directions, follow any current codes and regulations that may apply, and consult with a licensed professional if in doubt about any procedures. Leslie's assumes no legal responsibility for your reliance or interpretation of the data contained herein, and makes no representations or warranties of any kind concerning the quality, safety, or suitability of the information, whether express or implied, including, without limitation, any implied warranties of merchantability or fitness for a particular purpose.