Installing a New Hot Tub Control Panel
The topside control panel is the name for the display and controls, on the top-side of the spa, or where you can see them when you're in the spa.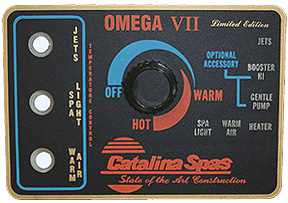 I'm old enough to remember having to get out of the spa to turn up the heater or turn on the air blower, or those sticky hexagonal air buttons. Or when a panel like the Omega VII appeared in the early 80's, so state of the art!
If you have an older spa, I mean a real old hot tub, the spa controls, aka topside control panel is analog, not digital. The way to tell is - if you have a digital temperature display, you will have a digital control panel.
Even if you have a digital topside spa panel, you may one day finding yourself needing a new hot tub control. Trees, weather, insects - can cause failure to the PCB (printed circuit board) or the display, requiring a replacement hot tub control panel, of the same type or different.
Replacing the Same Topside control panel
If you are able to locate the same topside panel that you now have on your control panel, replacement is an easy affair. Before installing however, inspect that the shape and size is the same and that the wire connectors are the same.
Look for any visible screws, bracket or lock nut, usually on the backside of the panel. If none are found, the panel may be glued in place with a bead of silicone. Use a flat screwdriver to pry up gently on the edges of the panel. If you feel strong resistance, check again for something securing the panel face or wires to the spa wall.
Once the topside panel is loose from the spa wall, you can just follow the wires and disconnect it from the spa pack control unit. Pay attention to where it connects and in which direction the plug is oriented. Replace a new topside control panel in reverse order, using a bead of silicone if necessary to hold it in place, and also to keep out moisture.
Replacing a Different Topside control panel
Before you order a new spa pack or a different topside panel, check under the panel area for room to run the cord that connects to the new control box. A standard topside control is 7-1/4" wide by 3-1/4" tall, but if you need a smaller one, you can use a 5-1/2" x 2-1/2"
In many cases, especially on older spas with air controls (aka pneumatic systems), you will need to cut the spa shell to accommodate a panel of different size, to enlarge the hole where the panel sits and the wires come through.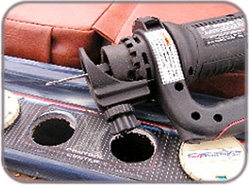 Cut my Spa? Are you Crazy? I know, it sounds like surgery, but is really a minimally invasive procedure that can be done in a half hour. The key is to use a small power tool like a Dremel, Spiral Saw or a Jig Saw.
Leave the reciprocating saw and circular saw in the garage, you won't need them for this job, this requires precision cutting. You could also cut the material by hand, with a drill to cut corners and a drywall saw to cut straight lines in between. Either way, wear a mask while drilling so you don't inhale the dust.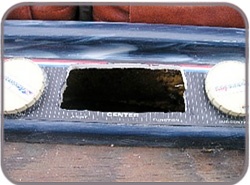 First mark the area to be drilled. Most topside control panels will come with a template or schematic of the layout, showing exactly how big the hole needs to be. It's important to cut to the exact size and shape, to prevent water intrusion.
Try to cut it a little on the small side, and use a rough file or rasp if the hole needs to be a bit wider. You can see my hole isn't perfectly square, a little over-cut on top right. Sand down the edges to help make a good seal.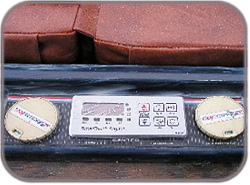 Now place a bead of silicone or other gasket material around the backside of the new topside panel. You only need a thin bead, not a toothpaste sized bead, which will squeeze out. Drop the wire through the hole and press the new spa panel in place, pushing it firmly to flatten out the sealant. If any does leak out the side, wipe it up quickly with a damp cloth. Now plug in the topside panel cable to the spa controller slot, which is usually labeled.
How long do topside control panels last?
Not long enough unfortunately. Heat and humidity can take a toll on electronic circuits. That said, most topside spa panels will last 10 years. If you have had repeated and mysterious failures to the pcb every few years, it may be a good time to replace the entire spa pack. New spa packs are less prone to circuitry problems.
If your spa pack and control is over 20 years old - it's a good time to upgrade!
Leslie's makes every effort to provide accurate recommendations based upon current ANSI/APSP/ICC-5 2011 (R2022) standards, but codes and regulations change, and Leslie's assumes no liability for any omissions or errors in this article or the outcome of any project. You must always exercise reasonable caution, carefully read the label on all products, follow all product directions, follow any current codes and regulations that may apply, and consult with a licensed professional if in doubt about any procedures. Leslie's assumes no legal responsibility for your reliance or interpretation of the data contained herein, and makes no representations or warranties of any kind concerning the quality, safety, or suitability of the information, whether express or implied, including, without limitation, any implied warranties of merchantability or fitness for a particular purpose.