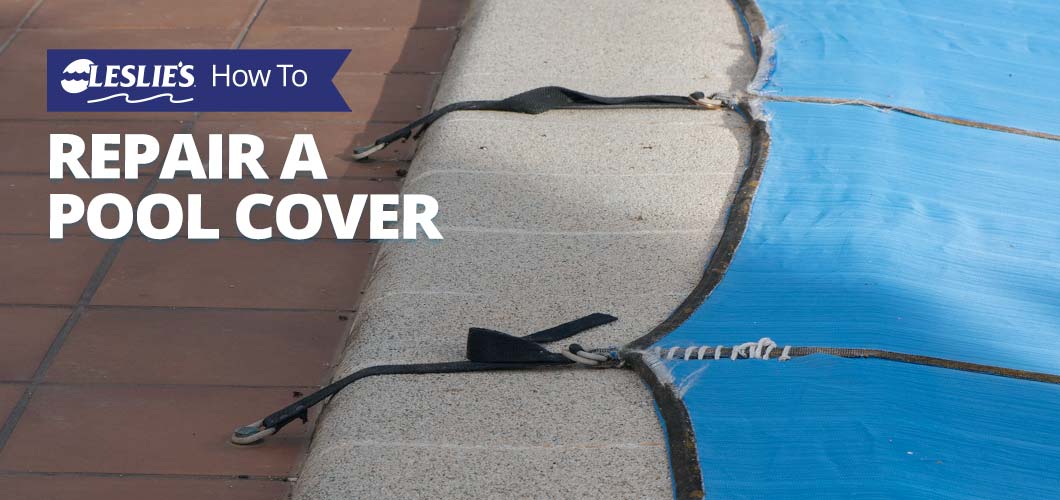 How to Repair a Pool Cover
As much as we don't like to think about it, at some point, it's time to start thinking about closing the pool for winter. In most cases, this involves putting a winter cover or a safety cover on the pool. If you're using the same cover you used last winter, we'll assume you probably haven't looked at it since storing it after you opened the pool a few months ago. Sure, you carefully cleaned and dried it before you put it in storage, but did you take a good, hard look at the cover itself? The best time to do a careful cover inspection is shortly before you plan to close your swimming pool. If you find damage, we have a few quick tips on how to repair a pool cover.
Extensive Damage or Wear
If a successful repair seems unlikely, or if you have an older cover that's nearing the end of its lifespan, it may be time to go ahead and get a new one. Sure, you technically can patch it. But whether you should is another question entirely.
The older a pool cover gets, the more likely it is to fail under stress, such as with heavy snow loads. Pay particular attention to the stress points where the cover touches the edges of the pool. These areas wear thin over time and are more likely to tear than any other area of your cover. Strong storms can also drop large branches on your pool during the off-season and shred your cover beyond repair. In these case, we recommend shopping for a new safety cover or winter cover for your pool. It'll save you from a major headache when spring rolls around — trust us on this one!
Most pool cover warranties only cover workmanship. Damage caused by nature, the elements, general wear and tear, and/or negligence is generally not covered.
PRO TIP: If you need a new cover, make sure you purchase the correct size for your swimming pool. Owners of standard rectangle, oval, or round pools should be able to find a perfectly sized pool cover ready to go, either in store or online. You'll want to order the cover that matches your pool size, but the cover you receive will actually be larger to accommodate the required overlap. If you need to order a custom pool cover, it may take a little longer to receive, so it's important to carefully assess your cover before putting it away for storage. In a pinch, you may be able to temporarily repair or patch your existing pool cover until the new one arrives.
Small Holes or Tears
If the hole or tear is less than 6 or 7 inches — or about the length of a dollar bill — it's actually pretty simple to fix. All you need is a patch kit that matches your cover's material type and color. Cover patch kits are available for both solid and mesh safety covers, as well as for traditional winter covers. These can usually be purchased from the same place you purchased your cover, but you may be able to order a patch kit from the cover manufacturer. Duct tape can work in an emergency, but it's not a permanent solution.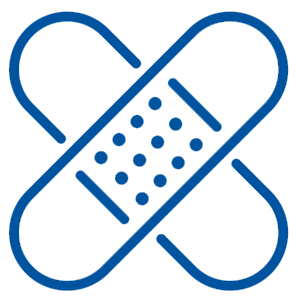 How to Patch a Pool Cover
Before applying the repair patch to your pool cover, make sure the area is totally clean and dry — some patch kit directions recommend cleaning the area with rubbing alcohol first. Next, cut the patch to size, making sure to round the corners. Pointed corners are more likely to lift up and peel away from the cover.
Once that's done, it's time to apply the patch. If you have an adhesive patch, remove the backing, and press the patch onto one side of the cover. If the patch uses glue, apply the glue to the patch, and press onto the cover. Next, you'll need to apply a matching patch to the other side of the cover for added durability. When finished, place a heavy object on top of the patch(es) for at least 6–12 hours to ensure proper adhesion. If the patch requires sewing, or if you plan to stitch the tear back together and mend it on your own, just use a heavy-duty needle with industrial strength nylon thread or fishing line.
PRO TIP: Safety covers are generally more repairable than winter covers. In the event of major damages, you can hire an industrial sewing service to replace entire panels on the cover. For most repairs, this will still cost less than a brand new safety cover. This is especially appealing if you own a custom safety cover. Contact your cover manufacturer to find a qualified repair center for your safety pool cover.
Damaged Parts
It's not uncommon for safety cover parts to come up missing or break down from time to time. For example, the strap buckles can be misplaced, springs may get rusty or break, and the vinyl spring covers can get brittle or wear through. Not to worry! Leslie's carries safety cover parts, replacement tools, and cover accessories for top brands like Loop Loc, Merlin, GLI, and Meyco. If you're dealing with damaged straps, those can be replaced by sewing in a section of extension strap or nylon webbing.
---
If you have questions about repairing your pool cover, or if you need help selecting a brand new winter cover or safety cover, the experts at Leslie's are here to help! Browse our entire inventory of pool covers online, or stop by your local Leslie's to see what's available. For more information about the different cover types, or for tips on installing or caring for your cover, check out the pool cover category in our blog.
Leslie's makes every effort to provide accurate recommendations based upon current ANSI/APSP/ICC-5 2011 (R2022) standards, but codes and regulations change, and Leslie's assumes no liability for any omissions or errors in this article or the outcome of any project. You must always exercise reasonable caution, carefully read the label on all products, follow all product directions, follow any current codes and regulations that may apply, and consult with a licensed professional if in doubt about any procedures. Leslie's assumes no legal responsibility for your reliance or interpretation of the data contained herein, and makes no representations or warranties of any kind concerning the quality, safety, or suitability of the information, whether express or implied, including, without limitation, any implied warranties of merchantability or fitness for a particular purpose.