How To Install a Portable Spa Hot Tub
So, you saw our great prices on new spas, and unless this new spa is a replacement spa, you're wondering what's involved in spa or hot tub installation.
Whether you install one of our Plug & Play 120V spas, or a full featured premium spa running on 4-wire 240V, requiring an electrician, you'll need to plan a few things in advance of receiving your new spa.
Spa Fencing
There are two types of fencing needed, safety fencing, to keep people and animals out, and privy fencing to keep out prying eyes.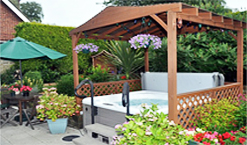 For safety fencing - in most localities, a spa is under the same or similar fencing rules as apply to swimming pools, in the interest of public safety. Generally, a spa inside of a fenced-in backyard is acceptable. There may not be an inspection of the fence in some cases, but still required nonetheless.
Privy fencing provides privacy, also a consideration when installing a hot tub, and also blocks the wind, which can cool the spa, and give you a chill while soaking. Frame your spa with large plants, and a 2 sided lattice fencing, or a pergola or cabana installed around the tub. Outdoor roll-up shades are also popular.
Tub Location
A convenient location is best, near the door. The area should be clean and dry (never muddy), and close to power and water. Shield the spa from as much sun, wind and rain as you can, and take care that storm waters will always drain away from the spa.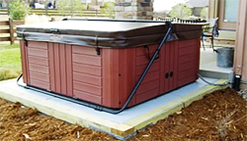 The surface supporting the spa must be solid, when full with water, a 6 person hot tub can weigh close to two tons! No wooden decks and certainly no balconies. A level, 4 inch slab of steel mesh reinforced concrete, on top of 4" of gravel is sufficient in many cases.
Our hot tubs can be sunk into a deck when proper load bearing support is built to hold 150 lbs per square foot. Finally, consider view - both the view of the spa from the house and the view that you'll have while in the spa.
Moving a Spa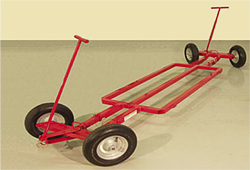 When the tub is delivered to your home, it won't go any further than the driveway. From that point on, you have to figure out the shortest and safest route to the spa placement location. Professional spa movers use a Spa Kart to transport spas across lawns, over steps or into tight locations within the home. Check for local spa movers or rental shops for a solution, some even rent Spa Karts. Over smooth concrete it's easy, but when the surface gets rough and uneven, you'll need something with big tires, to support a spa of 400-600 lbs, along with straps and several hands to help.
Hot Tub Wiring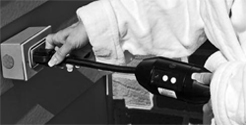 120V Spas: Most of our rotomold hot tubs are plug and play; 120V spas that plug into a standard, dedicated outlet. Dedicated means that nothing else is operating on that circuit. Plug the GFCI cord into a weatherproof 120V outlet (not GFCI), on a 15 or 20 amp breaker. The outlet should be between 5 and 10 feet from the spa, and no extension cords. 120V spas use less volts because they have smaller pumps and heaters, and few other features.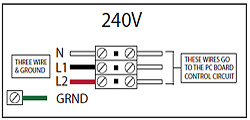 240V Spas: Larger spas with 4-5 hp pumps and high wattage heaters require a 6 AWG, 4-wire 240V service to the spa, on a dedicated 40-60 amp breaker, with a cut-off switch or sub-panel, and other requirements, as per local electrical codes. They do not plug in like a washer or dryer, but use 4 wires inside of PVC conduit, with the last few feet of flexible conduit carrying the wires directly in through the cabinet and connecting to the spa pack.
Wiring a spa with 240V is not a recommended DIY project. A permit and an inspection is required in most areas, so it's best to contact a local electrician who is familiar with the process of wiring spas and hot tubs. In most cases, hard-wiring a spa to the home main breaker, and installing a power cut-off near the spa is a $500-$900 job, depending on the length of the run from the breaker panel to the spa, and the route it must travel.
Filling a Spa
When the wiring and inspections are done, you can fill the spa, insert the spa filter cartridge.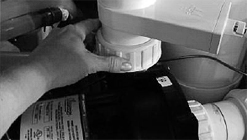 When you first fill an empty spa, and sometimes when you drain and refill the spa later, and air lock will occur in the pump, and prevent the pump from catching prime. Instead of running the pump without water, which can damage the seals, loosen the union nut in front of, or on top of the spa pump just enough to let the air escape, and allow the water to fill the pump. When water begins dripping around the union, tightly up all unions tightly. Open up all gate valves in the system, and you are ready to begin filtering, heating and chemically treating your new spa!
Enjoying your New Spa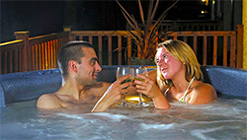 That's the best part, after all the working of selecting, ordering, receiving, moving, wiring, inspecting, filling...now you finally get to enjoy the fruits of all your hard work and money.
Some accessories to help you enjoy your spa more include a spa cover lifter to help protect your spa top, and a supply of spa chemicals and test strips. Spa steps, handrails, and spa cleaning tools are on our spa accessories page - if you'll pardon the shameless plugs.
Leslie's makes every effort to provide accurate recommendations based upon current ANSI/APSP/ICC-5 2011 (R2022) standards, but codes and regulations change, and Leslie's assumes no liability for any omissions or errors in this article or the outcome of any project. You must always exercise reasonable caution, carefully read the label on all products, follow all product directions, follow any current codes and regulations that may apply, and consult with a licensed professional if in doubt about any procedures. Leslie's assumes no legal responsibility for your reliance or interpretation of the data contained herein, and makes no representations or warranties of any kind concerning the quality, safety, or suitability of the information, whether express or implied, including, without limitation, any implied warranties of merchantability or fitness for a particular purpose.