How to Buy Spa & Hot Tub Parts

This content was previously featured on the Hot Tub Works website. Leslie's is proud to partner with Hot Tub Works to bring you this helpful content on lesliespool.com.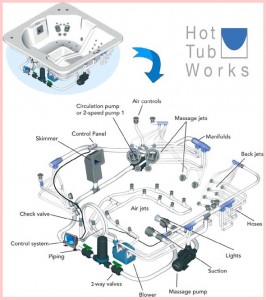 If you are a Do It Yourself type of spa owner, (and most of our customers are) - you've probably seen our huge selection of parts for spa and hot tubs.
Spa Parts are my favorite category of spa stuff that we sell, probably because it's a bit more challenging to know the intricacies of spa parts. We found out early that to sell spa parts, you have to have people in the call center that understand such things. Our tech support staff actually know how to repair spas and hot tubs.
Spa and Hot Tub parts are something we understand very well at Hot Tub Works. Our staff is trained to help you select the proper spa part, and our inventory investment means that we likely have the part you need, when you need it - often shipping the same day.
How to Order Spa Parts
On Hottubworks.com, we have designed a logical spa parts storefront. We don't ask you to search by sku, or p/n. Instead, we have broken down our spa parts into 12 logical categories, shown right. These spa part categories represent different systems of interconnected equipment or parts - so you can find what you need fast.
Another way we made parts buying simpler was to throw out the schematic! They can't be displayed clearly anyway, and with thousands of parts to list, it gets real confusing, real fast.
Instead, what we have are pages of similar parts, with thumbnail images - to quickly spot the correct replacement part for your spa or hot tub. We have 37 pressure switches for instance, all listed on one simple page, with detailed descriptions, measurements and an image that you can enlarge to see more clearly.
Most web users are very visual, and using high quality images in our parts department helps our visitors to feel confident that they've chosen the right part. This saves us both money and hassle, in shipping parts back and forth.
Other spa parts websites have black and white parts images that look like they were taken in the 19th century! Instead, we decided to do something different, and 5 years ago, launched a parts image improvement program; completed in early 2012.
Some of the other guys have out of date parts databases, selling items that have been obsolete for 10 years. They can't get the part, but yet they take the order as though they can. A week later, you find out that the part is no longer made, and without a substitute available.
Instead, We continue to add to our spa parts selection every year, as new spas and new spa products are introduced and clean up the database of NLA (No Longer Available) and OBS (Obsolete) spa and hot tub parts. And, when there is a generic replacement, or a similar substitute, we code that into the database, so you know what the options are. And, our website never displays obsolete or unavailable spa parts.
Spa Parts Technical Support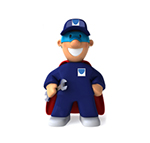 Our spa and hot tub technical support staff can often help you identify the correct spa part, or verify that your troubleshooting process was logical and correct. We can't guarantee that the spa or hot tub part you are ordering is the one that you need - we'd have to come to your house and perform a spa diagnostic to be sure!
We don't make house calls, but you can call us anytime to speak with one of our spa techs about your symptoms, diagnosis, and the parts or supplies needed to make a successful spa repair.
I hope you like our Spa Parts Department - we've spent a lot of time designing the most user-friendly and complete online spa parts catalog.
- Jack