Hot Tub Pioneers - California Cooperage
In the late 50s, California was (and still is) an area of the country where a spirit of fun inventiveness took root. The first hot tubs were fashioned from wine barrels and olive vats - cut in half. During the 60s sales grew, but supplies of spare barrels and vats dwindled. By the time the 70s rolled around, California Cooperage had set up operations in SLO - San Luis Obispo, a cool central coast college town, near Morro Bay.
The first customers were friends, then friends of friends, and after a year, a mail order catalog was produced, and the company began shipping pre-fab hot tub kits of cedar and redwood, according to Beth Hamil, VP of Del Ozone, but on staff as lead engineer in the early years.
"The original fellow at California Cooperage was Cliff Branch, a marketing genius, in my opinion" says Beth. Cliff is given some credit to the provocative image of the California Hot Tub, and many of the ads had racy themes.
According to Branch, "it all started when Playboy magazine did a centerfold of a "California" girl in a Hot Tub. Several other magazines and newspapers, more mainstream than Playboy, soon followed with their own articles and pictorials of the "Hot Tub lifestyle" taking place in California. And then an episode of the television show "Charlie's Angels" featured Jaclyn Smith and Farrah Fawcett in a steamy hot tub, seemed to push it over the top.
"California Cooperage helped to nationally promote hot tubs. Cliff Branch was a wizard of getting onto national TV talk shows. He became an industry spokesperson. I remember him filming programs on "Good Morning America," sitting in the hot tub with the hosts.", from Bill Jaworski in the hot tub business at the time.
Evocative and provocative as it was at the time, the use of subtle sensuality was embraced by the public. As Branch told the San Bernadino Courier in 1978, "...there's a new awareness among the middle class...Back to nature, getting in touch with your feelings..."
But the largest publicity stunt ever was probably the pool and spa show, held at Cow Palace, near San Francisco. Although no one admitted to hiring three young women to strip naked and climb into the California Cooperage hot tubs, many had a good idea who was behind it. It made regional and national news, with the commotion nearly shutting down the convention.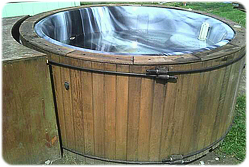 Cliff Branch partnered with Jim Smith and John King, two local investors, and built a 60,000 square foot sales and manufacturing building. The seventies were good for California Cooperage, and when the eighties were ushered in, California Cooperage began also making acrylic tubs, like the type being made by Jim and Jon Watkins in Vista, California - but still using a classic wood frame, barrel style.
In 1985 Coleman Spas bought the company for 10 million, and moved the operations to Chandler, Arizona. They soon stopped making the wood tubs altogether, due to sagging sales and cost and availability of expensive redwood materials. Maax purchased the company some years later, in 1998.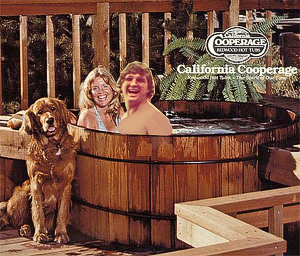 California Cooperage hot tubs can still be purchased today, although they have come a long way from the original barrel tanks used for water storage or wine aging. Digital controls and a spa pack have replaced wood stoves and a single spa jet. Molded acrylic seats have replaced redwood benches.
They can call it progress, but there's nothing like a real wooden hot tub. And California Cooperage will ever be known as one of the first companies not only to mass produce a hot tub kit, but export a lifestyle to all parts of the country.
I don't know what has become of Cliff Branch, I knew him years ago and thought him to be incredibly engaging - the right guy at the right time for a start-up industry like spas and hot tubs.
Leslie's makes every effort to provide accurate recommendations based upon current ANSI/APSP/ICC-5 2011 (R2022) standards, but codes and regulations change, and Leslie's assumes no liability for any omissions or errors in this article or the outcome of any project. You must always exercise reasonable caution, carefully read the label on all products, follow all product directions, follow any current codes and regulations that may apply, and consult with a licensed professional if in doubt about any procedures. Leslie's assumes no legal responsibility for your reliance or interpretation of the data contained herein, and makes no representations or warranties of any kind concerning the quality, safety, or suitability of the information, whether express or implied, including, without limitation, any implied warranties of merchantability or fitness for a particular purpose.