Hot Tub Parts: Pump Parts for Spas and Hot Tubs
Continuing our series of blog posts about the variety and uses for spa and hot tub parts, today we break down the category of spa pumps.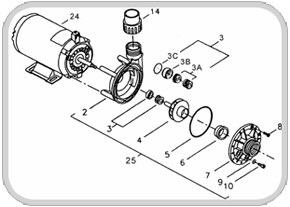 Fortunately, this category of spa parts is not as large as others, so we should be able to dive into more detail about common problems with spa pump parts, and their solutions.
Take a look at the spa pump parts schematic, you can see the parts of a spa pump, one without a strainer basket. Most hot tub pumps have only 15-20 parts, which fit nicely into 6 groups of parts.
Wet Ends
These are the parts of the pump that get wet. In the image above, it's everything except for the motor, item 24. Contained within a complete wet end assembly is the impeller and shaft seal. In some pumps, a diffuser, or impeller shroud, is also part of the hydraulic design, and an impeller wear ring.

There are two types of wet ends, center discharge and side discharge. Center discharge pumps shoot the water out of the pump at 12:00, and side discharge pumps, as shown in our example above, shoot the water either left or right of center, and can be rotated to different mounting positions.
To order the correct wet end, it's helpful to know your spa pump make and model. Otherwise, the motor frame type, horsepower. Also whether it's side or center discharge, and for pipe size, 1.5", 2.0", or larger. As a last resort, measure your wet end, and compare it to our pictures.
Volutes

The volute is also called the impeller housing, and it's both halves of the wet end assembly. To make it simple to define, we call them the front volute and the rear volute. The front volute has the incoming pipe connection, the rear volute attaches to the motor. Items 2 and 7 in the schematic above.
In cases of a cracked volute, many of our customers prefer to replace only the offending part and not trash the entire wet end.
Motors
In cases of a burned out spa pump motor, many of our customers prefer to replace the motor, instead of replacing the entire spa pump. And that's not a bad idea - the parts of a wet end do not 'wear out', rather they are either broken or melted, but they don't wear away, with the possible exception of the shaft seal.

Motors typically last around 5-7 years, in most situations. To order a new spa pump motor, you need to know several key pieces of information. Horsepower, Frame, Volts, Amps, Speeds. These are all printed, in tiny print, on the motor label. Comparing pictures of our spa pump motors could be risky, give us a call if you are not 100% sure of your particular motor type on your spa pump.
Unions
Spa pump unions are the connectors that allow you to disconnect the plumbing from the spa pump. There are split nut unions, with two screws that hold them together, or types with one large nut, that tightens over the threads on the volute halves. Most pumps have two unions, one on the suction intake of the volute, and the other on the discharge.

Unions have an internal o-ring to help seal them up tightly. These should be lubricated whenever you put them back together. Lost the o-ring? Don't worry, happens to the best of us - we have lots of spa union o-rings to choose from.
Impellers & Diffusers
The impeller is the turbine that creates the vacuum suction for the movement of the water. A diffuser is another plastic piece that some designers use to increase water volume or pressure. This fits over top of the impeller, held in place by several stainless steel screws around the edge.

Some impellers have a built in wear ring, like this Jacuzzi impeller shown here with the metal band. Other spa pumps will employ a separate part called an impeller wear ring, that fits over the impeller to prevent the impeller from rubbing on the diffuser or front volute.
The most common problem may be a clogged impeller, which can be cleared with a bent wire, or small screwdriver. Impellers can break, or melt in some situations, which would call for a replacement. Diffusers break much less often, but if you need one, we have 'em!
Seals, Gaskets & O-rings
Spa pumps have a mechanical shaft seal, which sits behind the impeller, and is the seal that prevents leakage along the motor shaft. It doesn't touch the motor shaft, otherwise it would burn up, but instead it's pressed into the rear volute, and seals up to the impeller.
When pumps are leaking along the shaft, it's usually a failed shaft seal, which may have overheated, or been damaged from chlorine and ozone. Be sure to use an ozone resistant shaft seal if you use ozone as a spa sanitizer. You can usually identify your shaft seal from the pump owner's manual.
Pumps will always have at least one o-ring or gasket to seal up volute halves. If you have a pump basket on your spa pump, you'll also have a pump lid o-ring. Some drain plugs can have o-rings on some spa pump models.
Leslie's makes every effort to provide accurate recommendations based upon current ANSI/APSP/ICC-5 2011 (R2022) standards, but codes and regulations change, and Leslie's assumes no liability for any omissions or errors in this article or the outcome of any project. You must always exercise reasonable caution, carefully read the label on all products, follow all product directions, follow any current codes and regulations that may apply, and consult with a licensed professional if in doubt about any procedures. Leslie's assumes no legal responsibility for your reliance or interpretation of the data contained herein, and makes no representations or warranties of any kind concerning the quality, safety, or suitability of the information, whether express or implied, including, without limitation, any implied warranties of merchantability or fitness for a particular purpose.